Guide To The Best Bass Fishing Lakes In Alabama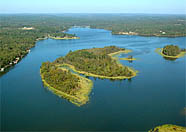 The largemouth bass is the official Alabama state fish. And they grow big in Alabama due to the moderate temperatures in the south. Visit the Bass Knowledge Center for valuable information about bass and bass fishing. All about fishing for spotted, redeye, shoal, smallmouth and largemouth bass.
You can find bass in most every lake in Alabama including Aliceville Lake, Bankhead Lake, Bartlett's Ferry Reservoir, Bear Creek Reservoir, Big Creek Lake, Cedar Creek Reservoir, Gainesville Lake, Jones Bluff Reservoir, Jordan Lake, Lake Eufaula, Lake Guntersville, Lake Harding, Lake Martin, Lake Mitchell, Lake Oliver, Lake Tuscaloosa, Lake Wedowee, Lay Lake, Lewis Smith Lake, Logan Martin Lake, Millers Ferry Reservoir, Neely Henry Lake, Pickensville Lake, Pickwick Lake, R E Bob Woodruff Lake, R L Harris Reservoir, Smith Lake, Walter F. George Lake, Weiss Lake, West Point Lake, Wheeler Lake, William Bill Dannelly Reservoir, Wilson Lake, Yates Lake and many other lakes as well as ponds, creeks and rivers.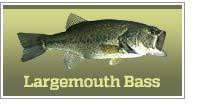 World record: 22 lbs 4 oz
State Record: 16 lbs 8 oz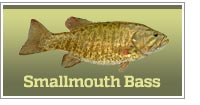 World record: 11 lbs 15 oz
State Record: 10 lbs 8 oz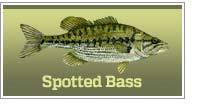 World record: 9 lbs 8 oz
State Record: 8 lbs 15 oz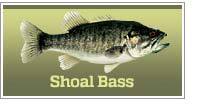 World record: 7 lbs 8 oz
State Record: 6 lbs 11 oz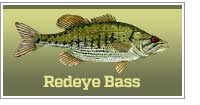 World record: 8 lbs 12 oz
State Record: 3 lbs 2 oz
Click the images and links above for species details.
Top 5 Bass Fishing Lures For Alabama
When bass are shallow, spinnerbaits, crankbaits and top water lures are the most productive. As they move deeper, worms and jigs are among the top producers.
Alabama State Record Bass
The state record largemouth bass was caught from Mountain View Lake.
The state record smallmouth bass came from Wheeler Dam Tailwater.
The state record redeye bass came out of Choccolocco Creek.
The state record shoal bass was caught in Halawakee Creek.
The state record spotted bass was caught out of Smith Lake.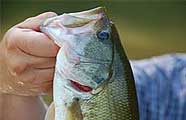 Bass are one of the most sought after of all the game fish. Its appeal spans cultures, age groups and genders to tap on the heart strings of anglers everywhere. Join us in our endeavor to offer information about bass fishing on your favorite bass lake in Alabama.
Bass fishing basics video.
Understanding the primary seasonal movements of smallmouth bass and largemouth bass is key to locating them on local lakes in the Yellowhammer State.

Bass fishing information by state.
The lifecycle of bass
The more you know about the seasonal migration of bass, the more likely you are to be looking in the right area next time you visit Alabama bass fishing lakes. Visit the bass fishing page for more in-depth information about bass activities.
ALABAMA