Crappie Fishing In Alabama
Crappie Waters In AL
Guide to fishing for white and black crappie.
Alabama is renowned for its fantastic crappie fishing opportunities, attracting anglers from far and wide. The state is home to both black crappie and white crappie, which can be found in various lakes, rivers, and reservoirs throughout Alabama.
Black crappie, often sought after for their delicious taste and spirited fight, are abundant in Alabama's waters. They prefer clear or moderately clear lakes with ample cover such as submerged vegetation, fallen trees, and brush piles. Anglers can target black crappie using a variety of techniques, including casting jigs, using live minnows, or trolling with small crankbaits. Spring and fall are typically the best seasons for black crappie fishing, as they move into shallower water to spawn or search for food.
White crappie, another popular crappie species, can also be found in Alabama's waters. They tend to prefer slightly murky or stained waters and are often found near submerged structures like docks, bridge pilings, or submerged brush piles. Anglers targeting white crappie often use similar techniques as those used for black crappie, including casting jigs or using live minnows as bait. Spring and fall are prime times to target white crappie when they are more active and congregating in shallower areas.
Both black crappie and white crappie offer exciting angling opportunities and can be caught throughout the year. However, the spring months are particularly productive as crappie move into shallower water for spawning. Anglers can experience excellent crappie fishing in Alabama's lakes, reservoirs, and river systems, with many locations offering ample access for bank fishing, as well as opportunities for boating and camping.
It's important for anglers to familiarize themselves with Alabama fishing regulations, including size and bag limits, and obtain the necessary fishing licenses before heading out to fish for crappie. By following these guidelines and practicing responsible angling, anglers can enjoy a rewarding crappie fishing experience in Alabama's abundant waters.
Crappie Fishing Lakes in Alabama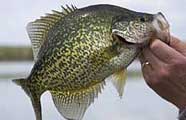 If you find a body of water with game fish, it probably has a population of crappie. All the major lakes including Aliceville Lake, Bankhead Lake, Bartlett's Ferry Reservoir, Bear Creek Reservoir, Big Creek Lake, Cedar Creek Reservoir, Gainesville Lake, Jones Bluff Reservoir, Jordan Lake, Lake Eufaula, Lake Guntersville, Lake Harding, Lake Martin, Lake Mitchell, Lake Oliver, Lake Tuscaloosa, Lake Wedowee, Lay Lake, Lewis Smith Lake, Logan Martin Lake, Millers Ferry Reservoir, Neely Henry Lake, Pickensville Lake, Pickwick Lake, R E Bob Woodruff Lake, R L Harris Reservoir, Smith Lake, Walter F. George Lake, Weiss Lake, West Point Lake, Wheeler Lake, William Bill Dannelly Reservoir, Wilson Lake, Yates Lake and many other lakes have large populations of crappie.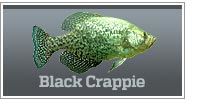 World record: 6 lbs 0 oz
State Record: 4 lbs 5 oz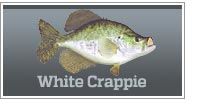 World record: 5 lbs 3 oz
State Record: 4 lbs 9 oz
Click the images and links above for species details.
Top 5 Crappie Fishing Lures For Alabama
Crappie jigs work well in water from 2' to 40' deep, and are the most popular artificial lure for crappie ever. When crappie are shallow, spinners, small crankbaits and underspins are the often very productive. As they move deeper, spoons are among the top producers if the crappie are active. Review details for the best crappie rig options. Understanding the seasonal movements of crappie can enhance your chances of using these lures in the ideal locations.
Alabama State Record Crappie
The state record black crappie (3-way tie) one was caught from Fort Payne Reservoir. one from Paint Creek and one from a private pond.
The state record white crappie came out of Martin Lake.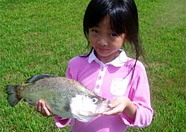 Crappie are actually a member of the sunfish family and can be found in many Alabama lakes. Crappie are known by many different local names. Paper mouth, goggleye, bridge perch, slabs and speckled perch, are just a few.
Crappie Fishing Basics Video
Check out crappie information, by state.
The life cycle of crappie.
The more you know about crappie, the easier it will be to locate and catch them in Alabama lakes and rivers. Visit the crappie fishing page for details about their seasonal migrations.
ALABAMA