Delaware Fishing Article
Tactics For Monster Chain Pickerel
Chain Pickerel - Esox Niger
A formidable game fish, that are actively pursued by some, and despised by others!
Chain Pickerel can be found throughout the Northeast, and down to Florida. In some areas, these are prized as trophies that deserve the same respect as a big largemouth bass, in other areas, such as in Florida, many anglers consider them nothing more than a nuisance.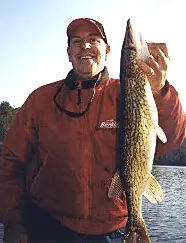 Many inexperienced anglers mistake this fish for a Northern pike, but there are distinct differences in these two species. The Chain Pickerel is distinguished by it's chain like pattern along it's body. The Chain Pickerel doesn't reach the same proportions as its counterpart, the Northern Pike. Most Chain Pickerel are considered large when they reach 3-4 pounds. A true "TROPHY," is anything above the 4 pound mark. The state record for Chain Pickerel in most states is between 6 and 8 pounds.
Each year, in the spring, fall, and winter, large specimens are caught that are in the 4-5 pound range on average, but very few giants over 6 pounds are caught at any time of the year. The Chain Pickerel actually hit the best in the winter and early spring, and start their spawning process as water temperatures climb into the 40's. Unlike most other species, they don't make beds, and they deposit their eggs on strands of vegetation, sometimes mixed with sticks, and other structure. They don't defend their young either, they deposit the eggs and move on, devouring their own young soon after they hatch.
Location & Tactics:
Chain Pickerel hit well in the winter months, and even through the ice. They usually cruise the same areas as other game fish such as largemouth bass, crappies, yellow perch, and other panfish.
Pickerel will savagely attack schools of baitfish, or individuals, whatever is the easiest prey at the time. I have caught Chain Pickerel with Catfish lodged in their mouths that were too large to swallow, and they still were attacking other baits. I have even found Chain Pickerel laying dead or dying, on the surface with huge bluegills stuck in their mouths, yet at other times, only want a small bait on or near the bottom.
The best locations for Chain Pickerel in the winter is along points, with drop-offs near deeper water, and areas that contain some underwater cover and vegetation nearby. They will be shallow at times, even in very cold water, but are always near the baitfish, and deeper water escape routes. They can be found by deep water brush piles also, due to the fact that these same areas hold other types of prey and panfish, thus the pickerel aren't far away.
Contrary to popular belief, Chain Pickerel can be caught in the dark, but this is more of a rare occurrence than a standard rule of thumb. In the early spring, many of the pickerel will be in water near the shoreline, and emerging grasses, and other vegetation, gorging on baitfish, and preparing to spawn. They can be in water as shallow as a few inches, to a couple of feet. The easiest way to catch chain pickerel is on live bait. They like medium to large shiners, and big minnows. This has always been a standard fare for pickerel. There are other methods though that will take real "Trophies," and not so many of the more common 2-3 pounders.
The best way to catch larger chain pickerel is to use a small jig such as a shad dart, in yellow/red, or yellow/white combinations, in a 1/64 ounce size, up to about an 1/8 ounce. These are really small baits, and a lot of finesse is required to catch chains on these lures. The other bait that works well is a 1/16 to 1/4 ounce brown or brown/black hair jig. Both these jigs should be used first without any other bait, such as minnows attached to them. I like the Spotsticker and Hammerhead jigs for this.
You first need to find the areas that will hold the pickerel; drop-offs, near points, humps, vegetation, and other cover. You should rig this jig on 4-6 pound test line. This is what makes the lure have the correct action and depth that trigger some of the bigger fish. It is the same principle as smallmouth fisherman use on Pickwick. They use 6 pound test line, not because the fish can see it, but because it allows the lure to maintain the proper fall, depth, and action, that catch the larger fish.
I like to rig two rods, with a shad dart on one, and a hair jig on the other. I start by letting out about a hundred feet of line, and slowly trolling these baits in wide, 360 degree circles over the chosen areas. You will pick up leaves and grass if you're doing it right, if you don't. slow down. The majority of strikes will feel like nothing more than grass or leaves on the lure, but most of time it's a big Chain Pickerel!
I can't overemphasize the importance of watching the line! If the line moves, or does ANYTHING, that it hasn't been doing, then set the hook. You can't set the hook the same way you do with a bass. It takes a slower short snap in the wrist, while reeling the line up tight, and applying just the right amount of pressure. The drag setting is critical, since you are using such light line, and light equipment.
Most of the time, I take the anti-reverse off, and backreel. They will make some long runs and head to the deeper water on the bottom, and try to wrap you up in the trolling motor, and break you off under the boat as they get close. The only way to get good at landing them, is to catch them. Practice is the only way to get a feel for landing them on this light equipment. If you don't get any takers after working 2 or 3 of your best areas, then add a small minnow to the back of the lures, but go to a 1/8 or 1/4 ounce, in brown/orange or lime green.
Troll them the same way in these areas again, while casting another rod to search the areas, and impart more action to the bait to try to develop a pattern that they want that day. Pickerel are ferocious one day, and finicky the next. They are unpredictable sometimes, so don't give up. On a good day, I have caught 5-7 Chain Pickerel that were all over 4 pounds, and usually 2 or 3 over 5 pounds. I have caught others in some Delaware and New Jersey Lakes, that exceeded 6 pounds. I caught a Chain Pickerel in 2000, that won the Delaware State Sportfishing Tournament for the year, that was 6 pounds, 14 ounces, just a few ounces short of the state record using these methods.
Equipment:
You need 3 or 4 spinning rods for these tactics, in the 5 and 5 1/2 foot range, ultra-light to light action, with a good degree of sensitivity. I like G.Loomis rods, but there are other good light action rods you can use for this as well. They should be paired with a good reel, such as a Shimano or Daiwa, with a great drag, set lightly. But as I mentioned before, backreeling, with the anti-reverse off, is really the best way. I use Stren line in 4-6 pound test for this, as it gives the lures the proper action, and depth. Recently though, I have experimented with some superlines with good results.
Best Locations:
Here in the Northeast, (Delaware, New Jersey, and New York), in particular, some of the places that hold the largest chain pickerel are Horsey's Pond, in Lower Delaware, Killens Pond in Dover, and the Nanticoke River, (Broad Creek), in Seaford.
In New York I like Lake Champlain, and in New Jersey, Farrington, Union, Assunpink, and Hopetcong, are among some of the better lakes, although there are many more that produce big chains as well. Employ some of these tactics this winter and in the spring on some of these lakes and I think you will be surprised at the results. You won't catch as many pickerel using some of these methods, but they will be BIG!
Editors Note:
Our thanks to Steve W. von Brandt, The Bass College
DELAWARE


Article about fishing for chain pickerel in Delaware.