Guide To Fishing At Moores Lake
AKA: Moores Pond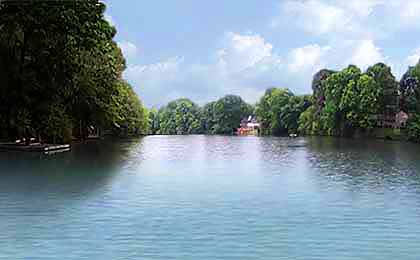 Bass and bluegill draw fishing enthusiasts to Moores Lake, which is a 27-acre lake located in the center of Delaware, near Dover. There is less than 2 miles of shoreline, most of which is private property.
Moores Lake, located in Kent County, Delaware, is a hidden gem for fishing enthusiasts seeking a serene fishing experience. Despite its small size, Moores Lake offers a variety of fish species, making it a favorite spot for anglers of all ages and skill levels.
Bass fishing is a popular pursuit at Moores Lake, with both largemouth bass and smallmouth bass inhabiting its waters. The lake's structure, including submerged vegetation, fallen trees, and rocky areas, provides ideal habitats for bass to thrive. Anglers can try various techniques such as casting with artificial lures, using live bait, or working topwater baits to entice strikes from these feisty predators.
Perch, including yellow perch and white perch, are abundant in Moores Lake and provide an excellent opportunity for anglers to enjoy some productive fishing. These panfish species are known for their willingness to bite and offer a delightful angling experience. Anglers can target perch using small jigs, live bait, or spinners. Perch fishing at Moores Lake can be particularly fruitful during the cooler months when they are more active.
Crappie are another popular fish species found in Moores Lake. Both black crappie and white crappie can be targeted by anglers seeking a rewarding crappie fishing experience. Crappie tend to gather around submerged structures, such as brush piles or fallen trees, making them easier to locate. Anglers often use small jigs, minnows, or small crankbaits to entice crappie bites.
Sunfish, including bluegill and pumpkinseed, add to the diverse fishery at Moores Lake. These colorful and lively fish are ideal for introducing young anglers to the joys of fishing. Simple techniques such as using a bobber and worm or small jigs can result in exciting catches and memorable fishing experiences.
Before heading out to Moores Lake, it's important to familiarize yourself with Delaware fishing regulations, including size and bag limits, to ensure the conservation of fish populations. Additionally, make sure to obtain the appropriate fishing license required for fishing in Delaware.
Moores Lake offers a peaceful and enjoyable fishing experience amidst the natural beauty of Delaware. Whether you're targeting bass, perch, crappie, or sunfish, this small lake provides a variety of angling opportunities throughout the year. Whether you're an experienced angler or a beginner, a day spent fishing at Moores Lake is sure to be filled with excitement, relaxation, and the thrill of reeling in some fantastic catches.
Fishing from the bank is limited to the area between the boat launch ramp and the dam, on the eastern end of the lake. Small boats, car-toppers, canoes and kayaks can all be launched at the boat ramp. The primary fish species in the lake includes bass, crappie, sunfish and perch.

What to fish for...
Fishing for largemouth bass, black crappie, bluegill, pumpkinseed sunfish, white perch and yellow perch at Moores Lake in Delaware.
Primary fish species residing in Moores Lake
Click images for fishing tips and details about each species.
Moores Lake Amenities
Marina: NO
Boat Rental: NO
Boat Launch Ramp: YES
Campgrounds: NO
RV Hookups: NO
Lodging: NEARBY
Convenience Store: YES
Bait & Tackle: NO
Restaurant: YES
Today's Weather & Forecast
Public Boat Launch Ramps & Landings
Moores Lake Boat Launch Ramp
Located in the southeast section of the lake, off S State Street, this is a one-lane, concrete ramp with paved parking.
Click here for a Delaware Fishing License.
Campgrounds & RV Parks Nearby
No camping nearby.
Moores Lake DE Map - Fishing & Camping Areas
Lake Video
Contact Information
Moores Lake
DE Division of Fish & Wildlife
302 739-9914
Fishing lakes in each state.
Moores Lake in Delaware.
DELAWARE


Information about fishing lakes in Delaware
Fishing for bass, crappie, sunfish and perch in central DE.
Fishing on Moores Lake.