Crappie Fishing In Delaware
Guide to fishing for black crappie.
Delaware offers excellent crappie fishing, with both black crappie and white crappie being popular species among anglers. These panfish are highly sought after for their delicious flesh and challenging angling experience. The purpose of this page is to share basic information about crappie fishing and crappie lakes in the state.
Crappie Fishing Basics Video
Black crappie and white crappie can be found in various lakes, ponds, and rivers throughout the state. They are most commonly targeted during the spring and fall seasons when they are more active and congregate in shallow water areas for spawning and feeding. During these times, anglers can find crappie near submerged structures such as fallen trees, brush piles, or weed beds.
Anglers often use light spinning or casting gear when targeting crappie, as well as techniques such as jigging or using live minnows as bait. Small jigs, spinners, or soft plastic baits in natural colors are effective in enticing crappie bites. Fishing near structures or drop-offs where crappie typically congregate can increase the chances of success.
Black crappie and white crappie can be found in similar habitats, but they may exhibit some slight differences in behavior and preferences. Black crappie tend to prefer clearer water and can often be found near submerged vegetation or along the edges of weed beds. White crappie, on the other hand, are more adaptable to different water conditions and can be found in a wider range of habitats.
Delaware's abundant crappie populations provide anglers with opportunities for successful and enjoyable fishing trips. It is important to be familiar with the state's fishing regulations, including size and bag limits, to ensure the conservation of crappie populations and the sustainability of the fishery.
Whether you're a seasoned angler looking for a challenge or a beginner hoping to catch your first crappie, Delaware's lakes, ponds, and rivers offer an array of crappie fishing opportunities. With their beautiful markings and delectable flesh, black crappie and white crappie make for exciting and rewarding targets that can provide memorable fishing experiences for all.
Crappie Waters In DE
You have several choices for crappie in DE. Try your luck at Andrews Lake, Becks Pond, Chipman Pond, Concord Pond, Coursey Pond, Griffith Lake, Haven Lake, Hearns Pond, Horsey Pond, Ingrams Pond, Lake Como, Lums Pond, Masseys Mill Pond, McGinnis Pond, Moores Lake, Mud Mill Pond, Records Pond, Silver Lake, Wagamons Pond and Waples Pond.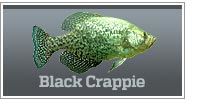 World record: 6 lbs 0 oz
State Record: 4 lbs 9 oz*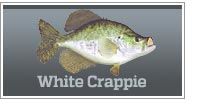 World record: 5 lbs 3 oz
State Record: 4 lbs 9 oz*
Click the images and links above for species details.
Top 5 Crappie Fishing Lures For Delaware
Crappie jigs work well in water from 2' to 40' deep, and are the most popular artificial lure for crappie ever. When crappie are shallow, spinners, small crankbaits and underspins are the often very productive. As they move deeper, spoons are among the top producers if the crappie are active. Review details for the best crappie rig options. Understanding the seasonal movements of crappie can enhance your chances of using these lures in the ideal locations.
Delaware State Record Crappie
The state record black/white crappie was caught from Noxontown Pond.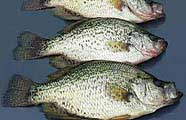 These meaty filets make for a an excellent fish fry. Crappie are actually a member of the sunfish family and can be found in many Delaware lakes. Crappie are known by many different local names. Paper mouth, goggleye, slabs and speckled perch, are just a few.
Check out crappie information, by state.
The life cycle of crappie.
The more you know about crappie, the easier it will be to locate and catch them in Delaware lakes and rivers. Visit the crappie fishing page for details about their seasonal migrations.
DELAWARE