Delaware Crappie Fishing
Crappie Waters In DE
All about fishing for black and white crappie.
You have several choices for crappie in DE. Try your luck at Andrews Lake, Becks Pond, Chipman Pond, Concord Pond, Coursey Pond, Griffith Lake, Haven Lake, Hearns Pond, Horsey Pond, Ingrams Pond, Lake Como, Lums Pond, Masseys Mill Pond, McGinnis Pond, Moores Lake, Mud Mill Pond, Records Pond, Silver Lake, Wagamons Pond and Waples Pond.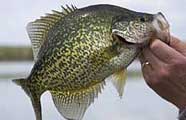 Crappie are actually a member of the sunfish family and can be found in many Delaware lakes. Crappie are known by many different local names. Paper mouth, goggleye, bridge perch, slabs and speckled perch, are just a few.
Crappie Fishing Basics
The state record crappie came from Noxontown Pond.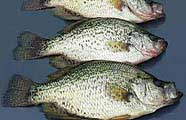 These meaty filets make for a an excellent fish fry. Check out these crappie recipes for several ways to prepare these tasty fish.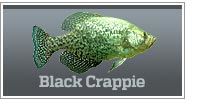 World record: 6 lbs 0 oz
State Record: 4 lbs 9 oz
By clicking on the images and links above, you will be taken to a page offering more information about the selected species.
Check out crappie information, by state.
The life cycle of crappie.
The more you know about crappie, the easier it will be to locate and catch them in Delaware lakes and rivers. Visit the crappie fishing page for details about their seasonal migrations.
DELAWARE