Fishing At Garrisons Lake
AKA: Garrisons Pond
What to fish for...
Guide to fishing for largemouth bass, white catfish, bluegill, pumpkinseed sunfish and white perch at Garrisons Lake in Delaware.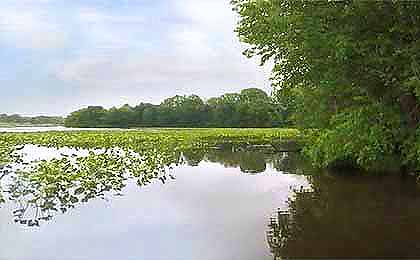 Bass, crappie, sunfish and perch populate the waters of Garrisons Lake, a 86-acre impoundment located in the central part of the state 3 miles south of Smyrna. About 2 miles of shoreline, much with aquatic vegetation, is home to baitfish and predators alike.
Garrisons Lake, located in Kent County, Delaware, is a fantastic fishing spot that attracts anglers of all skill levels. This picturesque lake is known for its abundant fish populations and provides a great opportunity for anglers to reel in some exciting catches.
One of the most popular fish species in Garrisons Lake is bass. Largemouth bass can be found in good numbers, offering anglers the chance to catch these prized game fish. The lake's structure, including submerged vegetation, fallen trees, and rocky areas, provides ideal habitats for bass. Anglers can use various techniques such as casting with artificial lures, flipping jigs, or using live bait to entice strikes from these feisty fighters.
Catfish are another sought-after species in Garrisons Lake. Channel catfish and bullhead catfish are common in the lake, offering anglers the opportunity to target these bottom-dwelling species. Catfish can be caught using a variety of baits such as worms, cut bait, or stinkbaits. Fishing for catfish in Garrisons Lake can be a relaxing and rewarding experience, especially during the warmer months when these fish are more active.
Perch are also present in Garrisons Lake and provide additional fishing excitement. White perch can be found in good numbers, particularly during the cooler months. These panfish are known for their tasty fillets and are often targeted by anglers using small jigs, live bait, or spinners. Perch fishing can be a great option for anglers of all ages and skill levels, including families looking for a fun and accessible fishing experience.
When planning a fishing trip to Garrisons Lake, it's important to familiarize yourself with fishing regulations and licensing requirements in Delaware. Being aware of size and bag limits helps protect the fish population and ensures a sustainable fishing environment.
Garrisons Lake offers a peaceful and scenic setting for fishing enthusiasts in Delaware. Whether you're targeting bass, catfish, or perch, the lake provides a variety of fishing opportunities throughout the year. Whether you're an experienced angler or a beginner, a day spent fishing at Garrisons Lake is sure to be filled with excitement, relaxation, and the thrill of reeling in some fantastic catches.
Shoreline for fishing from the bank is available, on the south side of the pond, near the boat launch ramp as well as the area nearby the north parking lot. A fishing pier and walkway across the dam is also open to fishing. Kayaks, car-top boats and canoes are a nice way to casually fish this fertile fishery.

Primary fish species residing in Garrisons Lake
Click images for fishing tips and details about each species.
Garrisons Lake Amenities
Marina: NO
Boat Rental: NO
Boat Launch Ramp: YES
Campgrounds: NO
RV Hookups: NO
Lodging: NEARBY
Convenience Store: NO
Bait & Tackle: NEARBY
Restaurant: NEARBY
Today's Weather & Forecast
Public Boat Launch Ramps & Landings
Garrisons Lake Boat Launch Ramp
Located in the southeast corner of the lake, off Messina Hill Road, this is a one-lane, concrete ramp with paved parking.
Click here for a Delaware Fishing License.
Campgrounds & RV Parks Nearby
There are no campgrounds or RV parks nearby Garrisons Lake.
Garrisons Lake DE Map - Fishing & Camping Areas
Lake Video
Contact Information
Garrisons Lake
DE Division of Fish & Wildlife
302 739-9914
Fishing lakes in each state.
Garrisons Lake in Delaware.
DELAWARE


Information about fishing lakes in Delaware
Fishing for bass, crappie, sunfish and perch in central DE.
Fishing on Garrisons Lake.