Guide To Fishing At Lums Pond
AKA: Lums Lake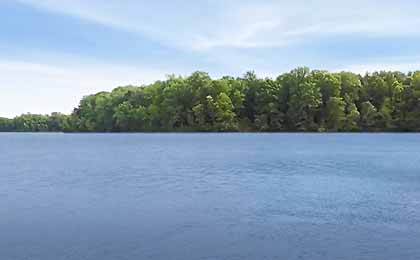 The most popular fishing lake in Delaware is Lums Pond, a 200-acre impoundment located in the northern section of the state, at Kirkwood. The lake has about 6 miles of shoreline, with numerous locations accessible for fishing from the bank.
Lums Pond, located in Bear, Delaware, is a popular fishing destination known for its diverse fish populations and scenic surroundings. Anglers of all ages and skill levels are drawn to this picturesque lake to enjoy a day of fishing and relaxation.
One of the most sought-after fish species in Lums Pond is bass. Largemouth bass can be found in good numbers, providing anglers with the opportunity to test their skills and land some impressive catches. The lake's structure, including submerged vegetation, fallen trees, and rocky areas, offers excellent habitats for bass. Anglers can employ various techniques such as casting with artificial lures, using live bait, or working topwater baits to entice strikes from these voracious predators.
Perch, including both yellow perch and white perch, are also abundant in Lums Pond. These panfish species are a favorite target for many anglers due to their abundance and delicious fillets. Perch can be caught year-round, but they are particularly active during the cooler months. Anglers typically use small jigs, live bait, or spinners to entice perch bites.
Crappie are another popular species found in Lums Pond. Both black crappie and white crappie can be targeted by anglers seeking a thrilling crappie fishing experience. Crappie tend to congregate around submerged structures, such as brush piles or fallen trees, making them easier to locate. Anglers often use small jigs, minnows, or small crankbaits to entice crappie bites.
Sunfish, including bluegill and pumpkinseed, are plentiful in Lums Pond and provide a great opportunity for anglers of all ages, especially young anglers looking for some action. These colorful and feisty fish can be caught using simple tactics such as a bobber and worm or small jigs. Sunfish provide consistent action and are an excellent choice for introducing beginners to the joys of fishing.
Before heading out to Lums Pond, it's important to familiarize yourself with Delaware fishing regulations, including size and bag limits, to ensure the conservation of fish populations. Additionally, make sure to obtain the appropriate fishing license required for fishing in Delaware.
Lums Pond offers a serene and enjoyable fishing experience for both seasoned anglers and beginners. With its diverse fish species, tranquil ambiance, and beautiful surroundings, Lums Pond is an ideal destination for a day of fishing, relaxation, and enjoyment of Delaware's natural beauty.
A boat launch ramp is located on the far-south side of the lake. The ramp descends at a very shallow taper which can make launching larger boats difficult. Otherwise it is fine for small to medium-size boats, kayaks and canoes. The fish species swimming in this pond include bass, crappie, sunfish and perch. This lake receives fairly heavy fishing pressure from locals, so you may wish to try out-of-the-box techniques, be patient, and work presentations slower than usual.

What to fish for...
Fishing for largemouth bass, black crappie, white crappie, bluegill, pumpkinseed sunfish, white perch and yellow perch at Lums Pond in Delaware.
Primary fish species residing in Lums Pond
Click images for fishing tips and details about each species.
Lums Pond Amenities
Marina: NO
Boat Rental: NO
Boat Launch Ramp: YES
Campgrounds: YES
RV Hookups: YES
Lodging: NO
Convenience Store: NEARBY
Bait & Tackle: NO
Restaurant: NEARBY
Today's Weather & Forecast
Public Boat Launch Ramps & Landings
Lums Pond Boat Launch Ramp
Located mid lake, on the south side of the lake, off Red Lion Road, this is a one-lane, concrete ramp with paved parking.
Click here for a Delaware Fishing License.
Campgrounds & RV Parks Nearby
Lums Park Campground - 302 368-6989
Lums Pond DE Map - Fishing & Camping Areas
Lake Video
Contact Information
Lums Pond
Lums Pond State Park
1068 Howell School Rd
Bear, DE 19701
302 368-6989
Fishing lakes in each state.
Lums Pond in Delaware.
DELAWARE


Information about fishing lakes in Delaware
Fishing for bass, crappie, sunfish and perch in northern DE.
Fishing on Lums Pond.