Guide To Delaware Other Fishing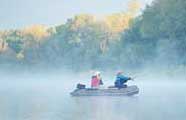 Fishing for chain pickerel, musky and tiger muskie in Delaware.
Larger lakes across the state of Delaware, with pike populations, include Andrews Lake, Concord Pond, Coursey Pond, Horsey Pond, Ingrams Pond, Lake Como, McGinnis Pond, Millsboro Pond, Records Pond, Wagamons Pond, Brandywine River, the Delaware River and others.

Other Available Species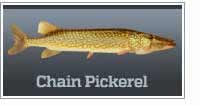 World record: 9 lbs 6 oz
State Record: 7 lbs 3 oz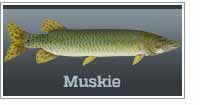 World record: 69 lbs 9 oz
State Record: 20 lbs 8 oz*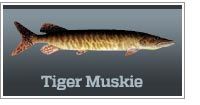 World record: 51 lbs 2 oz
State Record: 20 lbs 8 oz*
Click the images and links above for species details.
The Muskie Fishing page offers methods, tips and tactics. Also view the page revealing the top producing lures for catching musky and tiger musky.
Delaware Miscellaneous State Record Fish
The state record chain pickerel was taken out of Horsey Pond.
The state record muskie/tiger musky was caught in the Brandywine River.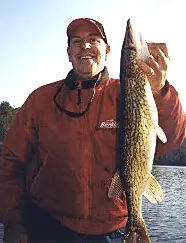 Muskie and tiger muskie typically inhabit swallow areas of lakes and rivers, hanging around outside weed edges and under cover of submerged vegetation. During the summer, when water temperatures warm, large tiger muskies move to deeper, cooler water and hold on structure. If natural springs are present they are inclined to stay near this cooler water.
Chain pickerel hang around weedy areas and along the weed line in lakes. Pike move into deeper water during the warm summer months. Tributary streams can be very productive in spring, before, during and after the spawn.
Information on fishing for unique species, by state.
Learn the habits and lifecycle of each species
Many of the species we portray as "other" in this website are simply not as commonly fished for as the more popular fish. For insight into some of these "other" fish in Delaware, visit the other fishing page for more in-depth information.
DELAWARE