Guide To Taking Kids Fishing At Top Spots In Delaware
Ideas and locations to take kids fishing in DE.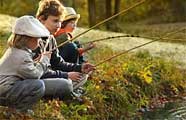 Fishing and the great outdoors offers kids an alternative to many influences they encounter in their busy lives today. A single fishing trip could be the turning point in a young life, and we encourage you to invest the time in Delaware kids. The rewards are endless and it takes so little effort.
Delaware is a great place for kids to experience the joys of fishing. The state offers numerous fishing locations that are ideal for young anglers, with opportunities to catch a variety of fish species.
One popular fish species for kids to target in Delaware is the bluegill, also known as sunfish. Bluegill are abundant in many of Delaware's ponds, lakes, and rivers, and they are known for their willingness to bite and provide young anglers with plenty of action. They can be caught using simple fishing techniques such as using small hooks and bait, making them an excellent choice for kids to learn the basics of fishing.
Another fish species commonly targeted by young anglers in Delaware is the catfish. Catfish are found in various fishing locations across the state, including urban fishing ponds. Channel catfish, in particular, are popular due to their abundance and willingness to bite. Fishing for catfish can be a fun and rewarding experience for kids, and they can be caught using a variety of baits such as chicken liver, worms, or prepared catfish baits.
Delaware's urban fishing locations are specifically designed to provide convenient access for young anglers. Places like Bellevue State Park Pond, Glasgow Park Pond, and Kent County Recreation Center Pond are among the popular urban fishing destinations in Delaware. These locations often have easily accessible fishing piers, well-stocked fish populations, and family-friendly amenities like picnic areas and playgrounds, making them perfect for a day of family fishing fun.
It's important to note that when fishing with kids, safety should always be a top priority. Ensuring that children wear appropriate life jackets, providing them with the necessary fishing gear and supervision, and teaching them basic fishing etiquette and safety rules are essential.
By introducing kids to the joys of fishing in Delaware's urban fishing locations, parents and guardians can create lasting memories, instill a love for the outdoors, and pass down the tradition of fishing to the next generation of anglers.

Places in Delaware to take kids fishing
Consider these small lakes, ponds, creeks and urban fishing locations as places to take a kid fishing in the First State.
Dover
- Little Creek
- Memorial Park
- Moores Lake
- Richardson Park
Laurel
- Chipman Pond
Millsboro
- Millsboro Pond
Wilmington
- Brandywine Creek Park
- Banning Park
- Lums Pond State Park
Top 3 tips for taking kids fishing in DE
1. Make sure that the goal is to have fun. Catching fish is a bonus.
2. Keep it simple. Simple tackle, techniques and locations.
3. Keep the focus on the kids. Be a hero by helping them enjoy the day.
Click here for additional tips to create a successful day of fishing for kids.
Take a kid fishing and bring your camera! These are a few of the places to take them fishing and get some great pictures. Kids, fishing and smiles naturally go together. Take a kid fishing and you just might change the course of their life. Then take pictures and send us one of them holding their prized catch. We will happily post it here.
Click here for additional tips to create a successful day of fishing for kids.
Kids Fishing Video
Youngsters with their prized catch
This could be your child, grandchild or any kid you took fishing. Take a picture and send it to us. We will happily post it here for them.
---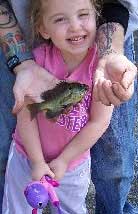 Jessica Ballard
At age 4 she caught her first bluegill at Millsboro pond in Millsboro DE. She loves fishing with her family.
---
Torrey with a nice largemouth Bass.
---
Kids fishing locations and information, by state.
Help us identify other youth fishing spots in DE.
If you are aware of a great place to take kids fishing in your area, please let us know. We can add it to our list. Every kid that catches a fish will appreciate the fact that you made the effort.
DELAWARE