Delaware Panfish Fishing
All about fishing for sunfish in DE lakes and ponds.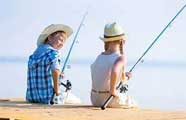 Throughout the state of Delaware you can find waters with populations of sunfish, including bluegill, redear sunfish and yellow perch.
One or more species of sunfish populate virtually all warm water streams, ponds and lakes throughout Delaware, and around the world for that matter. They can survive in waters that provide their natural food source of minnows, insects, crustaceans and worms. Their competitive nature amongst themselves, for food, makes them relatively easy to catch.
Panfish Fishing Lakes In Delaware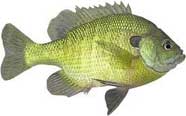 Panfish are everywhere in Delaware. Major lakes like Andrews Lake, Becks Pond, Chipman Pond, Concord Pond, Coursey Pond, Garrisons Lake, Griffith Lake, Haven Lake, Hearns Pond, Horsey Pond, Ingrams Pond, Lake Como, Lums Pond, Masseys Mill Pond, McGinnis Pond, Millsboro Pond, Moores Lake, Mud Mill Pond, Records Pond, Silver Lake, Wagamons Pond and Waples Pond all have populations of panfish.
The Delaware state records for both bluegill and redear sunfish were taken out of Diamond Pond. The DE state record yellow perch came from Red Clay Creek.
Panfish are prolific spawners and repopulate the waters as fast as they are harvested. A common problem with panfish fishing is that the waters are under-fished causing panfish to overpopulate. As a result they tend to stay small in size due to lack of food source.
The list of panfish is comprised of many fishes each called by a variety of names. The bluegill tops the list and is the most common.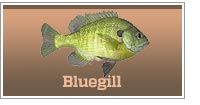 World record: 4 lbs 12 oz
DE State Record: 2 lbs 10 oz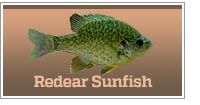 World record: 5.4 lbs
DE State Record: 3 lbs 1 oz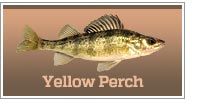 World record: 4 lbs 3 oz
DE State Record: 2 lbs 11 oz
By clicking on the images and links above, you will be taken to a page offering more information about the selected species.
Panfish fishing information for other states.
Learn the lifecycle of a panfish
There is a host of panfish anglers can pursue. Visit the panfish fishing page for details on many of these sunfish you might encounter in Delaware fishing waters. The panfish fishing videos offer a first hand look a anglers catching panfish.
Contribute DE Sunfish Fishing Knowledge
If you have information, articles or photos relating to panfish fishing in Delaware, which you would like to see published here, please submit them for consideration.
Best panfish fishing lakes in Delaware!