Trout Fishing In Delaware
Guide to fishing for rainbow trout in area lakes, rivers and streams.
Delaware offers anglers the opportunity to enjoy trout fishing in its lakes and rivers. Although the state does not have native trout populations, it conducts regular stocking programs to provide anglers with exciting trout fishing experiences.
Rainbow trout are the primary species stocked in Delaware. These beautiful and highly prized fish offer thrilling angling opportunities. The Division of Fish and Wildlife stocks selected lakes and rivers with trout during the cooler months, typically from fall to early spring, when water temperatures are suitable for trout survival.
Delaware's major trout fishing lakes include White Clay Creek, Newton Pond, and Becks Pond. These lakes receive regular stockings of rainbow trout and brown trout, creating excellent fishing opportunities. Anglers can try their luck by casting spinners, flies, or bait such as worms or PowerBait to entice these fish.
Trout fishing in Delaware's rivers is also popular, with the White Clay Creek, Red Clay Creek, and Brandywine Creek being prime destinations. These rivers offer scenic settings and challenging fishing conditions, making them ideal for fly fishing enthusiasts. Anglers can target trout in deeper pools, riffles, and runs, using various fly patterns to mimic natural food sources.
Delaware's trout fishing records stand as testament to the potential for landing trophy-sized fish. Anglers have caught impressive rainbow trout that showcase the quality of fishing available in the state. These records serve as a testament to the dedication and skills of Delaware's trout anglers.
When trout fishing in Delaware, anglers should be familiar with the state's fishing regulations, including catch limits and seasons. Practicing catch-and-release for oversized or spawning fish is encouraged to ensure the sustainability of trout populations and the longevity of the fishery.
Whether you prefer the tranquility of lake fishing or the challenge of river fly fishing, Delaware's trout fisheries provide exciting opportunities for anglers of all skill levels. With regular stocking programs and scenic fishing locations, Delaware's trout fishing scene is sure to delight any angler seeking the thrill of landing a beautiful trout.
Trout Fishing Waters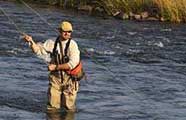 The lakes in DE are not stocked with trout. They are native to most waters in which they reside, or have self-sustained from a prior stocking.

Trout Species In The State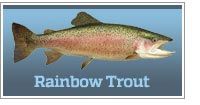 World record: 42 lbs 2 oz
State Record: 11 lbs 10 oz*
Click the images and links above for species details.
Select the best trout lures and baits
Trout spinners, crankbaits and jerkbaits work well for shallow, reasonably active fish. Salmon eggs, worms and prepared baits will work at virtually all depths.
Delaware State Record Trout
The state record trout (*all trout) was caught from White Clay Creek.
Visit the Delaware Division of Fish & Wildlife website for details on trout stocking schedules and trout fishing in Delaware.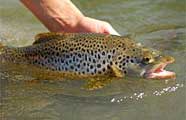 The 5 primary trouts are the rainbow, brook, brown, cutthroat and lake trout. Browns are considered the most difficult to catch and brookies are the easiest. Pure cold water is key to survival of the trouts.
Watch trout fishing videos to see trout anglers in action.
Additional trout information
Trout Conservation
Trout Unlimited
Trout locations and info, by state.
The habits of trout.
Trout are considered some of the most difficult fish to fool. Once you locate Delaware waters with a population of trout, the challenge becomes identifying trout flies and lures that will trigger strikes. Visit the trout fishing page to learn more about the habitat each of the trouts prefer.
DELAWARE