Guide To Fishing At Claytor Lake
AKA: Claytor Reservoir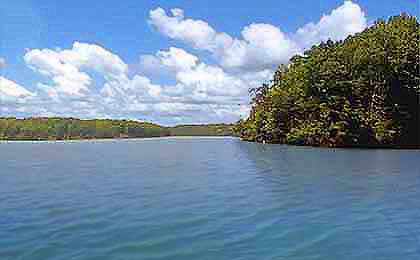 In a beautiful setting, this mountain reservoir called Claytor Lake offers up camping, boating and fishing away from the hustle and bustle of everyday life. This is a 4,500-acre lake in the southwest part of the state, at Radford, VA.
Claytor Lake, nestled in the beautiful Blue Ridge Mountains of Virginia, is a favorite destination for fishing enthusiasts seeking a serene and rewarding angling experience. The lake is renowned for its abundant fish populations, making it a haven for anglers of all skill levels.
One of the popular fish species in Claytor Lake is the smallmouth bass. Anglers flock to the lake for the chance to catch these hard-fighting fish that inhabit its clear and cool waters. Smallmouth bass can be found near rocky structures, submerged ledges, and drop-offs. They readily bite on a variety of lures, including crankbaits, soft plastics, and topwater baits. Spring and fall are prime seasons for smallmouth bass fishing at Claytor Lake when the fish are more active and actively feeding.
In addition to smallmouth bass, Claytor Lake is home to other popular fish species such as largemouth bass, crappie, and catfish. Largemouth bass can be found in the lake's shallow areas and around submerged vegetation, while crappie can be targeted near brush piles and submerged structures. Catfish, including channel catfish and flathead catfish, provide an exciting angling experience for those seeking larger catches.
Boating is a popular activity on Claytor Lake, with its expansive surface area and calm waters providing ample opportunities for watercraft enthusiasts. Anglers can take advantage of their boats to explore different areas of the lake and find the best fishing spots. Whether it's cruising along the peaceful shoreline or anchoring in productive fishing areas, boating enhances the fishing experience on Claytor Lake.
Camping is available at Claytor Lake State Park, offering a beautiful setting for anglers to extend their fishing trips. The park provides campsites and amenities such as picnic areas, hiking trails, and boat ramps. Camping near Claytor Lake allows anglers to immerse themselves in the natural beauty of the area, waking up to the sound of birds and the prospect of a day filled with fishing adventures.
Claytor Lake offers a combination of scenic beauty, abundant fish species, and recreational activities, making it a desirable destination for anglers, boaters, and campers alike. Whether casting for smallmouth bass, enjoying a leisurely boat ride, or spending a night under the stars, Claytor Lake provides a memorable fishing and outdoor experience in the heart of Virginia's picturesque landscape.
Anglers can explore over 60 miles of shoreline in search of bass, crappie, walleye, catfish, stripers, hybrid striped bass, perch, bluegill, white bass and sunfish. Some VA fishing guides offer guided bass, striper and crappie trips on Claytor Lake. Several boat launch ramps, some for a small fee and some for free, are scattered around the lake. Boat docks, trees and fish habitat are the primary cover for fish and baitfish. Kayaks, canoes and all types of fishing boats provide access to this river fishery.

What to fish for...
Fishing for largemouth bass, smallmouth bass, spotted bass, channel catfish, flathead catfish, black crappie, walleye, bluegill, white bass, yellow bass, yellow perch, striped bass and hybrid striped bass at Claytor Lake in Virginia.
Primary fish species residing in Claytor Lake
Click images for fishing tips and details about each species.
Claytor Lake Amenities
Marina: YES
Boat Rental: YES
Boat Launch Ramp: YES
Campgrounds: YES
RV Hookups: YES
Lodging: YES
Convenience Store: YES
Bait & Tackle: YES
Restaurant: YES
Today's Weather & Forecast
Fishing Boat Rentals
Claytor Lake Water Sports
Rentals: Fishing boats, pontoon boats, kayaks and canoes
540 731-8683
Mountain 2 Island at the Rock House Marina
Rentals: Kayaks and pontoon boats
540 980-1488
Public Boat Launch Ramps & Landings
Claytor Lake State Park Boat Launch Ramp
Located in the northeast section of the lake, north side, off Ben H Bolen Drive, this is a four-lane, concrete ramp with docks and lots of paved parking.
Dublin VDWR Boat Launch Ramp
Located in the northeast section of the lake, north side, off Bear Drive, this is a two-lane, concrete ramp with docks and paved parking.
Harry DeHaven Park Boat Launch Ramp
Located mid lake, east side, off Beach Drive, this is a two-lane, concrete ramp with docks and paved parking.
Marinas
Rockhouse Marina
3776 Rock House Rd
Pulaski, VA 24301
540 980-1488
Click here for a Virginia Fishing License.
Campgrounds & RV Parks Nearby
Claytor Lake State Park Campground - 540 643-2500
Cedar Cove Campground - 540 674-8180
Covey's Family Campground - 540 674-5201
McGuire Family Campground - 540 674-5561
Fort Chiswell RV Park - 276 637-6868
Izaak Walton League Campground - 540 382-7063
Claytor Lake VA Map - Fishing & Camping Areas
Lake Video
Contact Information
Claytor Lake
Claytor Lake State Park
6620 Ben H. Bolen Dr
Dublin, VA 24084
540 643-2500
Fishing lakes in each state.
Claytor Lake in Virginia.
VIRGINIA


Information about fishing lakes in Virginia
Fishing in southwest VA, at Claytor Lake, for bass, crappie, walleye, catfish, stripers, hybrid striped bass, perch, bluegill, white bass and sunfish .
Fishing on Claytor Lake.