Fishing At High Falls Lake
AKA: High Falls State Park Lake
What to fish for...
Guide to fishing for largemouth bass, channel catfish, black crappie, bluegill, green sunfish, redbreast sunfish, redear sunfish, rock bass, spotted sunfish, warmouth, yellow perch and striped bass at High Falls Lake in Georgia.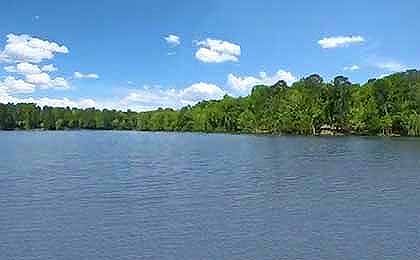 Clear water, loaded with fish is the draw at High Falls Lake, a 650-acre lake in the central part of the state, 8 miles southwest of Jackson. Bass anglers can cruise over 20 miles of shoreline in search of largemouth bass, which are here in good size and numbers. Fishing for channel catfish is quite popular as well.
The purpose of this page is to deliver an overview of this lake, the fishing options, and area amenities. Our goal is to provide info to first time visitors, as well as beginner and novice anglers. We gathered details from personal experience, numerous trusted websites that each offer select bits of information, and videos of fishing activity on the lake. These websites include the Georgia Wildlife Resources Division, marinas at the lake, campgrounds, boat rental agencies and others. By consolidating this information to one page it allows visitors to see the entire picture, all in one place.
Lake Video
High Falls Lake, located in central Georgia, is a popular fishing destination known for its diverse fish population and scenic beauty. Anglers flock to the lake for a chance to catch various popular fish species that thrive in its waters.
Bass fishing is particularly rewarding on High Falls Lake. Both largemouth bass and spotted bass can be found here, offering anglers exciting opportunities to test their skills. The lake's structure, such as submerged rocks, points, and fallen trees, provides excellent cover for bass, making it an ideal habitat for these sportfish. Anglers often use a variety of lures, including crankbaits, soft plastics, and topwater baits, to entice the bass into biting.
Catfish enthusiasts will also find plenty of action on High Falls Lake. The lake is home to channel catfish, which are sought after by anglers looking for a tasty meal or a thrilling fight. Using cut bait, live bait, or stink baits, anglers can target catfish along the lake's banks, near submerged structures, or in deeper areas.
Crappie fishing is another popular pursuit on High Falls Lake. Anglers can find both black crappie and white crappie congregating around submerged brush piles, fallen trees, and other structures. Techniques such as jigging with small jigs, using live minnows, or casting crappie-specific lures can yield success when targeting these panfish.
Sunfish, including bluegill and redear sunfish, provide enjoyable fishing opportunities for anglers of all ages. High Falls Lake has abundant populations of these panfish, which can be caught using small hooks, worms, or crickets. Fishing near vegetation, along the shoreline, or around docks and piers can lead to exciting encounters with sunfish.
Yellow perch are also present in High Falls Lake, offering additional angling opportunities. These fish are often targeted during the colder months when they move into shallower areas to spawn. Anglers can use small jigs, live bait, or minnow imitations to entice yellow perch into biting.
Striped bass can be found in High Falls Lake as well, providing thrilling fishing experiences. These hard-fighting fish are known for their strength and acrobatic jumps. Anglers often target striped bass using live bait, such as shad or herring, or by casting swimbaits and topwater lures.
High Falls Lake in Georgia provides a range of fishing opportunities for anglers seeking bass, catfish, crappie, sunfish, yellow perch, and striped bass. With its diverse fish population, scenic surroundings, and recreational amenities for boating and camping, High Falls Lake offers a memorable fishing experience for anglers of all skill levels.
In addition to bass and cats, this fertile fishery offers crappie, bream, sunfish and striper fishing. High Falls State Park Lake, the only campground at the lake, is a good place to headquarter. Horsepower limit for boat motors is 25 horsepower, making this an ideal destination for kayaks, canoes and smaller fishing boats.

Primary fish species residing in High Falls Lake
Click images for fishing tips and details about each species.
High Falls Lake Amenities
Marina: NO
Boat Rental: YES
Boat Launch Ramp: YES
Campgrounds: YES
RV Hookups: YES
Lodging: YES
Convenience Store: YES
Bait & Tackle: YES
Restaurant: YES
Today's Weather & Forecast
Boating and camping are popular activities on High Falls Lake, with several boat ramps and campgrounds available for visitors. Anglers can enjoy the convenience of accessing prime fishing spots from their boats and relax in the scenic beauty of the lake. Campgrounds near the lake offer a peaceful setting for overnight stays, allowing anglers to extend their fishing trips and make the most of their time on the water.
Public Boat Launch Ramps & Landings
High Falls Park Boat Launch Ramp
Located in the southeast corner of the lake, at the west end of the dam, this is a one-lane, concrete ramp with paved parking.
Click here for a Georgia Fishing License.
Campgrounds & RV Parks Nearby
High Falls State Park Campground - 478 993-3053
High Falls Hide-A-Way Campground - 770 294-9514
High Falls RV Park - 678 257-1771
High Falls Lake GA Map - Fishing & Camping Areas
Contact Information
High Falls Lake
High Falls State Park
76 High Falls Park Dr
Jackson, GA 30233
478 993-3053
Fishing lakes in each state.
High Falls Lake in GA
GEORGIA


Fishing for bass and catfish in central GA.
High Falls Lake, in Georgia.