Fishing At Lake Seminole
AKA: Seminole Lake
What to fish for...
Guide to fishing for largemouth bass, channel catfish, flathead catfish, black crappie, white crappie, bluegill, redear sunfish, striped bass, hybrid striped bass and chain pickerel at Lake Seminole in Georgia.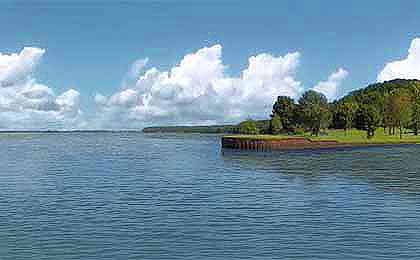 A virtual bass factory in a beautiful setting, Lake Seminole is a place to catch the fish of a lifetime or simply enjoy the great outdoors for a family vacation. This fertile fishery covers 37,000 surface acres, located in the southwest corner of the state on the Florida-Georgia border at Chattahoochee, FL.
Lake Seminole, located in southwest Georgia, is a renowned fishing destination known for its diverse fishery and picturesque landscapes. Anglers flock to this lake throughout the year to target a variety of popular fish species.
Bass fishing is a major draw on Lake Seminole, as it boasts a healthy population of largemouth bass. The lake has gained a reputation as a top bass fishing spot, with its vast stretches of submerged vegetation and ample cover. Anglers can experience productive bass fishing throughout the year, with spring and fall being particularly fruitful seasons. Techniques such as flipping, pitching, and topwater fishing can yield impressive catches.
Hybrid stripers, a cross between striped bass and white bass, are another sought-after species in Lake Seminole. These hard-fighting fish provide anglers with thrilling battles and are known for their aggressive strikes. Trolling with swimbaits, casting with spoons, or using live bait can be effective methods for targeting hybrid stripers.
Catfish enthusiasts will find plenty of opportunities on Lake Seminole. The lake is home to channel catfish and flathead catfish, offering anglers the chance to reel in some impressive catches. Bottom fishing with cut bait, live bait, or stinkbaits can be successful in enticing these whiskered predators.
Crappie fishing is also popular on Lake Seminole, particularly during the cooler months. Anglers can target black crappie and white crappie around submerged structures, fallen trees, and brush piles. Jigs, minnows, and small spinners are commonly used to entice these tasty panfish.
Sunfish, including bluegill and redear sunfish, are abundant in Lake Seminole and provide an enjoyable angling experience. These feisty fish can be caught using small jigs, worms, or crickets. They are often found in shallower areas, near docks, and around vegetation.
Lake Seminole offers ample boating opportunities with its expansive waters and well-maintained boat ramps. Anglers can navigate the lake in their boats, exploring its various coves and fishing hotspots. The lake also provides excellent conditions for other water activities such as water skiing and jet skiing.
Camping facilities are available near Lake Seminole, allowing anglers and outdoor enthusiasts to extend their stay and enjoy the beauty of the surroundings. Whether it's pitching a tent at a lakeside campground or staying in a cozy cabin, there are options to suit every preference.
Lake Seminole in Georgia is a popular fishing destination, offering a diverse range of fish species including bass, hybrid stripers, catfish, crappie, sunfish, striped bass, and chain pickerel. With its scenic beauty, excellent boating opportunities, and camping facilities, Lake Seminole provides a memorable fishing experience for anglers of all ages and skill levels.
Anglers and outdoor enthusiasts can explore 376 miles of shoreline for fishing from a boat or from the bank. Swimming here is discouraged as these waters are inhabited by alligators, and caution is recommended anywhere near the lake water. Fish species residing in the reservoir include striped bass, hybrid stripers, catfish, crappie, sunfish, chain pickerel and largemouth bass. The aquatic vegetation is a major factor in making the lake so fertile and provides shelter to baitfish and the bass - making it a great place to look for bass. Seventeen boat launch ramps, plus a few primitive launch areas, serve boaters launching canoes, kayaks, pontoon boats, sailboats, pleasure boats and a wide variety of fishing boats including bass boats. A couple marinas, multiple campgrounds and RV parks, stores, restaurants, lodging and other amenities are available to enhance your visit.

Primary fish species residing in Lake Seminole
Click images for fishing tips and details about each species.
Lake Seminole Amenities
Marina: YES
Boat Rental: NO
Boat Launch Ramp: YES
Campgrounds: YES
RV Hookups: YES
Lodging: YES
Convenience Store: YES
Bait & Tackle: NEARBY
Restaurant: YES
Today's Weather & Forecast
Public Boat Launch Ramps & Landings
374 Boat Launch Ramp
Located mid lake, on the north side of the lake, off 374 Road, this is a one-lane, concrete ramp with a dock and paved parking.
Booster Club Landing Boat Launch Ramp
Located in the southeast section of the lake, off Taylor Court, this is a two-lane, concrete ramp with docks and paved parking.
Faceville Landing Park Boat Ramp
Located in the southeast corner of the lake, off Faceville Landing Road, this is a one-lane, concrete ramp with a dock and paved parking.
Ten Mile Still Landing Boat Launch Ramp
Located in the southeast section of the lake, off Stone Landing Road, this is a one-lane, concrete ramp with a dock and paved parking.
Marinas
Bainbridge Marina
2400 Airport Rd
Bainbridge, GA 39817
229 246-6336
Click here for a Georgia Fishing License.
Campgrounds & RV Parks Nearby
East Bank Campground - 229 662-9273
Lake Seminole RV Park Campground - 229 220-2529
Wingate's Lodge Campground - 229 246-0658
Spring Creek Park Resort Campground - 229 861-3247
Do Campground - 229 861-2279
Fins And Feathers Campground - 229 861-2279
Seminole State Park Campground - 229 861-3137
Trails End Resort RV Park & Campground - 229 861-2000
Lake Seminole GA Map - Fishing & Camping Areas
Lake Video
Contact Information
Lake Seminole
Seminole State Park
7870 State Park Rd
Donalsonville, GA 39845
229 861-3137
Fishing lakes in each state.
Lake Seminole in Georgia.
GEORGIA


Information about fishing lakes in Georgia
Lake Seminole offers quality bass fishing southern GA, with the opportunity to hook a lunker.
Fishing on Lake Seminole.