Georgia Crappie Fishing
All about fishing for black and white crappie in GA.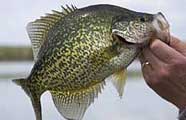 Crappie are actually a member of the sunfish family and can be found in many Georgia lakes. Crappie are known by many different local names. Paper mouth, goggleye, bridge perch, slabs and speckled perch, are just a few.
Crappie Fishing Waters In Georgia
It might prove difficult to locate a lake of any size in GA that doesn't sport a population of crappie. Some of the biggest stringers of crappie come from the major Georgia lakes like Banks Lake, Carters Lake, Chatuge Lake, Clarks Hill Lake, Lake Allatoona, Lake Burton, Lake Blackshear, Lake Chehaw, Lake Eufaula, Lake Harding, Lake Hartwell, Lake Jackson, Lake Lanier, Lake Nottely, Lake Oconee, Lake Oliver, Lake Seminole, Lake Sinclair, Lake Tobesofkee, Richard B Russell Lake and West Point Lake.
Lake Spivey holds the state record for black crappie while the state record for white crappie was caught from a private pond.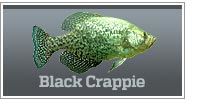 World record: 6 lbs 0 oz
GA State Record: 4 lbs 4 oz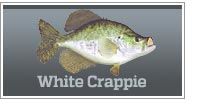 World record: 5 lbs 3 oz
GA State Record: 5 lbs 0 oz
By clicking on the images and links above, you will be taken to a page offering more information about the selected species.
Check out crappie fishing information, by state.
The life cycle of crappie.
The more you know about crappie, the easier it will be to locate and catch them in Georgia lakes and rivers. Visit the crappie fishing page for details about their seasonal migrations.
Best crappie fishing lakes in Georgia!