Fishing At Lake Tugalo
AKA: Tugalo Reservoir
What to fish for...
Guide to fishing for largemouth bass, spotted bass, channel catfish, black crappie, walleye, bluegill, green sunfish, redbreast sunfish, redear sunfish, rock bass, spotted sunfish, warmouth, white bass and yellow perch at Lake Tugalo in Georgia.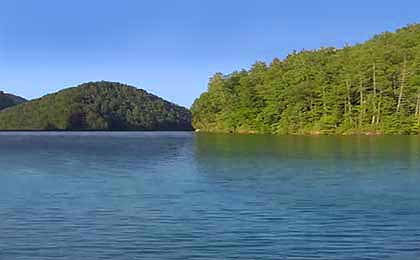 Nestled downstream of the Tallulah Gorge, on the Chattooga River, Lake Tugalo is a 597-acre lake in the northeast corner of the state, just east of Tallulah Falls. While there are nearly 20 miles of fishy-looking shoreline, access to much of the Georgia shore is unavailable without hiking.
The purpose of this page is to deliver an overview of this lake, the fishing options, and area amenities. Our goal is to provide info to first time visitors, as well as beginner and novice anglers. We gathered details from personal experience, numerous trusted websites that each offer select bits of information, and videos of fishing activity on the lake. These websites include the Georgia Wildlife Resources Division, marinas at the lake, campgrounds, boat rental agencies and others. By consolidating this information to one page it allows visitors to see the entire picture, all in one place.
Lake Video
Lake Tugalo, situated on the border between Georgia and South Carolina, is a scenic reservoir that offers excellent fishing opportunities for anglers. The lake is known for its diverse fish species and serene natural beauty, attracting both locals and visitors alike.
Bass fishing enthusiasts will find Lake Tugalo to be a rewarding destination. Largemouth bass and spotted bass inhabit the lake's clear waters, providing thrilling angling experiences. The best times to target bass in Lake Tugalo are during the spring and fall when the water temperatures are ideal. Anglers can employ various techniques such as casting topwater lures, working plastic worms, or using crankbaits to entice these feisty predators.
Walleye, another sought-after species, can also be found in Lake Tugalo. These elusive fish are known for their delicious taste and challenging fight. Early mornings and evenings are prime times to target walleye, and anglers often use live bait such as nightcrawlers or minnows, as well as jigs or crankbaits to attract these prized fish.
Channel catfish are plentiful in Lake Tugalo. Anglers can enjoy successful catfishing using a variety of techniques and baits such as chicken liver, cut bait, or stinkbaits. Night fishing can be particularly productive for catching catfish.
Crappie, sunfish, and yellow perch are also popular catches in Lake Tugalo. These panfish species can be found near submerged structures and brush piles, especially during the cooler months. Anglers can target them using small jigs, live minnows, or small spinners.
Lake Tugalo in Georgia offers a variety of fishing opportunities for bass, walleye, catfish, crappie, sunfish, and yellow perch. With its picturesque surroundings, boating options, and camping facilities, Lake Tugalo is an inviting destination for anglers and nature lovers seeking a memorable fishing experience in Georgia.
The remoteness of the area makes for a great outdoor experience while boating, sightseeing or fishing. The Lake Tugalo Stone Place Boat Ramp allows for launch of boats with 25 horsepower or less. Popular fish species here are bass, walleye and sunfish. Also residing in the lake are catfish, crappie, yellow perch and white bass. No matter your choice, all species here thrive in good numbers and size. There is no marina or rental boats, but most everything else you might need is within 15 minutes of the lake.

Primary fish species residing in Lake Tugalo
Click images for fishing tips and details about each species.
Lake Tugalo Amenities
Marina: NO
Boat Rental: NO
Boat Launch Ramp: YES
Campgrounds: NEARBY
RV Hookups: NEARBY
Lodging: NEARBY
Convenience Store: NEARBY
Bait & Tackle: NEARBY
Restaurant: NEARBY
Today's Weather & Forecast
Boating is a popular activity on Lake Tugalo, with opportunities for both motorized and non-motorized watercraft. Anglers can explore the lake's scenic coves, rocky shorelines, and hidden fishing spots by boat, allowing them to access prime fishing areas. It's important to be mindful of boating regulations and ensure boating safety measures are followed.
Public Boat Launch Ramps & Landings
Stone Place Boat Launch Ramp
Located mid lake, on the north side of the lake, off Stoneplace Road, this is a one-lane, concrete ramp with a dock and gravel parking.
Click here for a Georgia Fishing License.
Camping facilities are available near Lake Tugalo, providing anglers and outdoor enthusiasts the chance to extend their fishing trip and immerse themselves in nature. Whether you prefer tent camping or RV camping, there are campsites with amenities like picnic areas, restrooms, and access to the lake.
Campgrounds & RV Parks Nearby
Terrora Campground - 706-754-7979
Windy Sky RV & Cabin Rentals - 706-426-3062
Lake Tugalo GA Map - Fishing & Camping Areas
Contact Information
Lake Tugalo
Explore Georgia - Lake Tugalo
Off U.S. Hwy. 441
Tallulah Falls GA 30573
706 212-2440
Fishing lakes in each state.
Lake Tugalo in GA
GEORGIA


Fishing for bass, walleye and sunfish in northeast GA.
Lake Tugalo, in Georgia.