Choose From The Best Fishing Guides In Georgia
Hire a guide to take you fishing in GA.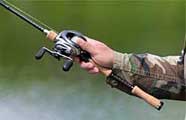 Hire a fishing guide to fish for largemouth bass, smallmouth bass, spotted bass, shoal bass, redeye bass, channel catfish, flathead catfish, blue catfish, white catfish, black crappie, white crappie, walleye, rainbow trout, brook trout, brown trout, bluegill, flier sunfish, green sunfish, redbreast sunfish, redear sunfish, spotted sunfish, warmouth, white bass, yellow perch, stripers, bowfin, chain pickerel, longnose gar and sauger in local lakes.

Georgia Fishing Guide
Little River Guide Service
Clark's Hill striped bass and hybrid stripers. All equipment is provided and fish cleaning is included. Visit Our Website.
706 210-3474
Georgia Fishing Guides
The Striper Experience - 678-300-4865
Ron Mullins - [email protected]
Focus species: Striped bass. The Striper Experience is a year round fishing guide service on Lake Lanier specializing in catching trophy striped bass. We will customize a fishing trip to meet your needs. Experience the thrill of landing a trophy striper.
Lake Lanier Striper Guide - 770 630-2673
Clay Cunningham - [email protected]
Striped Bass, crappie. We are a full time striper guide service on Lake Lanier just north of Atlanta, Georgia. We provide all bait and tackle.
Georgia Wild Trout 469-678-9154
Tad Murdock [email protected]
Georgia Wild Trout is a fly fishing guide service offering trips throughout the North Georgia mountains to both experienced and beginning anglers. Full and half day fly fishing trips are available on Wild and private trophy trout streams.
Other Area Guides
For the ultimate fishing experience, hire a professional guide. They know the GA fishery inside out and have determined the best techniques for catching fish at various times of the year. Hire a bass fishing guide or a fly fishing guide for trout, crappie, bass, stripers and others.
Striper Addiction Bait Company - 931 285-2699
Mr. Rene McComb - [email protected]
Focus Species: Stripers and hybrid stripers. Guided trips on Lake Cumberland, Old Hickory, Cordell Hull, Cheatham, Percy Priest, Tim's Ford and Lake Lanier. Guided trips for stripers and hybrids.
Reel'em In Guide Service - 706 635-5472
James Bradley - [email protected]
Focus Species: Trout. North Georgia Mountain Fly fishing, wade only, provides waders, boots, and rods.
Southern Sweetwater Anglers - 706 636-5962
Garrett Brumit. Focus Species: Trout. Fly Fishing Guide service, basic casting instructions, Blast & Cast (1/2 day Quail hunt with guide & dogs 1/2 day Fly fishing with guide.
Sasser's Guide Service - 706 589-5468
William Sasser - [email protected]
Focus Species: Crappie, stripers & hybrids. Year round guided fishing trips on Clarks Hill and Lake Thurmond uscg licensed and insured
Paul Parsons Guide Service - 706 845-0862
Paul Parsons - [email protected]
Full and Half day guide trips with live shad or artificial lures for Largemouth and Spotted Bass, Hybrids, Stripers,Catfish and Crappie on West Point Lake in Georgia. We catch them all!
Crockett Rocket Guide Service - 803 637-6379
Dave Willard - [email protected]
Focus Species: Stripers, hybrid and largemouth bass. Captain Dave is a 25 year professional coast guard licensed fishing guide on Lake Thurmond/Clarks Hill Lake. He uses live herring and fishes out of a 26 ft. catamaran with twin engines.
Reel Job Fishing - 770 330-7583
Capt. Kent Klewein - [email protected]
Focus Species: Rainbow and brown trout, smallmouth bass, largemouth bass, spotted bass. Reel Job Fishing, specializes in guided fly fishing trips for trout and bass in North Georgia. Float trips, wade trips, trophy trout, and bass trips are offered. All gear is provided.
Lake and Stream Guide Service - 706 669-4973
Eric Crowley - [email protected]
Focus Species: Striper, walleye and spotted bass. Full service professional fishing guide.
Gettin Lucky Fishing - 678 634-3408
Capt. Scott Collins - [email protected]
Focus Species: Striped bass and spotted bass. Enjoy fishing trips for trophy stripers and spotted bass in Lake Lanier. However, with fall here I offer trips to Carter's Lake which offers incredible scenery, backed by great striper and spotted bass fishing. Take full advantage of the hot fall fishing bite.
Big Fish On - 770 598-5195
Mike Maddalena - [email protected]
Focus Species: Striped bass. Full service guide trips. Fun trips or trophy trips. All bait and tackle provided . We fish 365 days a year!
Georgia Fishing Guide Services
In addition to catching fish, guides teach you techniques which you will use over a lifetime of fishing. Learn tips on rods, reels, line, knots, lures, hook types, techniques and much more...all by spending the day in a boat with a local guide.
Fishing guide information for other states.
GEORGIA