Taking Kids Fishing In Georgia
Ideas and locations to take kids fishingin GA.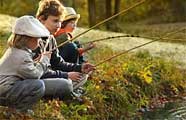 Fishing and the great outdoors offers kids an alternative to many influences they encounter in their busy lives today. A single fishing trip could be the turning point in a young life, and we encourage you to invest the time in Georgia kids. The rewards are endless and it takes so little effort. The purpose of this page is to share the basics about taking kids fishing and tips to make it fun by keeping it simple.
Georgia is a great place to take kids fishing, in various urban locations throughout the state. These urban fishing spots are designed to provide accessible and family-friendly fishing experiences for children. Here, kids can learn about fishing, develop their angling skills, and make lasting memories.
Kids Fishing Video
Many of these urban fishing locations are stocked with a variety of fish species, ensuring that young anglers have plenty of action. Common fish species found in these areas include catfish, bass, crappie, and sunfish. These species are relatively easy to catch and can provide an exciting and rewarding experience for young anglers.
Some popular urban fishing locations in Georgia include Piedmont Park in Atlanta, where the Piedmont Park Conservancy stocks the lake with catfish and bass. Additionally, Rockdale County's Wheeler Park Pond and Richmond Hill's J.F. Gregory Park offer great opportunities for kids to fish for catfish, bream, and bass.
These urban fishing locations often have well-maintained fishing piers, docks, and shoreline access, making it convenient for families to set up and enjoy a day of fishing. Many parks also provide amenities such as picnic areas, playgrounds, and restroom facilities, creating a family-friendly environment for a full day of outdoor fun.
Georgia's urban fishing locations are ideal for introducing kids to the joys of fishing. They provide a safe and accessible environment for children to learn about fishing techniques, practice their casting skills, and experience the thrill of reeling in their first catch. Fishing in these urban settings also offers a great opportunity for families to bond, enjoy nature, and create lifelong memories together.

Places in Georgia to take kids fishing
Consider these small lakes, ponds, creeks and urban fishing locations as places to take a kid fishing in the Peach State.
Atlanta
- Bull Sluice Lake
- Chapel Hill Park
- Exchange Park
- Glen Emerald Lake
- Piedmont Park
- Stone Mountain Park
Columbus
- Cooper Creek Park
- Flat Rock Park
- Heath Park
- Lake Oliver Marina
- Rigdon Park
Ellijay
- Carters Lake
Gainesville
- Clarks Bridge Park
- Holly Park
- Lake Carlton
- Lanier Point Park
- Longwood Park
Macon
- Central City Park
Savannah
- Bowles Ford Park
- Daffin Park
- Tatemville Park
Youngsters with their prized catch
---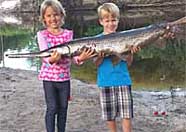 Lillian and Rylee Schwenn ages 4 and 5 both took turns reeling in this 54 inch, longnose gar that weighed 25 pounds. They caught their trophy from the Withlacoochee River.
---
Top 3 tips for taking kids fishing in GA
1. Make sure that the goal is to have fun. Catching fish is a bonus.
2. Keep it simple. Simple tackle, techniques and locations.
3. Keep the focus on the kids. Be a hero by helping them enjoy the day.
Click here for additional tips to create a successful day of fishing for kids.
Kids, fishing and smiles naturally go together. Take a kid fishing and you just might change the course of their life. Then take pictures and send us one of them holding their prized catch. We will happily post it here.
Click here for additional tips to create a successful day of fishing for kids.
Georgia offers many opportunities for kids to fish and experience the thrill of the "tap-tap-tap". Watch the eyes of a youth light up no matter how big or small their catch may be. You have the opportunity to experience it with them and share their joy.
Kids fishing locations and information, by state.
Help us identify other youth fishing spots in GA.
If you are aware of a great place to take kids fishing in your area, please let us know. We can add it to our list. Every kid that catches a fish will appreciate the fact that you made the effort.
GEORGIA