Guide To Fishing At Fish Lake
AKA: Fishlake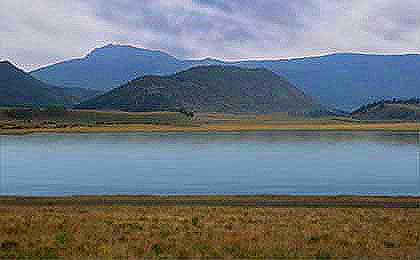 Nestled in the Fishlake National Forest, Fish Lake attracts outdoor enthusiasts for fishing, boating, camping and a host of other activities. This 2,500-acre lake is located in the central part of the state, at Koosharem.
Fish Lake is a stunning alpine lake located in the Fishlake National Forest in central Utah. It is nestled amidst the majestic mountains, offering a picturesque setting for anglers and nature lovers alike.
Fishing at Fish Lake is a popular activity throughout the year, thanks to its diverse fish population and scenic surroundings. The lake is well-known for its excellent trout fishing. Anglers can target rainbow trout, cutthroat trout, and lake trout, all of which thrive in the cool and clear waters. These trout species offer a challenging and rewarding fishing experience for those seeking a trophy catch or a relaxing day by the water.
Apart from trout, Fish Lake is also home to other popular fish species. Largemouth bass can be found in the lake's shallower and warmer areas, providing additional opportunities for anglers to diversify their fishing experience. Kokanee salmon, a landlocked variety of sockeye salmon, are stocked in Fish Lake and add to the excitement for anglers seeking something different.
During the summer months, yellow perch become a favorite target for many anglers. These tasty panfish are abundant in Fish Lake and are a favorite for families and beginners. The diverse fishery at Fish Lake makes it an attractive destination for anglers of all levels and interests.
The best time to fish at Fish Lake largely depends on the species you're targeting. Spring and early summer are prime times for trout fishing as the fish become more active after the winter months. Kokanee salmon fishing is typically best during the summer months, while yellow perch can be caught throughout the warm season.
With its beautiful scenery and ample fishing opportunities, Fish Lake is a must-visit destination for anyone seeking a memorable and rewarding fishing experience in Utah's natural splendor.
Options for camping line the northwestern side of the lake with tent camping spaces and RV hookups. About half of the 12 miles of shoreline is easily available for fishing from the bank, especially within, and nearby, the campgrounds. Fishing enthusiasts are drawn here to fish for bass, trout, perch and salmon from these fertile waters. Once the ice is safe in winter, ice fishing is quite popular. Marina services, boat rentals and boat launch ramps are open to the public during the warm season.

What to fish for...
Fishing for largemouth bass, rainbow trout, brown trout, lake trout, yellow perch and kokanee salmon at Fish Lake in Utah.
Primary fish species residing in Fish Lake
Click images for fishing tips and details about each species.
Fish Lake Amenities
Marina: YES
Boat Rental: YES
Boat Launch Ramp: YES
Campgrounds: YES
RV Hookups: YES
Lodging: YES
Convenience Store: NEARBY
Bait & Tackle: NEARBY
Restaurant: YES
Today's Weather & Forecast
Fishing Boat Rentals
Fish Lake Resorts
Rentals: Fishing boats, kayaks and pontoon boats
435 638-1000
Public Boat Launch Ramps & Landings
Bowery Haven Boat Launch Ramp
Located in the northwest section of the lake, off E Fremont River Road, this is a one-lane, concrete ramp with gravel parking.
Lakeside Marina Boat Launch Ramp
Located in the southwest corner of the lake, off Lakeside Marina Road, this is a one-lane, concrete ramp with gravel parking.
Mallard Bay Small Boat Launch Ramp
Located mid lake, on the south side of the lake, off Dry Creek Campground Road, this is a one-lane, earthen ramp with gravel parking.
Click here for a Utah Fishing License.
Campgrounds & RV Parks Nearby
Doctor Creek Rec Site Campground - 435 896-1000
Mallard Bay Overflow Rec Site Campground - 435 896-9233
Twin Creeks Rec Res Campground - 435 896-9233
Bowery Haven Resort & RV Park - 435 638-1040
Fish Lake UT Map - Fishing & Camping Areas
Lake Video
Contact Information
Fish Lake
Fish Lake Resort
2 North SR 25
Fish Lake, UT 84744
435 638-1000
Fishing lakes in each state.
Fish Lake in Utah.
UTAH


Information about fishing lakes in Utah
Fishing for bass, trout and salmon in central UT.
Fishing on Fish Lake.