Guide To Fishing At Scofield Reservoir
AKA: Scofield Lake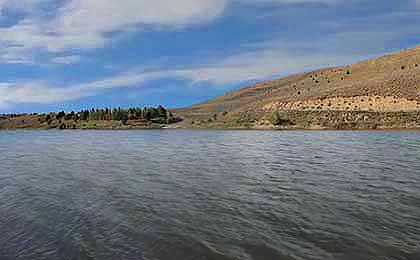 Nestled between rolling mountains of the state, Scofield Reservoir is a great destination for boating, camping and fishing.
Scofield Reservoir is a picturesque body of water located in the central part of Utah. Nestled in the Manti-La Sal National Forest, this reservoir is a popular destination for outdoor enthusiasts and anglers alike.
Fishing at Scofield Reservoir offers a diverse range of experiences, making it a favorite spot for many anglers. The reservoir is well-known for its excellent trout fishing, with rainbow trout, cutthroat trout, and brown trout being the primary species targeted by fishermen. The clear and cool waters of Scofield Reservoir provide an ideal habitat for these trout species, resulting in healthy populations and quality fishing opportunities.
Walleye is another popular fish species found in Scofield Reservoir. Anglers can often find walleye in the deeper parts of the reservoir, especially during early morning or late evening when they are most active.
One sought-after trophies in Scofield Reservoir is the tiger muskie. Tiger muskies are a hybrid species, a cross between a northern pike and a muskellunge, known for their impressive size and aggressive behavior. Catching a tiger muskie is a challenging and rewarding experience that draws anglers from far and wide to try their luck in the reservoir.
The scenic beauty surrounding Scofield Reservoir adds to the overall appeal of the fishing experience. The reservoir is flanked by rolling hills and forests, providing a tranquil and serene atmosphere for anglers to enjoy. The area's natural beauty also makes it an excellent destination for camping and other outdoor activities.
Scofield Reservoir is a year-round fishing destination, but different seasons offer different opportunities. Spring and fall are typically considered the best times to fish for trout, as they are more active during these cooler months. Summer is ideal for walleye and tiger muskie fishing, as they become more active in the warmer waters.
Scofield Reservoir offers an unforgettable fishing experience in the heart of Utah's natural beauty, making it a must-visit destination for both seasoned anglers and those looking to try their hand at fishing for the first time.
This 2,800-acre lake is five miles long, with over fifteen miles of shoreline. This renown trout fishery is located just north of the town of Scofield, via highway 96. In addition to the excellent trout fishing, bass anglers will find very good smallmouth fishing. Tiger muskie also thrive here, so don't be surprised if you hook a monster. Boating access is via the Madsen Bay Boat Ramp in the northwest corner of the lake, and the Mountain View Boat Ramp at Mountain View Campground on the northeast part of the lake, by the dam. Access for fishing from the bank can be found all around the lake.

What to fish for...
Fishing for walleye, rainbow trout, brown trout, cutthroat trout, tiger trout and tiger muskie at Scofield Reservoir in Utah.
Primary fish species residing in Scofield Reservoir
Click images for fishing tips and details about each species.
Scofield Reservoir Amenities
Marina: NO
Boat Rental: NO
Boat Launch Ramp: YES
Campgrounds: YES
RV Hookups: YES
Lodging: YES
Convenience Store: YES
Bait & Tackle: YES
Restaurant: NO
Today's Weather & Forecast
Public Boat Launch Ramps & Landings
Lake View Drive Boat Launch Ramp
Located mid lake, west side, off Lake View Drive, this is a one-lane, concrete ramp with gravel parking.
Madsen Bay Boat Launch Ramp
Located in the northwest section of the lake, off S Scofield State Park Road, this is a two-lane, concrete ramp with a dock and paved parking.
Mountain View Boat Launch Ramp
Located mid lake, east side, off Mountain View Campground Road, this is a two-lane, concrete ramp with docks and paved parking.
Click here for a Utah Fishing License.
Campgrounds & RV Parks Nearby
Mountain View Campground - 435 448-9449
Madsen Bay Campground - 801 322-3770
Fish Creek Campground - 435 637-2817
Scofield Reservoir UT Map - Fishing & Camping Areas
Lake Video
Contact Information
Scofield Reservoir
Scofield State Park
5 W 1000 N
Helper, UT 84526
435 448-9449
Fishing lakes in each state.
Scofield Reservoir in UT
UTAH


Fishing for trout, bass and muskie in north-central UT.
Scofield Reservoir, in Utah.