Guide To Fishing At Webster Reservoir
AKA: Webster State Park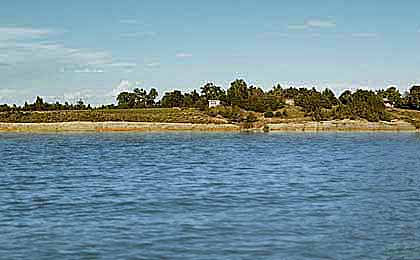 Bordered on the north by Webster State Park, Webster Reservoir is a great destination for boating and fishing. There is plenty of room on this 3,700-acre lake, in the north-central part of the state, for a wide range of water-related activities. At the top of the list is fishing.
Webster Reservoir, located in north-central Kansas, is a popular fishing destination known for its scenic beauty and diverse fish populations. Anglers are drawn to Webster Reservoir for its excellent fishing opportunities and the chance to catch a variety of popular fish species.
Walleye is one of the most sought-after game fish found in Webster Reservoir. Anglers can target these prized fish by trolling with crankbaits, casting with jigs, or drifting with live bait along the lake's drop-offs, rocky points, or submerged structures. Successful walleye fishing at Webster Reservoir often requires understanding the lake's structure and employing techniques that entice these predator fish. Landing a walleye in Webster Reservoir can provide anglers with an exhilarating experience.
Hybrid stripers are another popular species found in Webster Reservoir. These powerful fish, a cross between striped bass and white bass, offer anglers an exciting challenge and the chance to catch trophy-sized specimens. Trolling or casting with swimbaits, crankbaits, or live bait can entice hybrid stripers to bite. Anglers targeting these fish can enjoy the thrill of reeling in these hard-fighting predators.
Largemouth bass is another highly sought-after species in Webster Reservoir. The lake's structure, including submerged vegetation, rocky points, and fallen trees, provides ideal habitat for bass. Anglers can use a variety of techniques such as casting with soft plastics, crankbaits, or topwater lures to entice these hard-fighting fish into biting. Webster Reservoir offers numerous opportunities to catch quality-sized bass, making it a favorite spot for bass anglers.
Channel catfish and white bass are also prevalent in Webster Reservoir, providing anglers with excellent fishing opportunities. Anglers can target channel catfish using a variety of baits such as cut bait, stink bait, or live bait. Fishing near the lake's deeper areas, including channels and drop-offs, can increase the chances of landing a catfish. White bass, known for their schooling behavior, can be caught by casting with jigs, spoons, or crankbaits near submerged structures or in open water where schools of baitfish are present. Catching white bass in Webster Reservoir can result in fast-paced action and multiple hookups.
White crappie is another popular species sought after by anglers in Webster Reservoir. Anglers can target white crappie by vertical jigging near submerged structures, brush piles, or docks. Using minnows or soft plastics as bait can entice white crappie into biting. Webster Reservoir's population of white crappie provides anglers with the opportunity to catch these prized panfish and enjoy their delicate and tasty fillets.
Webster Reservoir also offers amenities for boating and camping, allowing anglers to make the most of their fishing trips. Anglers can explore the lake's waters, navigate with ease, and access various fishing spots. The lake's campgrounds and recreational facilities provide convenient options for anglers looking to extend their stay and fully enjoy the outdoor experience.
With its diverse fish population, including walleye, hybrid stripers, largemouth bass, channel catfish, white bass, and white crappie, Webster Reservoir offers anglers a fulfilling fishing experience in the scenic landscape of Kansas. Whether it's the thrill of hooking into a trophy-sized walleye, the excitement of reeling in a hybrid striper, or the joy of panfishing for crappie and bass, Webster Reservoir provides ample opportunities for anglers of all skill levels to enjoy the sport of fishing amidst the natural beauty of Kansas.
Anglers come here expecting to catch nice stringers of walleye, catfish, bass, crappie, white bass and wipers. The lake is a flooded section of the South Fork Salmon River which creates deep channels and ledges through the middle of the lake. These deep structures often hold schools of hybrid stripers, white bass, walleye and bass. During Spring, Summer and Fall, anglers tend to concentrate shallow, with over 25 miles of shoreline to fish. The campgrounds, as well as access points around the lake via local roads, provide areas for fishing from the bank. Numerous boat ramps are available to serve the public.

What to fish for...
Fishing for largemouth bass, channel catfish, white crappie, walleye, bluegill, white bass and hybrid striped bass at Webster Reservoir in Kansas.
Primary fish species residing in Webster Reservoir
Click images for fishing tips and details about each species.
Webster Reservoir Amenities
Marina: NO
Boat Rental: NO
Boat Launch Ramp: YES
Campgrounds: YES
RV Hookups: YES
Lodging: YES
Convenience Store: NEARBY
Bait & Tackle: YES
Restaurant: NEARBY
Today's Weather & Forecast
Public Boat Launch Ramps & Landings
Goose Flat Boat Launch Ramp
Located mid lake, east side, off State Route 258, this is a one-lane, concrete ramp with paved parking.
Old Marina Campground Boat Launch Ramp
Located mid lake, on the north side of the lake, off 9 Road, this is a two-lane, concrete ramp with a dock and paved parking.
Rock Point Boat Launch Ramp
Located in the northeast corner of the lake, off 10 Road, this is a two-lane, concrete ramp with docks and paved parking.
Click here for a Kansas Fishing License.
Campgrounds & RV Parks Nearby
Rock Point Campground - 785 425-6775
Goose Flats Campground - 785 425-6775
Mushroom Campground - 785 425-6775
Lake View Campground - 785 425-6775
Hill Top Campground - 785 425-6775
Webster Reservoir KS Map - Fishing & Camping Areas
Lake Video
Contact Information
Webster Reservoir
Webster State Park
1140 10 Rd
Stockton, KS 67669
785 425-6775
Fishing lakes in each state.
Webster Reservoir in KS
KANSAS


Fishing for bass, walleye and catfish in north-central KS.
Webster Reservoir, in Kansas.