Choose From The Best Fishing Guides In Kansas
Hire a guide to take you fishing in KS.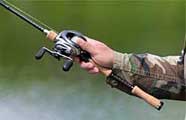 Hire a fishing guide to fish for largemouth bass, smallmouth bass, spotted bass, channel catfish, flathead catfish, blue catfish, black crappie, white crappie, walleye, rainbow trout, brown trout, bluegill, green sunfish, hybrid sunfish, redear sunfish, warmouth, white bass, yellow perch, stripers, longnose gar, northern pike, paddlefish, sauger, saugeye and spotted gar in local lakes.

Kansas Fishing Guides
Other Local Guides
For the ultimate fishing experience, hire a professional guide. They know the KS fishery inside out and have determined the best techniques for catching fish at various times of the year.
Stillwaters Fly Fishing - 620 778-1966
Bobby Rash
Focus Species: Largemouth Bass, Trout, Panfish. Guiding in southeast Kansas, Big Hill Lake, small city lakes (hidden Jewels), stocked spring fed strip pit.
Flatslander Guide Service - 785 456-5654
Capt. Paul "Sodie" Sodamann - [email protected]
Focus Species: Carp and other warm water game species. Fly fishing for carp is much the same as fly fishing for bonefish in the saltwater. We use Mitzi Skiffs flats boats and pole the shallows for the "golden bones" as well as other species.
Fishtech Guide Service - 785 539-8408
Vic Oertle - [email protected]
Focus Species: White bass/wipers. 1/2 day and all day trips. Fishing Milford, Tuttle Creek, Perry Lure fishing only. Fishing Milford for hire since 1969. Lures furnished--equipment furnished on request. References
Madd Jack Striper Guide - 620-727-3383
Focus Species: Stripers and Wipers. Fishing Lake Wilson for Stripers and Milford in June for Wipers.
Kansas Fishing Guide Services
In addition to catching fish, guides teach you techniques which you will use over a lifetime of fishing. Learn tips on rods, reels, line, knots, lures, hook types, techniques and much more...all by spending the day in a boat with a local guide.
Fishing guide information for other states.
KANSAS