Crappie Fishing In Kansas
Guide to fishing for white and black crappie.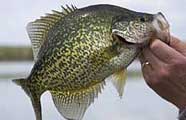 If you find fishing water in Kansas, chances are it has crappie. They are a favorite in private ponds and show up in small lakes all over the state. Some rivers have small populations of crappie. Ice fishing for crappie can be very enjoyable, and a great way to entertain kids.
Kansas provides excellent opportunities for crappie fishing, with anglers targeting two main species: black crappie and white crappie. These popular panfish offer exciting angling experiences and can be found in various lakes, reservoirs, and rivers throughout the state.
Black crappie are abundant in Kansas waters and are known for their willingness to bite and their delicious white meat. Anglers can target black crappie using various techniques, including vertical jigging, casting with small jigs or minnow imitations, or using live bait such as minnows or worms. Black crappie tend to congregate near submerged structures, such as brush piles, fallen trees, and weed beds. Anglers can often find success by fishing around these structures, particularly in spring and fall when crappie are more active.
White crappie, while not as abundant as black crappie in Kansas, are still widely distributed and provide exciting angling opportunities. Anglers can target white crappie using similar techniques as for black crappie, such as vertical jigging or casting with small jigs and live bait. White crappie tend to prefer clearer waters and can often be found near submerged vegetation, rock piles, or drop-offs. They are also known to school in deeper water during certain times of the year.
Kansas offers numerous lakes and reservoirs that are renowned for their crappie fishing opportunities. Milford Reservoir, Clinton Lake, and Pomona Lake are among the top destinations for crappie anglers. These bodies of water provide suitable habitats, including submerged structures and brush piles, which attract crappie and create optimal fishing conditions.
The best season to fish for crappie in Kansas depends on the specific body of water and the prevailing weather conditions. Generally, spring and fall are the prime seasons for crappie fishing, as these periods coincide with the spawning and feeding patterns of crappie. During spring, crappie move into shallower water and become more active, while fall offers another peak feeding period before the onset of winter. However, crappie can be caught year-round in Kansas, with dedicated anglers finding success even during the summer and winter months.
Kansas crappie fishing provides a thrilling experience for anglers of all ages and skill levels. The combination of picturesque lakes, abundant fish populations, and the challenge of targeting these finicky panfish makes Kansas a popular destination for crappie enthusiasts. Whether it's filling a stringer with a limit of black crappie or landing a trophy-sized white crappie, Kansas offers a wealth of opportunities for anglers seeking a rewarding crappie fishing experience.
Crappie Fishing Waters In KS
The best and most consistent stringers continue to come from larger lakes including Big Hill Lake, Cheney Reservoir, Clinton Lake, Coffey County Lake, Council Grove Lake, El Dorado Lake, Elk City Lake, Fall River Lake, Hillsdale Lake, John Redmond Reservoir, Kanopolis Lake, Keith Sebelius Lake, Kirwin Reservoir, La Cygne Lake, Lovewell Reservoir, Marion Reservoir, Melvern Lake, Milford Lake, Perry Lake, Pomona Lake, Toronto Lake, Tuttle Creek Lake, Waconda Lake, Wilson Lake, Winfield City Lake and Wolf Creek Reservoir.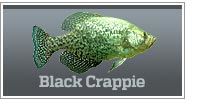 World record: 6 lbs 0 oz
State Record: 4.63 lbs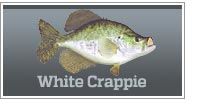 World record: 5 lbs 3 oz
State Record: 4.02 lbs
Click the images and links above for species details.
Top 5 Crappie Fishing Lures For Kansas
Crappie jigs work well in water from 2' to 40' deep, and are the most popular artificial lure for crappie ever. When crappie are shallow, spinners, small crankbaits and underspins are the often very productive. As they move deeper, spoons are among the top producers if the crappie are active. Review details for the best crappie rig options. Understanding the seasonal movements of crappie can enhance your chances of using these lures in the ideal locations.
Kansas State Record Crappie
The state record black crappie was caught from Woodson Lake.
The state record white crappie came out of a private pond.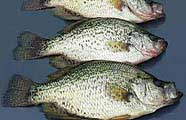 Crappie are actually a member of the sunfish family and can be found in many Kansas lakes. Crappie are known by many different local names. Paper mouth, goggleye, bridge perch, slabs and speckled perch, are just a few.
Crappie Fishing Basics Video
Check out crappie information, by state.
The life cycle of crappie.
The more you know about crappie, the easier it will be to locate and catch them in Kansas lakes and rivers. Visit the crappie fishing page for details about their seasonal migrations.
KANSAS