Mississippi Walleye Fishing
All about fishing for walleye in MS lakes.
Walleye Fishing Lakes In Mississippi
The Mississippi state record walleye was caught in the Tennessee River. The Mississippi River is another fishery in MS with a good population of walleye.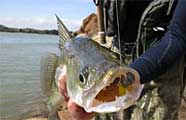 The walleye prefers moderately deep lakes with gravel, rock or sandy bottoms. It is found primarily in cold water lakes but has proven to survive in warmer impoundments. It is prized for its great tasting filets. Click here to learn all about walleye fishing.
Mississippi walleye spawn in spring and when they have the option will choose to migrate from the lake up into feeder streams to spawn. If this option is not available they seek out shallow bars or shoals with clean bottom surfaces near deep water.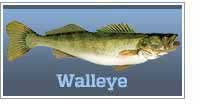 World record: 25 lbs 0 oz
MS State Record: 9 lbs 10 oz
By clicking on the images and links above, you will be taken to a page offering more information about walleye.
This toothy fish will eat virtually anything it can catch and get in its mouth. They prefer small fish and will eat crustaceans, worms and insects. They tend to be somewhat wary and prefer the safety of deeper darker water. Try fishing for walleye from sundown to midnight, particularly during the heat of summer.
Fish for Mississippi walleye with live bait, crankbaits, spoons, small spinner baits as well as plastic worms and grubs.
Trolling for walleye from a fishing boat.
Walleye Resources
Also find information about walleye fishing in these states.
Learn the migration patterns of walleye
Walleye become active in spring and begin the spawning process in medium-depth water. As summer arrives they move to deeper, cooler water. In fall walleye migrate into shallower water again and feed aggressively preparing for their move to deeper water where they will spend winter. Visit the walleye fishing page for additional information about walleye activities.
Best walleye fishing lakes in Mississippi!