Guide To Walleye, Sauger & Saugeye Fishing In Kentucky
Walleye, Sauger & Saugeye
Kentucky is a fantastic destination for walleye fishing, as well as its closely related species, sauger and saugeye. Walleye, known for their elusive nature and delicious taste, are highly sought-after by anglers in the state. Additionally, sauger and saugeye offer exciting alternatives for those looking to target these prized game fish.
Kentucky's lakes and rivers provide excellent habitats for walleye fishing. Lakes such as Lake Cumberland, Cave Run Lake, and Barren River Lake are known for their walleye populations. These lakes offer favorable conditions, including deep waters, rocky structures, and ample forage, which attract and sustain healthy populations of walleye. Anglers often employ trolling techniques, vertical jigging, or casting with live bait to entice these elusive fish.
Sauger, a close relative of walleye, are also prevalent in Kentucky's waters. They share similar habitats and feeding habits with walleye, often coexisting in the same lakes and rivers. The Ohio River, Green River, and Kentucky River are popular spots for sauger fishing in Kentucky. Anglers targeting sauger employ similar techniques and baits as walleye, such as jigging with minnows or soft plastic lures.
Saugeye, a hybrid species resulting from the crossbreeding of walleye and sauger, can also be found in Kentucky's waters. These hybrids combine the best traits of both parent species, including the hardiness and fast growth of sauger and the aggressive nature and larger size potential of walleye. Lakes such as Greenbo Lake, Fishtrap Lake, and Guist Creek Lake are known for their saugeye populations. Anglers often target saugeye using techniques similar to those used for walleye and sauger, making for an exciting and rewarding fishing experience.
When planning a walleye, sauger, or saugeye fishing trip in Kentucky, it's important to be aware of the state's fishing regulations and obtain the necessary licenses. Respecting size and creel limits helps maintain healthy fish populations and ensures the sustainability of these fisheries.
Whether you're casting from the shoreline or navigating the waters in a boat, Kentucky's lakes and rivers provide ample opportunities for anglers to target walleye, sauger, and saugeye. The thrill of hooking into these elusive and hard-fighting fish, coupled with the beautiful scenery of Kentucky's waterways, creates an unforgettable fishing experience. So grab your fishing gear, explore the walleye hotspots in Kentucky, and get ready for an exciting adventure on the water.
Walleye, sauger and saugeye Fishing Lakes in Kentucky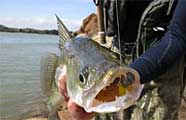 Kentucky residents are favored with several good lakes to fish for walleye. These lakes include Barren River Lake, Carr Creek Lake, Dale Hollow Lake, Fishtrap Lake, Green River Lake, Kentucky Lake, Lake Barkley, Lake Cumberland, Laurel River Lake, Martins Fork Lake, Nolin River Lake, Paintsville Lake and Wood Creek Lake.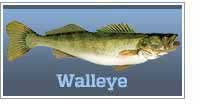 World record: 25 lbs 0 oz
State Record: 21 lbs 8 oz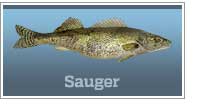 World record: 17 lbs 7 oz
State Record: 7 lbs 7 oz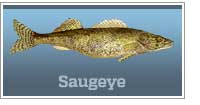 World record: 15 lbs 6 oz
State Record: 8 lbs 8.8 oz
Click the images and links above for species details.
Top lures for walleye in Kentucky
Jigs with a variety of trailers and bait work well in virtually any depth water. When walleyes are shallow, spinnerbaits, small crankbaits and rip baits are the often very productive. As they move deeper, spoons are ideal for active walleye. Understanding the seasonal movements of walleyes can enhance your chances of selecting the right lures for conditions on local waters.
Kentucky State Walleye, Sauger & Saugeye Records
The state record walleye was caught out of Lake cumberland.
The state record sauger came from the Cumberland River.
The state record saugeye was taken out of the Cumberland River.
Fishing For Walleye
This toothy fish will eat virtually anything it can catch and get in its mouth. They prefer small fish and will eat crustaceans, worms and insects. They tend to be somewhat wary and prefer the safety of deeper darker water. Trolling for walleye with deep diving crankbaits, jerkbaits, spinners and live bait provides a way to cover vast areas and locate concentrations of fish. Use of planer boards allows anglers to cover water out both sides of the boat while trolling. Try fishing for walleye from sundown to midnight, particularly during the heat of summer.
Walleye spawn in spring and when they have the option will choose to migrate from the lake up into feeder streams to spawn. If this option is not available they seek out shallow bars or shoals with clean bottom surfaces near deep water.
Fishing For Sauger
Closely related to the walleye and similar in appearance, sauger are generally smaller than walleye, reaching 4 to 5 pounds (or more) and up to about 20 inches. Often found in muddier rivers, it thrives in larger, silty lakes. They spawn in the shallows at night, without creating or guarding specific nests.
Fishing For Saugeye
This hybrid is created by mating sauger with walleye. The walleye influence allows the hybrids to grow larger than sauger, often to sizes equaling walleye. Saugeye tend to survive best in turbid/silty water and are caught in the same general areas and habitat populated by walleye and sauger.
Watch this video for walleye tips and tactics.
Walleye prefer moderately deep lakes with gravel, rock or sandy bottoms. It is found primarily in cold water lakes but has proven to survive in warmer impoundments. It is prized for its great tasting filets. Click here to learn all about walleye fishing.
Kentucky walleye spawn in spring and when they have the option will choose to migrate from the lake up into feeder streams to spawn. If this option is not available they seek out shallow bars or shoals with clean bottom surfaces near deep water.
Walleye Resources
In-Fisherman - Walleye
U.S. Fish & Wildlife - Walleye
The National Wildlife Federation - Walleye
Also find information about walleye, sauger or saugeye fishing in these states.
Learn the migration patterns of walleye
Walleye become active in spring and begin the spawning process in medium-depth water. As summer arrives they move to deeper, cooler water. In fall walleye migrate into shallower water again and feed aggressively preparing for their move to deeper water where they will spend winter.
KENTUCKY