Choose From The Best Fishing Guides In Mississippi
Hire a guide to take you fishing in MS.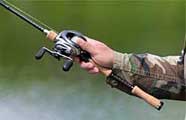 Hire a fishing guide to fish for largemouth bass, smallmouth bass, spotted bass, channel catfish, flathead catfish, blue catfish, black crappie, white crappie, walleye, rainbow trout, bluegill, green sunfish, hybrid sunfish, redear sunfish, spotted sunfish, warmouth, white bass, yellow bass, stripers, alligator gar, bowfin, chain pickerel, longnose gar, paddlefish, sauger, saugeye and spotted gar in local lakes.

Mississippi Fishing Guides
Other Local Guides
For the ultimate fishing experience, hire a professional guide. They know the MS fishery inside out and have determined the best techniques for catching fish at various times of the year.
Jackson Guide Service - 662 578-7937
Gwin Jackson
Focus Species: Crappie. Guide on Enid Lake (home of world record crappie 5lb.3oz) I furnish boat/motor, rods, jigs, ice chest and life jackets. You bring food, drinks (no alcohol) and ice chest for your fish. February, March, April and May fill up fast, so call to get your dates
Mississippi Fishing Guide Services
In addition to catching fish, guides teach you techniques which you will use over a lifetime of fishing. Learn tips on rods, reels, line, knots, lures, hook types, techniques and much more...all by spending the day in a boat with a local guide.
Fishing guide information for other states.
MISSISSIPPI