Mississippi Bass Fishing
All about fishing for spotted, smallmouth and largemouth bass in Mississippi lakes.
Bass Fishing Lakes In Mississippi
Lots of Mississippi fishing waters contain bass. Ponds, rivers and all sizes of lakes are apt to have bass swimming in them. All the major lakes in MS have a healthy population of bass, including Aberdeen Lake, Arkabutla Lake, Barnett Reservoir, Bay Springs Lake, Bogue Homa Lake, Columbus Lake, Enid Lake, Grenada Reservoir, Lake Beulah, Lake Washington, Lake Whittington, Moon Lake, Okatibbee Lake, Pickwick Lake, Sardis Lake and Tunica Lake.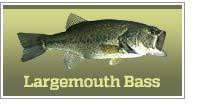 World record: 22 lbs 4 oz
MS State Record: 18 lbs 2 oz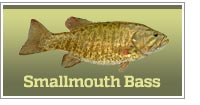 World record: 11 lbs 15 oz
MS State Record: 7 lbs 15 oz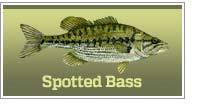 World record: 9 lbs 8 oz
MS State Record: 8 lbs 2 oz
By clicking on the images and links above, you will be taken to a page offering more information about the selected species.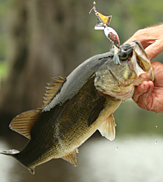 MS State Record Bass
The Mississippi state record largemouth bass was caught at Natchez State Park Lake and the state record smallmouth was pulled from Pickwick Lake in the Yellow Creek Arm. A farm pond was home to the Mississippi state record spotted bass.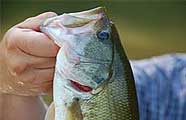 Bass are one of the most sought after of all the game fish. Its appeal spans cultures, age groups and genders to tap on the heart strings of anglers everywhere. Join us in our endeavor to offer information about bass fishing on your favorite bass lake in Mississippi.
Understanding the primary seasonal movements of smallmouth bass and largemouth bass is key to locating them on local lakes in the Magnolia State.

Catch big bass!
Learn the secrets of the pros and apply them to your local bass fishing waters.
Bass fishing information, by state.
Learn the lifecycle of a bass
The more you know about the seasonal migration of bass, the more likely you are to be looking in the right area next time you visit Mississippi bass fishing lakes. Bass become active in spring and begin the spawning process in shallow water. As summer arrives they move to deeper, cooler water. In fall they migrate into the shallows again and feed heavily preparing for their move to deeper water to wait out winter. Visit the bass fishing page for more in-depth information about bass activities.
Contribute MS Bass Fishing Knowledge
If you have information, articles or photos relating to bass fishing in Mississippi, which you would like to see published here, please submit them for consideration.
Best bass fishing lakes in Mississippi!