Camping & Fishing
The beauty of camping away from the crowds.
First of all, there's peace and quiet away from the busy, tourist areas common found at most lakes and rivers. So it can be much more relaxing and you can really enjoy the great outdoors a bit more. Depending on your preferred camping style, you have a number of options for setting up camp. Options range from sleeping under the stars to luxury motorhomes, and everything in between. The more primitive your style, the farther from civilization you can camp. See a detailed camping trip list for tips to make the most of your camping experience.

Hike-in camping and fishing trips allow you to get to fishing areas very few people visit. Often the fishing is spectacular due to little fishing pressure. You can choose back woods areas or high mountain lakes and streams, depending on your fishing interest.
Tent camping allows you to get away from most of the crowds and gets you closer to fishing waters that receive a great deal less fishing pressure than the easy-to-get-to spots. It's comfortable enough to bring the entire family, yet allows for some serious fishing.
Tent trailers and RVs typically require larger-area camping facilities. These areas are often nearby the areas of the lake or river that receive the most fishing pressure. Great for families and larger groups, RV's make a great headquarters while camping. You can cook, shower, sleep and relax in comfort close by your favorite fishing hole.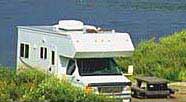 Motorhomes allow you to bring the comforts of home into the great outdoors. These self-contained vehicles allow you to tow a fishing boat and camp wherever there is access. Motorhomes also offer the non-fishing members of the family a comfortable place to relax and enjoy being in the country. For those who only get to go fishing during the annual vacation, motorhome rentals provide a cost-effective to up scaling the family holidays.
Camping and fishing go hand in hand for most anglers. Increase the pleasure by extending your fishing trip to multiple days. Find a place to camp near the waters you'll be fishing to allow you more fishing time. This extra time could allow you to learn more about the lake and could improve your fishing.
Information about campgrounds and camping locations for fishing travel are listed by state. Use the navigation on the left to select a state. There you will find information about camping in each state plus lists of lakes, rivers, parks and attractions with nearby camping.
Fishing Information