Bass Fishing Book
80 pages that tells where bass locate by season, and outlines their daily movements. Download the PDF version now.
The best gift for bass anglers.
Learn why the pros consistently catch fish while most anglers often struggle. Learn where to find them every time you go to the lake. Improve the quantity and quality of your catch.
It's not
WHAT

you throw... it's

WHERE

you throw it

That's the message of the book. Bass are easy to catch once you find them, but most anglers have a difficult time locating them. This book focuses on finding them. Once you know where they are located, we offer proven techniques for catching them. Additionally we offer precise recommendations for dealing with weather variables like wind, fronts, cold spells, bright sunny days and more.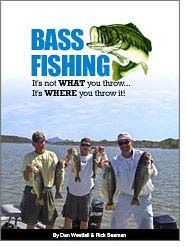 You can download your copy right now and instantly begin learning the most important secrets ever published.
Download your 8 1/2" x 11" PDF version immediately!
In print this book will retail for $29.95. We are offering advance copies of the book as a PDF, for immediate download, at only $9.95 - that's a $20.00 savings.
Do you ever wonder why the pros, when interviewed, talk about WHAT they threw to catch a great stringer? They do so to avoid talking about the details of WHERE they worked the bait. For some, they talk about the WHAT because their sponsors pay them to.
Our tournament days are over. We don't have to keep secrets about where and how we found the fish. We no longer have lure sponsors to keep happy. We would appreciate the opportunity to share what we have learned over decades of fishing in all kinds of water.
You'll be surprised to find that you have been within casting distance of schools of bass while you couldn't buy a bite. Find out why, so you can avoid failing next time you are on an outing.

About the authors

Dan Westfall is a professional angler, lure inventor, lure manufacturer, fishing guide, tournament fisherman and Bassmaster Classic qualifier.

Rick Seaman is a professional bass fisherman who has won numerous tournaments throughout the Southwest.
Together Dan and Rick have over eight decades of experience.
If you want to learn how to find bass, this book offers simple approaches for you to apply and find them on your local water. These principles also apply to waters you are fishing for the first time.
The reason we decided to write this book is to offer anglers the insight we wish someone had shared with us when we first started fishing.
There are many books on the market touting virtually every technique, lure, color, approach, tip, idea, and what have you. Each offers some very good information. Most offer a lot of filler to make the book look bigger on the shelf.
We decided to keep this book simple, direct and to the point - describing what the fish are doing at various times of the year. Understanding what they are doing makes it so much easier to figure out where they're doing it. We also list the best methods and lures to use at each of the seasons defined in the book.
We released this book online so it can be downloaded for only $9.95.
ORDER NOW for immediate download!

Here is the Table of Contents for the book:
The Appeal of Bass Fishing
About The Authors
Overview
Typical Waters
Life Cycle Of A Bass
Seasonal Activities – Migration
Seasonal Activities – Mid to Late Winter
Seasonal Activities – Spring
Seasonal Activities – Early Summer
Seasonal Activities – Late Summer
Seasonal Activities – Fall
Seasonal Activities – Early Winter
About Fishing For Bass
It's Not What You Throw, It's Where You Throw It
Types of Lakes
Do Research Before You Go
Fishing Maps
Types of Bottom
Types of Cover
Grass Beds
Moss
Timber & Heavy Wood
Brush & Thick Vegetation
Establishing Patterns
Learn To Recognize Bites
Lunar Tables
Choose The Right Lures
Locate Based on Conditions
Cold Fronts
Wind
Clouds
Rain
Water Clarity
Rising Water
Falling Water
Night Fishing
Equipment & Tackle
Equipment & Tackle – Rods
Equipment & Tackle – Reels
Equipment & Tackle – Line
Equipment & Tackle – Lures
Live Bait
Shallow Water Techniques 0 to 10'
Spinnerbaits
Crankbaits
Top Water
Pitching & Flipping
Artificial Worms
Jigs
Flukes
Senkos & Stick Worms
Swim Baits
Fishing Mid–Range Depths 10' to 25'
Spinnerbaits
Deep Crankbaits
Artificial Worms
Jigs
Swim Baits
Structure In Deep Water
Jigs
Jigging Spoons
Artificial Worms
Planning Your Attack
Conservation – Protect The Fishery
Locate lakes, by state.