Fishing At Otis Reservoir
AKA: Otis Lake
What to fish for...
Guide to fishing for largemouth bass, smallmouth bass, channel catfish, lake trout, bluegill, white perch, yellow perch, chain pickerel and tiger muskie at Otis Reservoir in Massachusetts.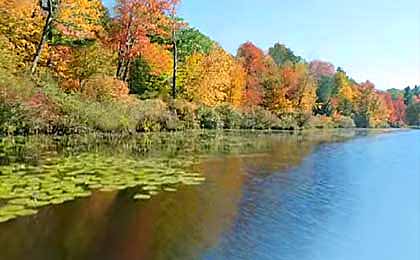 Surrounded in part by Tolland State Forest, Otis Reservoir is a 1,200-acre lake in the southwest corner of Massachusetts. A nice variety of fish species inhabit the lake, including bass, catfish, trout, sunfish, perch, pike and muskie.
The purpose of this page is to deliver an overview of this lake, the fishing options, and area amenities. Our goal is to provide info to first time visitors, as well as beginner and novice anglers. We gathered details from personal experience, numerous trusted websites, and videos of fishing activity on the lake. These websites include the Massachusetts Department of Fish and Game, marinas at the lake, campgrounds, boat rental agencies and others. By consolidating this information to one page it allows visitors to see the entire picture, all in one place.
Lake Video
Otis Reservoir, located in Otis, Massachusetts, is a popular destination for fishing enthusiasts. This large freshwater lake covers approximately 1,085 acres and offers anglers a variety of fish species to target.
One of the popular fish species found in Otis Reservoir is smallmouth bass. Anglers are drawn to the lake for the opportunity to catch these hard-fighting and prized game fish. Smallmouth bass can be targeted using various techniques such as casting with crankbaits, soft plastic baits, or topwater lures. The lake's structure, including rocky areas, submerged logs, and drop-offs, provides ideal habitats for smallmouth bass to thrive.
Another sought-after species in Otis Reservoir is yellow perch. These panfish offer anglers a fun and rewarding fishing experience. Yellow perch can be caught using techniques such as jigging with small jigs or using live bait, such as worms or minnows. They are often found near submerged structures, weed beds, or along the edges of drop-offs.
Otis Reservoir also supports populations of other fish species, including largemouth bass, chain pickerel, and sunfish. Largemouth bass can be targeted using similar techniques as smallmouth bass, while chain pickerel can be caught using casting spoons or jerkbaits. Sunfish, including bluegill and pumpkinseed, provide great opportunities for novice anglers and families.
Anglers visiting Otis Reservoir should be aware of fishing regulations and obtain the appropriate licenses. It's important to follow catch limits, size restrictions, and specific rules to ensure the sustainability of the fish populations and the preservation of the lake's ecosystem.
With its diverse fish species, convenient boating access, and nearby camping facilities, Otis Reservoir offers anglers a rewarding fishing experience in Massachusetts. Whether it's targeting smallmouth bass, pursuing yellow perch, or casting for other popular fish species, Otis Reservoir provides a tranquil and enjoyable angling adventure amidst the natural beauty of the area.
There are about 30 miles of shoreline, most of which is surrounded by private homes with boat docks. One boat launch ramp is available to the public. Kayaks, canoes, pleasure, pontoon and fishing boats are all welcome, but click here for boating regulations on Otis Lake. Campgrounds, marina, stores and restaurants are all easily accessible at, or nearby the lake.

Primary fish species residing in Otis Reservoir
Click images for fishing tips and details about each species.
Otis Reservoir Amenities
Marina: YES
Boat Rental: NO
Boat Launch Ramp: YES
Campgrounds: YES
RV Hookups: YES
Lodging: NO
Convenience Store: YES
Bait & Tackle: NO
Restaurant: YES
Today's Weather & Forecast
Boating is allowed on Otis Reservoir, and anglers can enjoy the convenience of launching their boats from public boat ramps. The lake allows for motorized boats, providing anglers with the opportunity to explore different areas and access prime fishing spots. Whether it's trolling for bass or cruising along the shoreline, boating enhances the overall fishing experience on Otis Reservoir.
Public Boat Launch Ramps & Landings
D & J Marina Boat Launch Ramp
Located mid lake, on the north side of the lake, off Reservoir Road, this is a one-lane, concrete ramp with limited parking.
Otis Reservoir Boat Launch Ramp
Located mid lake, west side, off Main Road, this is a two-lane, concrete ramp with paved parking.
Marinas
D&J Marina
1367 Reservoir Rd
Otis, Massachusetts 01253
Click here for a Massachusetts Fishing License.
While there are no camping facilities directly on Otis Reservoir, nearby state parks and recreational areas offer camping options for those looking to extend their stay. Tolland State Forest, located nearby, provides camping facilities with amenities such as picnic areas, restrooms, and hiking trails. This allows anglers and their families to fully immerse themselves in the natural beauty of the area.
Campgrounds & RV Parks Nearby
Tolland State Forest Campground - 413 269-6002
Laurel Ridge Campground - 413 269-4804
Mountain View Campground - 413 269-8928
Otis Reservoir MA Map - Fishing & Camping Areas
Contact Information
Otis Reservoir
Tolland State Forest
410 Tolland Road
East Otis, MA 01029
413 269-6002
Fishing lakes in each state.
Otis Reservoir in Massachusetts.
MASSACHUSETTS


Information about fishing lakes in Massachusetts
Fishing for bass, catfish, trout, sunfish, perch, pike and muskie at Otis Reservoir in southwest Massachusetts.
Fishing on Otis Reservoir.