Guide To Fishing At South Watuppa Pond
AKA: Watuppa Ponds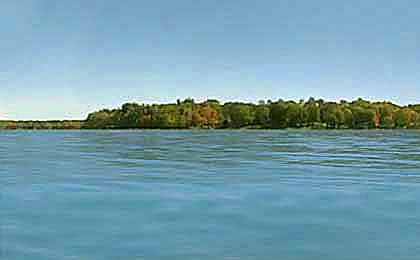 One of the larger, natural bodies of water in the state, South Watuppa Pond is a 1,450-acre lake in the southeast part of the state, at Fall River. There is a public boat ramp at the end of Jefferson Street, at Dave's Beach.
South Watuppa Pond, located in Fall River, Massachusetts, is a hidden gem for fishing enthusiasts. This 715-acre freshwater pond offers anglers a variety of fish species to target, making it a popular fishing destination in the area.
One of the popular fish species found in South Watuppa Pond is largemouth bass. Anglers are drawn to the pond for the opportunity to catch these prized game fish. Largemouth bass can be targeted using various techniques, such as casting with plastic worms, jigs, or topwater lures. The pond's structure, including submerged vegetation, rocky areas, and fallen trees, provides excellent habitats for bass to thrive.
Another sought-after species in South Watuppa Pond is chain pickerel. These aggressive predators offer anglers a thrilling fishing experience. Chain pickerel can be caught using techniques such as casting spoons, jerkbaits, or live bait. They are often found in weedy areas or near the edges of drop-offs, providing exciting opportunities for anglers.
South Watuppa Pond also supports populations of other fish species, including yellow perch, white perch, and sunfish. Yellow perch can be targeted using jigging techniques or live bait such as worms or minnows. White perch, another popular panfish, can be caught using similar techniques. Sunfish, including bluegill and pumpkinseed, offer great angling opportunities for novice anglers and families.
Boating is allowed on South Watuppa Pond, and anglers can enjoy the convenience of launching their boats from public boat ramps. The pond allows for non-motorized boats, such as canoes and kayaks, providing a peaceful and enjoyable boating and fishing experience. It's important to familiarize yourself with any specific boating regulations and restrictions in place to ensure compliance with local rules.
While there are no camping facilities directly on South Watuppa Pond, nearby parks and recreational areas provide camping options for those looking to extend their fishing trips. Facilities such as Freetown-Fall River State Forest offer amenities such as picnic areas, restrooms, and hiking trails, allowing anglers and their families to fully immerse themselves in the natural beauty of the area.
Anglers visiting South Watuppa Pond should be aware of fishing regulations and obtain the appropriate licenses. It's important to follow catch limits, size restrictions, and any specific rules in place to protect the fish populations and the environment.
With its diverse fish species, convenient boating access, and nearby camping facilities, South Watuppa Pond offers anglers a memorable fishing experience in Massachusetts. Whether it's targeting largemouth bass, pursuing chain pickerel, or casting for other popular fish species, South Watuppa Pond provides a serene and enjoyable angling adventure amidst the natural wonders of the area.
Bass tournaments are popular here as anglers can search 10 miles of shoreline. In addition to bass there are bluegill, perch, pickerel, pike and tiger musky. In addition to bass boats, canoes, kayaks, pontoons and pleasure craft are all popular.

What to fish for...
Fishing for largemouth bass, smallmouth bass, black crappie, bluegill, pumpkinseed sunfish, white perch, yellow perch, chain pickerel, northern pike and tiger musky at South Watuppa Pond in Massachusetts.
Primary fish species residing in South Watuppa Pond
Click images for fishing tips and details about each species.
South Watuppa Pond Amenities
Marina: NO
Boat Rental: NO
Boat Launch Ramp: NO
Campgrounds: NO
RV Hookups: NO
Lodging: YES
Convenience Store: YES
Bait & Tackle: NEARBY
Restaurant: YES
Today's Weather & Forecast
Public Boat Launch Ramps & Landings
Fall River Boat Launch Ramp
Located in the northwest corner of the South Pond, off Jefferson Street Ext, this is a two-lane, concrete ramp with a dock and paved parking.
Click here for a Massachusetts Fishing License.
Campgrounds & RV Parks Nearby
There are no campgrounds or RV spaces nearby.
South Watuppa Pond MA Map - Fishing & Camping Areas
Lake Video
Contact Information
Watuppa Ponds
South Watuppa Pond
One Government Center
Fall River, MA 02722
508 324-2000
Fishing lakes in each state.
South Watuppa Pond in MA
MASSACHUSETTS


Fishing for largemouth bass in southeast MA.
South Watuppa Pond, in Massachusetts.