Massachusetts Bass Fishing
All about fishing for smallmouth and largemouth bass in Massachusetts lakes.
Bass Fishing Lakes In Massachusetts
Even with a short growing season, Massachusetts has plenty of bass and some of them are monsters. The major lakes in the state with healthy populations of bass include Assawompset Pond, Cheshire Reservoir, Congamond Lake, Hamilton Reservoir, Lake Chaubunagungamaug, Lake Cochituate, Lake Garfield, Lake Rohunta, Lake Quinsigamond, Long Pond, Norton Reservoir, Otis Reservoir, Quabbin Reservoir, South Watuppa Pond and Wachusett Reservoir.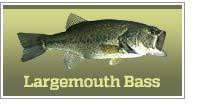 World record: 22 lbs 4 oz
MA State Record: 15 lbs 8 oz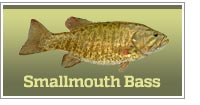 World record: 11 lbs 15 oz
MA State Record: 8 lbs 2 oz
By clicking on the images and links above, you will be taken to a page offering more information about the selected species.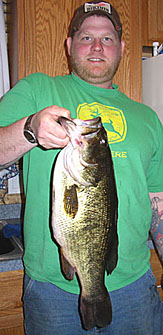 Mike Taylor with a nice Massachusetts bass.
Bass are one of the most sought after of all the game fish. Its appeal spans cultures, age groups and genders to tap on the heart strings of anglers everywhere. Join us in our endeavor to offer information about bass fishing on your favorite bass lake in Massachusetts.
Understanding the primary seasonal movements of smallmouth bass and largemouth bass is key to locating them on local lakes in the Bay State.

Catch big bass!
The Mass state record largemouth bass was caught from Sampsons Pond and the state record smallmouth came from Wachusett Reservoir. Many other lakes ponds and rivers throughout MA also contain bass.
Bass fishing information, by state.
Learn the lifecycle of a bass
The more you know about the seasonal migration of bass, the more likely you are to be looking in the right area next time you visit Massachusetts bass fishing lakes. Bass become active in spring and begin the spawning process in shallow water. As summer arrives they move to deeper, cooler water. In fall they migrate into the shallows again and feed heavily preparing for their move to deeper water to wait out winter. Visit the bass fishing page for more in-depth information about bass activities.
Contribute MA Bass Fishing Knowledge
If you have information, articles or photos relating to bass fishing in Massachusetts, which you would like to see published here, please submit them for consideration.
Best bass fishing lakes in Massachusetts!