Fishing For Salmon In Massachusetts
Guide to fishing for Atlantic salmon in MA.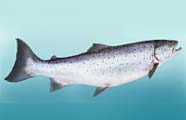 Massachusetts offers exciting opportunities for salmon fishing, particularly in its rivers and coastal waters. Two prominent species targeted by anglers in the state are the Atlantic salmon and the landlocked salmon. The purpose of this page is to share basic information about salmon fishing and identify popular salmon waters in the state.
Atlantic salmon, known for their powerful fights and acrobatic leaps, are highly sought after by anglers in Massachusetts. While they were once abundant in the state's rivers, their populations have declined, and they are now considered a rare catch. Atlantic salmon can be found in rivers such as the Connecticut River and the Merrimack River, where limited fishing opportunities exist. Due to conservation efforts, catch-and-release regulations and specific seasons may apply for Atlantic salmon fishing.
Landlocked salmon, also known as landlocked Atlantic salmon or "ocean-run salmon," are anadromous fish that spend their lives in freshwater but are closely related to their migratory counterparts. They can be found in several lakes and reservoirs in Massachusetts, including Quabbin Reservoir, Wachusett Reservoir, and Lake Wampanoag. Landlocked salmon provide thrilling fishing experiences, with their powerful runs and aggressive strikes. Anglers often target them using a variety of methods, including trolling with spoons, flies, or live bait.
It's important to note that salmon fishing in Massachusetts is highly regulated to protect and preserve these iconic species. Anglers must adhere to specific regulations, including catch limits, size restrictions, and designated seasons. It's crucial to stay informed about the latest regulations and obtain the necessary fishing licenses before engaging in salmon fishing.
Salmon fishing in Massachusetts offers anglers the opportunity to connect with these prized and majestic fish species. Whether pursuing the elusive Atlantic salmon in rivers or targeting landlocked salmon in lakes and reservoirs, the thrill of hooking into a salmon and witnessing their impressive displays of strength and agility is a memorable experience for any angler.
Salmon Fishing Lakes in Massachusetts
Coastal waters and the rivers flowing into the ocean are migration routes for many salmon. In addition, there are a couple major lakes in MA with populations of salmon. Those lakes include Lake Chaubunagungamaug, Quabbin Reservoir and Wachusett Reservoir.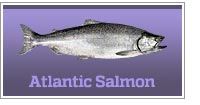 World record: 79 lbs 2 oz
State Record: 10 lbs 12 oz
Click the images and links above for species details.
Massachusetts State Record Salmon
The state record Atlantic salmon was caught from Lake Mattawa. Note that a broodstock program, now discontinued, had produced a state record of 22 lbs 15 oz.
Massachusetts Salmon Fishing
The preferred method for catching salmon is fly fishing. Depending on the activity level, salmon may be caught on wet or dry flies, as well as a variety of other lures and baits.

Salmon Organizations
Salmon fishing waters and information, by state.
Learn the life cycle of salmon
The more you know about the life cycle and seasonal migration of salmon, the more likely you are to be looking in the right area next time you visit Massachusetts salmon fishing waters. Visit the salmon fishing page for more information about the life cycle of the different species of salmon.
Contribute MA Salmon Fishing Knowledge
If you have information, articles or photos relating to salmon fishing in Massachusetts, which you would like to see published here, please submit them for consideration.
MASSACHUSETTS


Best salmon fishing waters in Massachusetts!