Fishing At Wachusett Reservoir
AKA: Wachusett Lake
What to fish for...
Guide to fishing for largemouth bass, smallmouth bass, black crappie, rainbow trout, brown trout, lake trout, bluegill, pumpkinseed sunfish, white perch, yellow perch, Atlantic salmon and chain pickerel at Wachusett Reservoir in Massachusetts.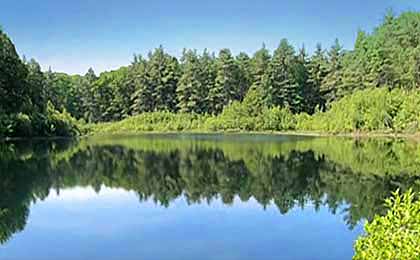 Nestled between Worcester and Clinton lies Wachusett Reservoir, a 4,100-acre lake with 37 miles of shoreline. Fishing for bass, sunfish, perch, trout, crappie, salmon and pike are all popular at this reservoir in the east-central part of the state.
Wachusett Reservoir, located in central Massachusetts, is not only a major drinking water supply for the greater Boston area but also a popular destination for fishing enthusiasts. This 4,135-acre reservoir offers anglers a unique fishing experience with its diverse fish species and stunning natural surroundings.
One of the popular fish species found in Wachusett Reservoir is landlocked Atlantic salmon. Anglers are drawn to the reservoir for the opportunity to catch these prized game fish. Landlocked salmon can be targeted using trolling techniques with spoons, flies, or live bait. The deep, cold waters of the reservoir provide ideal conditions for these acrobatic and hard-fighting fish to thrive.
Another sought-after species in Wachusett Reservoir is brown trout. These highly prized trout offer anglers a thrilling challenge. Brown trout can be caught using various techniques, such as fly fishing, casting with spinners, or trolling with plugs. The reservoir's deep water, rocky shorelines, and abundant forage provide excellent habitat for brown trout to grow to impressive sizes.
Wachusett Reservoir also supports populations of other fish species, including smallmouth bass, largemouth bass, and yellow perch. Smallmouth bass and largemouth bass can be targeted using casting techniques with artificial lures or live bait, while yellow perch can be caught using jigging techniques or bait fishing. These fish species offer additional angling opportunities for those exploring the reservoir's waters.
Boating is allowed on Wachusett Reservoir, but it is strictly regulated to protect the drinking water supply. Anglers are required to obtain a special boating permit and adhere to specific regulations and restrictions. Only non-motorized boats, such as canoes and kayaks, are allowed, ensuring a peaceful and serene fishing experience on the reservoir.
Camping is not permitted directly on Wachusett Reservoir due to its protected status as a drinking water source. However, nearby state parks and campgrounds, such as Wachusett Mountain State Reservation and Leominster State Forest, offer camping options for those looking to extend their fishing trips. These facilities provide amenities such as picnic areas, restrooms, and hiking trails, allowing anglers and their families to fully enjoy the surrounding natural beauty.
Anglers visiting Wachusett Reservoir should be aware of fishing regulations and obtain the appropriate licenses and permits. It's important to follow catch limits, size restrictions, and any specific rules in place to protect the fish populations and maintain the reservoir's ecological balance.
With its unique fish species, stunning landscapes, and serene atmosphere, Wachusett Reservoir offers anglers a remarkable fishing experience in Massachusetts. Whether it's targeting landlocked salmon, pursuing brown trout, or casting for other popular fish species, Wachusett Reservoir provides a tranquil and memorable angling adventure amidst the natural wonders of the area.
Access for fishing is limited to the following areas: Route 70 via Gates 6 to 16, Route 140 via Gates 17 to 24, Route 12/110 via Gates 25 to 35 and West Boylston via Thomas Basin. Fishing is not allowed from any other areas. Boating is not allowed on Wachusett Lake. Camping, lodging, convenience stores and restaurants are all available nearby.

Primary fish species residing in Wachusett Reservoir
Click images for fishing tips and details about each species.
Wachusett Reservoir Amenities
Marina: NO
Boat Rental: NO
Boat Launch Ramp: NO
Campgrounds: NEARBY
RV Hookups: NEARBY
Lodging: YES
Convenience Store: YES
Bait & Tackle: YES
Restaurant: YES
Today's Weather & Forecast
Click here for a Massachusetts Fishing License.
Campgrounds & RV Parks Nearby
Holden Forestry Campground - 508 829-0276
Wachusett Reservoir MA Map - Fishing & Camping Areas
Lake Video
Contact Information
Wachusett Reservoir
Clinton Parks & Recreation
560 High St
Clinton, MA 01510
978 365-4140
Fishing lakes in each state.
Wachusett Reservoir in Massachusetts.
MASSACHUSETTS


Information about fishing lakes in Massachusetts
Fishing for bass, sunfish, perch, trout, crappie, salmon and pike at Wachusett Reservoir in east-central Massachusetts.
Fishing on Wachusett Reservoir.