Guide To Taking Kids Fishing In Massachusetts
Ideas and locations to take kids fishing in MA.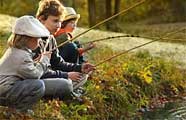 Fishing and the great outdoors offers kids an alternative to many influences they encounter in their busy lives today. A single fishing trip could be the turning point in a young life. We encourage you to invest the time in Massachusetts kids. The rewards are endless and it takes so little effort.
Massachusetts offers fantastic opportunities for kids to enjoy fishing and connect with nature. Many urban areas in the state provide convenient access to fishing spots where children can learn and have fun while targeting a variety of fish species.
One popular fish species for kids to catch is the sunfish. These colorful and feisty panfish, including bluegill and pumpkinseed sunfish, can be found in many urban ponds and lakes throughout Massachusetts. Sunfish are eager biters and can be caught using small hooks, worms, or even bits of bread. They provide an excellent introduction to fishing for young anglers due to their abundance and willingness to bite.
Another species commonly targeted by kids is the stocked rainbow trout. Massachusetts stocks numerous ponds and urban fishing areas with rainbow trout, particularly during the spring and fall seasons. These trout are typically raised in hatcheries and provide an exciting fishing experience for children. PowerBait, worms, or small spinners are popular baits for trout fishing.
Urban fishing locations in Massachusetts offer a safe and accessible environment for kids to fish. Popular spots include Jamaica Pond in Boston, Houghton's Pond in Milton, and Spot Pond in Stoneham. These areas often have designated fishing piers or platforms that make it easier for children to fish comfortably and safely.
It's important to note that fishing regulations and license requirements still apply to kids fishing in Massachusetts. Be sure to check the specific regulations for the area and obtain the appropriate licenses when necessary. Additionally, teaching kids about responsible fishing practices, such as catch and release and respecting the environment, is essential to foster a love for fishing and conservation.
Fishing in urban areas of Massachusetts provides an excellent opportunity for kids to develop an appreciation for the outdoors, learn fishing skills, and enjoy quality time with family and friends. With an abundance of sunfish and stocked trout, urban fishing locations offer a gateway for children to experience the joys of fishing and create lasting memories on the water.

Places in Massachusetts to take kids fishing
Consider these small lakes, ponds, creeks and urban fishing locations as places to take a kid fishing in the Bay State.
Belmont
- Beaver Brook Reservation
Boston
- Boston Harbor Islands Park
- Chestnut Hill Reservation
- Jamaica Pond
- Old Harbor Park
- Squantum Point Park
Cheshire
- Cheshire Reservoir
Chestnut Hill
- Hammond Pond
Dover
- Elm Bank Reservation
Lawrence
- Breakheart Reservation
- Lawrence Heritage St Park
Lowell
- Lowell Heritage Park
Quincy
- Cutler Park Reservation
Springfield
- Five Mile Pond
- Lake Lorraine
Massachusetts offers many opportunities for kids to fish and experience the thrill of the "tap-tap-tap". Watch the eyes of a youth light up no matter how big or small their catch may be. You have the opportunity to experience it with them and share their joy.
Top 3 tips for taking kids fishing in MA
1. Make sure that the goal is to have fun. Catching fish is a bonus.
2. Keep it simple. Simple tackle, techniques and locations.
3. Keep the focus on the kids. Be a hero by helping them enjoy the day.
Click here for additional tips to create a successful day of fishing for kids.
Kids Fishing Video
Youngsters with their prized catch
---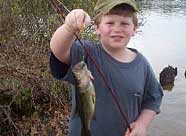 Jason Atwood shows off with his first bass.
---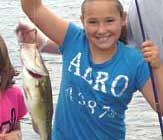 Meghan McDonald with her first bass from Burlington Reservoir.
---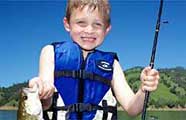 Kids, fishing and smiles naturally go together. Take a kid fishing and you just might change the course of their life. Then take pictures and send us one of them holding their prized catch. We will happily post it here.
Kids fishing locations and information, by state.
Help us identify other youth fishing spots in MA.
If you are aware of a great place to take kids fishing in your area, please let us know. We can add it to our list. Every kid that catches a fish will appreciate the fact that you made the effort.
MASSACHUSETTS