Fishing At Earthquake Lake
AKA: Quake Lake
What to fish for...
Guide to fishing for cutthroat trout and brown trout at Earthquake Lake in Montana.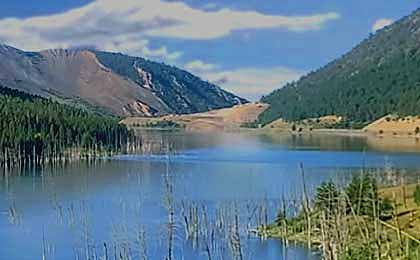 Created by an earthquake in 1959, Earthquake Lake is a 600-acre lake in the southwest part of the state, about 25 miles northwest of West Yellowstone. Rugged mountains surround about a dozen miles of shoreline, and the lake has standing timber in the water most everywhere.
Earthquake Lake, located in southwestern Montana, is a unique and picturesque fishing destination that was formed as a result of a massive earthquake in 1959. The lake covers approximately 5,700 acres and offers anglers a serene setting surrounded by stunning mountain scenery.
One of the popular fish species found in Earthquake Lake is the rainbow trout. This lake is known for its healthy population of rainbow trout, including both wild and stocked fish. Anglers can target rainbow trout using various methods such as fly fishing, spin fishing, or casting with bait or lures. The clear waters of Earthquake Lake provide excellent visibility, allowing anglers to spot the trout and make precise casts.
Brook trout are another sought-after species in Earthquake Lake. These beautiful fish thrive in the lake's cold waters and offer anglers a chance to catch these vibrant and feisty trout. Anglers often use small spinners, flies, or baited hooks to entice brook trout in Earthquake Lake. These fish provide a rewarding angling experience, especially for those who appreciate the beauty of these native trout.
Earthquake Lake is a non-motorized lake, which means that boating with gasoline-powered engines is not allowed. However, anglers can still enjoy fishing from non-motorized boats such as kayaks, canoes, or rowboats. These quiet watercraft allow anglers to explore the lake's shoreline, reach secluded fishing spots, and enjoy the tranquility of the surroundings.
Camping opportunities are available near Earthquake Lake, allowing anglers to extend their fishing trips and fully immerse themselves in the natural beauty of the area. Campgrounds offer amenities such as picnic areas, fire pits, and restrooms, providing a comfortable and convenient base for anglers and their families.
It's important to note that Earthquake Lake has unique fishing regulations due to its designation as a Special Regulation Water. Anglers should review and adhere to these regulations, which may include specific rules on catch-and-release, hook size, and bait restrictions. Responsible fishing practices are crucial to preserving the delicate ecosystem of Earthquake Lake and ensuring the sustainability of the fish populations.
With its remarkable origin and stunning surroundings, Earthquake Lake offers anglers a memorable fishing experience in a scenic and peaceful setting. Whether casting for rainbow trout, pursuing brook trout, or simply enjoying the tranquility of the lake, Earthquake Lake provides an opportunity to connect with nature and appreciate the remarkable resilience of the ecosystem following the catastrophic earthquake that shaped it.
Dry fly fishing around these submerged trees is popular. A boat launch ramp and campgrounds are open to the public. Anglers willing to do a bit of walking/hiking can find unique and productive places to fish from the bank.

Primary fish species residing in Earthquake Lake
Click images for fishing tips and details about each species.
Quake Lake Amenities
Marina: NO
Boat Rental: NO
Boat Launch Ramp: YES
Campgrounds: YES
RV Hookups: NO
Lodging: YES
Convenience Store: NEARBY
Bait & Tackle: NEARBY
Restaurant: YES
Today's Weather & Forecast
Public Boat Launch Ramps & Landings
Beaver Creek Boat Launch Ramp
Located mid lake, on the north side of the lake, off US Highway 287, this is a one-lane, gravel ramp with gravel parking.
Click here for a Montana Fishing License.
Campgrounds & RV Parks Nearby
Beaver Creek Campground - 406 823-6961
Cabin Creek Campground - 406 646-1012
Earthquake Lake MT Map - Fishing & Camping Areas
Lake Video
Contact Information
Earthquake Lake
Beaver Creek Campground
Hebgen Lake Rd
West Yellowstone, MT 59758
406 823-6961
Fishing lakes in each state.
Earthquake Lake in MT
MONTANA


Fishing for cutthroat and brown trout in southwest MT.
Quake Lake, in Montana.