Fishing Guides In Montana
Hire a guide to take you fishing in MT.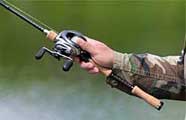 Hire a fishing guide to fish for largemouth bass, smallmouth bass, channel catfish, black crappie, white crappie, walleye, rainbow trout, cutthroat trout, brook trout, brown trout, lake trout, golden trout, bluegill, green sunfish, pumpkinseed sunfish, rock bass, white bass, yellow perch, coho salmon, kokanee salmon, northern pike, paddlefish, sauger, saugeye and tiger muskie in local lakes.

Montana Fishing Guides
Montana Angler Fly Fishing - 406 522-9854
Brian McGeehan - [email protected]
Specialty: trout. Montana Angler Fly Fishing offers fly fishing packages with expert guides on legendary rivers. Montana Angler works with numerous world class fly fishing lodges, hotels, and vacation rentals. Float, wade, backcountry and overnight river trips are available.
Other Local Guides
For the ultimate fishing experience, hire a professional guide. They know the MT fishery inside out and have determined the best techniques for catching fish at various times of the year.
Kibler Outfitting & Charter Fishing - 406-557-2503
[email protected]
Walleye, Sauger, Saugeye, Northern Pike, Smallmouth Bass, Lake Trout, Chinook Salmon. Experience Fort Peck Lake. The quantity and quality of all fish in our lake are excellent. There is also very little fishing pressure on this lake. Visit our website or email us for more information.
Yellowstone Montana Fly Fishing
[email protected]
Guided fly fishing trips in West Yellowstone Montana on the Snake, Madison and Gallatin rivers. We teach and coach beginners to advanced anglers!
Class Five - 512 663-1053
Banning Collins - [email protected]
Focus Species: Trout & Bass
Guided fly fishing in the Texas Hill Country rivers for Trout and bass! Summer guiding in Glacier Park, MT.
Montana Fishing Guide Services
In addition to catching fish, guides teach you techniques which you will use over a lifetime of fishing. Learn tips on rods, reels, line, knots, lures, hook types, techniques and much more...all by spending the day in a boat with a local guide.
Fishing guide information for other states.
MONTANA