Fishing At Whitefish Lake
AKA: Whitefish Lake State Park
What to fish for...
Guide to fishing for brook trout, cutthroat trout, lake trout, yellow perch and northern pike at Whitefish Lake in Montana.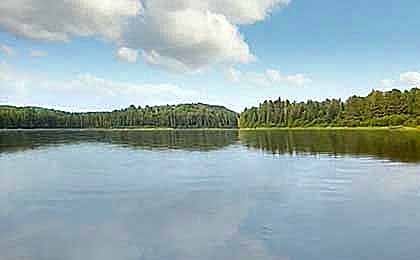 Boating, camping and fishing attract seasonal visitors to Whitefish Lake, a 3,300-acre lake in the northwest part of the state, at the town of Whitefish. The lake is surrounded by nearly 16 miles of scenic shoreline and great mountain views.
The purpose of this page is to deliver an overview of this lake, the fishing options, and area amenities. Our goal is to provide info to first time visitors, as well as beginner and novice anglers. We gathered details from personal experience, numerous trusted websites, and videos of fishing activity on the lake. These websites include the Montana Fish, Wildlife And Parks Department, marinas at the lake, campgrounds, boat rental agencies and others. By consolidating this information to one page it allows visitors to see the entire picture, all in one place.
Lake Video
Whitefish Lake, located in the picturesque town of Whitefish, Montana, is a renowned fishing destination known for its pristine waters and diverse fish populations. This stunning alpine lake covers approximately 7.6 square miles and offers anglers a rewarding fishing experience amidst breathtaking mountain scenery.
One of the popular fish species found in Whitefish Lake is the native Westslope cutthroat trout. These beautiful and elusive trout are highly sought after by anglers for their vibrant colors and challenging fights. Fly fishing is a popular technique used to target cutthroat trout in Whitefish Lake, with anglers using dry flies, nymphs, or streamers to entice these native fish. The lake's clear waters and scenic shoreline provide a perfect setting for fly fishing enthusiasts.
Whitefish Lake is also home to a variety of other fish species, including lake trout, rainbow trout, yellow perch, and northern pike. Lake trout, also known as "mackinaw," are prized for their large size and can be caught using techniques such as trolling with downriggers or jigging in deeper waters. Rainbow trout offer exciting angling opportunities and can be targeted using fly fishing or spin fishing methods. Yellow perch and northern pike provide additional fishing options, with anglers using various bait and techniques to pursue these species.
Anglers visiting Whitefish Lake should be aware of fishing regulations and obtain the appropriate licenses. It's important to follow catch limits, size restrictions, and specific rules to ensure the conservation and preservation of the fish populations and the surrounding environment.
With its stunning mountain vistas, pristine waters, and a variety of fish species, Whitefish Lake offers anglers a memorable fishing experience in Montana. Whether it's targeting Westslope cutthroat trout, pursuing lake trout, or casting for other popular fish species, Whitefish Lake provides a serene and rewarding angling adventure amidst the natural wonders of Montana's landscapes.
A great place to begin your adventure is Whitefish Lake State Park which has swimming areas, campgrounds with RV hookups, rental boats, parking and a nice boat launch ramp. There is space for fishing from the bank near Whitefish Lake Park Boat Access, as well as a few areas around the lake for those who enjoy a small trek from the roadways to the shore. Trout, perch and northern pike reside here. Ice fishing for lake trout, perch and pike is popular in winter.

Primary fish species residing in Whitefish Lake
Click images for fishing tips and details about each species.
Whitefish Lake Amenities
Marina: YES
Boat Rental: YES
Boat Launch Ramp: YES
Campgrounds: YES
RV Hookups: YES
Lodging: YES
Convenience Store: YES
Bait & Tackle: YES
Restaurant: YES
Today's Weather & Forecast
Boating is a popular activity on Whitefish Lake, and anglers can enjoy the convenience of launching their boats from public boat ramps. Motorized boats are allowed on the lake, providing anglers with the opportunity to explore different areas and access prime fishing spots. Whether it's trolling for lake trout, casting for northern pike, or cruising along the scenic shoreline, boating enhances the overall fishing experience on Whitefish Lake.
Fishing Boat Rentals
Marina at The Lodge at Whitefish Lake
Rentals: Pontoon boats, canoes and kayaks
406 863-4000
Public Boat Launch Ramps & Landings
City Beach Boat Launch Ramp
Located mid lake, on the south side of the lake, off Lakeside Blvd, this is a two-lane, concrete ramp with a dock and no parking.
Whitefish Lake Park Boat Launch Ramp
Located in the southwest section of the lake, off Whitefish Lake Marina Drive, this is a one-lane, concrete ramp with a dock and paved parking.
Marinas
Marina at The Lodge at Whitefish Lake
1380 Wisconsin Ave
Whitefish, MT 59937
406 863-4000
Click here for a Montana Fishing License.
Camping facilities can be found near Whitefish Lake, allowing anglers to extend their fishing trips and fully immerse themselves in the natural beauty of the area. Campgrounds provide amenities such as picnic areas, fire pits, and restrooms, making it convenient for anglers and their families to relax and unwind after a day on the water.
Campgrounds & RV Parks Nearby
Whitefish Lake State Park RV Campground - 406 862-3991
Whitefish RV Park - 406 862-7275
Whitefish Lake MT Map - Fishing & Camping Areas
Contact Information
Whitefish Lake
Whitefish Lake State Park
1615 W Lakeshore Dr
Whitefish, MT 59937
406 862-3991
Fishing lakes in each state.
Whitefish Lake in MT
MONTANA


Fishing for trout, perch and pike in northwest MT.
Whitefish Lake, in Montana.