Fishing At Ashley Lake
AKA: Ashley Lake Boat Ramp & Campground
What to fish for...
Guide to fishing for rainbow trout, cutthroat trout, yellow perch and kokanee salmon at Ashley Lake in Montana.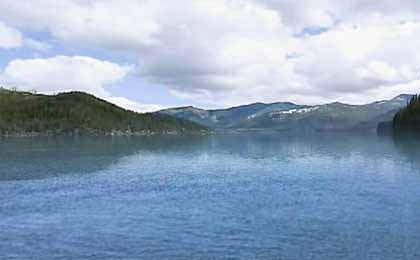 Three campgrounds and a boat launch ramp welcome visitors to Ashley Lake, a 3,200-acre lake set in the northwest part of the state, 8 miles west of Kalispell. Over 16 miles of shoreline wrap these turquoise and blue waters where trout, kokanee and perch reside. There is areas around the boat ramp for fishing from the bank. Try your luck ice fishing here in winter.
The purpose of this page is to deliver an overview of this lake, the fishing options, and area amenities. Our goal is to provide info to first time visitors, as well as beginner and novice anglers. We gathered details from personal experience, numerous trusted websites, and videos of fishing activity on the lake. These websites include the Montana Fish, Wildlife And Parks Department, marinas at the lake, campgrounds, boat rental agencies and others. By consolidating this information to one page it allows visitors to see the entire picture, all in one place.
Lake Video
Ashley Lake, located in northwest Montana, is a picturesque destination for fishing enthusiasts seeking serene surroundings and a variety of fish species. The lake covers approximately 4.5 square miles and offers abundant opportunities for anglers to cast their lines and enjoy the tranquility of nature.
One of the popular fish species found in Ashley Lake is the rainbow trout. These feisty fish are known for their acrobatic leaps and make for exciting catches. Rainbow trout in Ashley Lake can reach impressive sizes, providing a thrilling challenge for anglers of all skill levels. Anglers often employ techniques such as trolling, casting with lures, or using bait to target rainbow trout in the lake's clear waters.
In addition to rainbow trout, Ashley Lake is also home to other fish species, including yellow perch and kokanee salmon. Yellow perch are a favorite among anglers, especially for those seeking a tasty meal. They are often found near submerged structures and can be caught using small jigs or baited hooks. Kokanee salmon, which are landlocked sockeye salmon, can also be targeted in Ashley Lake. These fish offer a unique angling experience and are often pursued by trolling or jigging with small lures.
It's important for anglers visiting Ashley Lake to be aware of the fishing regulations and obtain the appropriate licenses before fishing. Additionally, practicing catch-and-release, as well as respecting the natural environment, helps ensure the sustainability of the fish populations and the overall health of the lake.
With its stunning natural beauty and diverse fish species, Ashley Lake provides anglers with a rewarding fishing experience in a peaceful setting. Whether casting for rainbow trout, seeking the thrill of hooking a kokanee salmon, or simply enjoying the tranquility of the lake, Ashley Lake is a gem for fishing enthusiasts in Montana.

Primary fish species residing in Ashley Lake
Click images for fishing tips and details about each species.
Ashley Lake Amenities
Marina: NO
Boat Rental: NO
Boat Launch Ramp: YES
Campgrounds: YES
RV Hookups: NO
Lodging: NEARBY
Convenience Store: NEARBY
Bait & Tackle: NO
Restaurant: NO
Today's Weather & Forecast
Boating is a popular activity on Ashley Lake, allowing anglers to explore different areas of the lake and access prime fishing spots. Anglers can launch their boats at the public boat ramp located on the lake's southern shore. Kayaking and canoeing are also popular ways to navigate the calm waters of Ashley Lake and reach secluded fishing spots.
Public Boat Launch Ramps & Landings
Ashley Lake Boat Launch Ramp
Located mid lake, on the north side of the lake, off Ashley Boat Launch Road, this is a one-lane, concrete ramp with gravel parking.
Click here for a Montana Fishing License.
Camping opportunities abound near Ashley Lake, making it an ideal destination for anglers who wish to extend their fishing adventures. There are several campgrounds in the area, offering scenic views, tranquil settings, and access to the lake's shores. Anglers can enjoy the serenity of the outdoors while being in close proximity to their favorite fishing spots.
Campgrounds & RV Parks Nearby
Ashley Lake South Campground - 406 758-5208
Ashley Lake North Campground - 406 758-5208
Ashley Lake Boat Launch Campground - 406 758-5208
Ashley Lake MT Map - Fishing & Camping Areas
Contact Information
Ashley Lake
Ashley Lake South Campground
Kalispell, MT 59901
406 758-5208
Fishing lakes in each state.
Ashley Lake in MT
MONTANA


Fishing for trout, kokanee and perch in northwest MT.
Ashley Lake, in Montana.