Fishing At Lake Alan Henry
AKA: Alan Henry Lake
What to fish for...
Guide to fishing for largemouth bass, channel catfish, flathead catfish, blue catfish, black crappie, white crappie and bluegill at Lake Alan Henry in West Texas.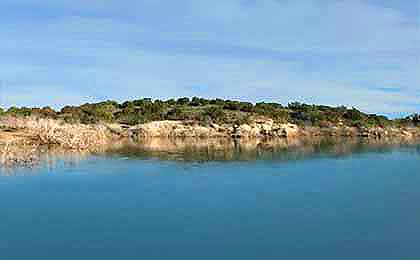 Known for lunker largemouth bass, Lake Alan Henry is a 2,900-acre lake in the west-central part of the state, at Justiceburg TX. The lake also has spotted bass, crappie, catfish and sunfish. With access roads surrounding much of the lake, access to the shoreline for bank fishing simply requires a short walk/hike.
Lake Alan Henry, located in West Texas, is a hidden gem for fishing enthusiasts. This reservoir offers a variety of fish species, making it a prime destination for anglers seeking a diverse angling experience. Largemouth bass is the most sought-after species in Lake Alan Henry, with the lake consistently producing trophy-sized bass. Anglers can also find white bass, catfish, crappie, and sunfish in its waters. The abundance of fish species ensures that there is always something biting, providing anglers with thrilling fishing opportunities.
Aside from its excellent fishing prospects, Lake Alan Henry also provides a range of recreational activities. Boating is a popular pastime on the lake, with boaters enjoying the calm waters and breathtaking scenery. Whether it's sailing, water skiing, or simply cruising around the lake, boating enthusiasts will find ample space to explore. The lake features boat ramps and marinas to facilitate easy access for boaters.
Camping is another highlight of the Lake Alan Henry experience. The lake offers multiple campgrounds, providing visitors with the chance to immerse themselves in the natural beauty of the area. From RV camping to tent camping, there are options to suit various preferences. Campers can enjoy picturesque views, serene surroundings, and the opportunity to relax and recharge amidst the tranquil ambiance of the lake.
Lake Alan Henry presents a well-rounded recreational experience, with exceptional fishing opportunities, boating adventures, and camping facilities. Whether you're an avid angler looking for trophy bass or a nature enthusiast seeking outdoor activities, Lake Alan Henry offers a serene and picturesque destination to indulge in your favorite pastimes while surrounded by the beauty of West Texas.
Steep banks do hinder access to some sections of the 56 miles of shoreline, but the fishing is often worth the walk to the accessible areas. An excellent four-lane boat ramp, with 100 parking spaces makes it convenient for launching pleasure and fishing boats. A few areas around the lake are accessible for launching a canoe or kayak.
Primary fish species residing in Lake Alan Henry
Click images for fishing tips and details about each species.
Lake Alan Henry Amenities
Marina: NO
Boat Rental: NO
Boat Launch Ramp: YES
Campgrounds: YES
RV Hookups: YES
Lodging: NEARBY
Convenience Store: NEARBY
Bait & Tackle: NEARBY
Restaurant: NEARBY
Today's Weather & Forecast
Fishing Boat Rentals
Lake Alan Henry Boat Rental
Rentals: Bass buggies and pontoon boats
806 724-5314
Public Boat Launch Ramps & Landings
Lake Allen Henry Boat Launch Ramp
Located mid lake, on the north side of the lake, off North Ridge Drive, this is a five-lane, concrete ramp with docks and paved parking.
Lake Alan Henry Dam Boat Ramp
Located mid lake, on the north side of the lake, at the north end of the Lake Alan Henry Dam, this is a one-lane, concrete ramp with gravel parking.
Oak Canyon Estates Boat Launch Ramp
Located in the southeast section of the lake, east side, off Oak Canyon Estates Road, this is a three-lane, concrete ramp with a dock and gravel parking.
Sam Wahl Recreation Area Boat Ramp
Located mid lake, on the north side of the lake, in the Sam Wahl Recreation Area, this is a five-lane, concrete ramp with docks and paved parking.
Click here for a Texas Fishing License.
Campgrounds & RV Parks Nearby
Lake Alan Henry RV Park - 806 777-0337
North Ridge RV Park - 806 789-9400
Lake Alan Henry TX Map - Fishing & Camping Areas
Lake Video
Contact Information
Lake Alan Henry
City of Lubbock
3096 Lake Alan Henry Road
Justiceburg, Texas 79330
806 629-4259
Fishing lakes in each state.
Lake Alan Henry in West Texas.
Information about fishing lakes in West TX
Lake Alan Henry offers excellent lunker largemouth bass fishing in West Texas.
Fishing on Lake Alan Henry, in Texas.