Guide To The Best Fishing Spots For Catfish In Texas
All about fishing for flathead, blue and channel catfish in TX.
Texas is a prime destination for catfish fishing, with its rivers, lakes, and reservoirs providing abundant opportunities to pursue these bottom-dwelling giants. Channel catfish, one of the most common species, can be found throughout the state. Anglers target them in lakes like Lake Conroe and Lake Livingston, as well as in rivers such as the Trinity and the Brazos. Channel catfish are known for their willingness to bite and provide an exciting angling experience for both beginners and seasoned fishermen.
Flathead catfish, also known as yellow catfish or shovelhead catfish, are highly prized for their size and fighting ability. These powerful predators can reach impressive weights in Texas waters. Anglers often target them in lakes like Lake Tawakoni and Lake Texoma, as well as in rivers like the Brazos and the Colorado. Catching a trophy-sized flathead catfish is a thrilling accomplishment for any angler, as they are known to put up a fierce battle once hooked.
Blue catfish, often regarded as the heavyweight champions of Texas catfishing, can be found in large rivers and reservoirs across the state. These voracious predators can reach enormous sizes, with the potential to exceed 100 pounds. Lakes like Lake Lewisville, Lake Ray Roberts, and Lake Tawakoni are known for their robust blue catfish populations. Anglers often employ specialized techniques, such as drift fishing or anchoring near deep holes, to target these behemoths. Landing a monster blue catfish is a true testament to an angler's skill and endurance.
Texas offers a catfish paradise, with its diverse range of species and abundant fishing opportunities. Whether it's the scrappy channel catfish, the formidable flathead catfish, or the monstrous blue catfish, anglers can test their mettle and enjoy the thrill of catfish fishing in the Lone Star State. With its vast network of rivers, lakes, and reservoirs, Texas is a haven for catfish enthusiasts seeking unforgettable fishing experiences.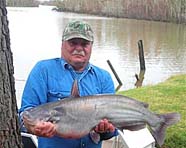 Catfish Lakes In Texas
Let's start with the major lakes which are populated with catfish. They include B.A. Steinhagen Lake, Belton Lake, Cedar Creek Reservoir, Choke Canyon Reservoir, Cooper Lake, Diversion Lake, Eagle Mountain Lake, Falcon Lake, Lake E.V. Spence, Grapevine Lake, Hubbard Creek Reservoir, Joe Pool Lake, Lake Arrowhead, Lake Bob Sandlin, Lake Bridgeport, Lake Brownwood, Lake Buchanan, Lake Caddo, Lake Conroe, Lake Corpus Christi, Lake Fork Reservoir, Lake Granbury, Lake Houston, Lake J.B. Thomas, Lake Kemp, Lake Kickapoo, Lake Lewisville, Lake Limestone, Lake Livingston, Lake Lyndon B Johnson, Lake Meredith, Lake O the Pines, Lake Palestine, Lake Ray Hubbard, Lake Somerville, Lake Tawakoni, Lake Texana, Lake Texoma, Lake Travis, Lake Waco, Lake Whitney, Lake Worth, Lavon Lake, Martin Creek Lake, Medina Lake, Navarro Mills Lake, O.C. Fisher Lake, O.H. Ivie Lake, Pat Mayse Lake, Possom Kingdom Lake, Proctor Lake, Ray Roberts Lake, Richland Chambers Reservoir, Sam Rayburn Reservoir, Stamford Reservoir, Stillhouse Hollow Reservoir, Toledo Bend, Twin Buttes Reservoir and Wright Patman Lake.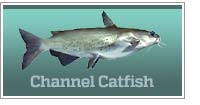 World record: 58 lbs 0 oz
State Record: 36.5 lbs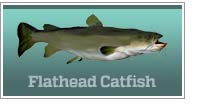 World record: 123 lbs 9 oz
State Record: 98.5 lbs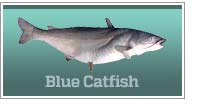 World record: 143 lbs 0 oz
State Record: 121.5 lbs
Click the images and links above for species details.
What's the best bait for catfish in Texas?
Choose from the top 5 all-time catfish baits and try them on local waters. Appealing to the keen sense of smell and taste could turn a so-so day into a memorable event.
The state record channel catfish was taken out of the Pedernales River.
Lake Palestine was home to the state record flathead catfish.
Lake Texoma yielded the state record blue catfish.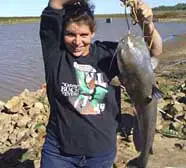 Most rivers in Texas also have good to excellent catfish fishing as do many small lakes and ponds.
Catfish Fishing Video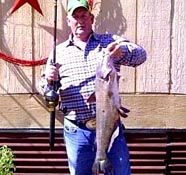 There are many species of catfish and even more ways to catch them. Adults range in size from less than a pound to hundreds of pounds. Catfish are found in all types of water including ponds, streams, lakes and rivers throughout Texas. There are even species which spend a limited amount of time on dry land. Big giant catfish put up a very noble fight once hooked.
Additional catfishing information resources.
U.S. Catfish Anglers Tournaments
Most catfish are considered bottom feeders to one extent or another. They will generally eat anything that can get in their mouth. Their strongest sense is smell which they use to locate potential food sources. Capitalizing on this sense is the primary weapon in your search for these creatures. Aggressive catfish have been caught on most types of fast moving bass lures so don't under estimate their ability to catch live bait.
Information for states with catfish.