Texas Catfish Fishing
All about fishing for flathead, blue and channel catfish in Texas.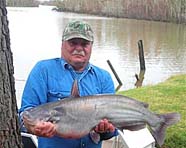 Catfish Waters In TX
Let's start with the major lakes which are populated with catfish. They include B.A. Steinhagen Lake, Belton Lake, Cedar Creek Reservoir, Choke Canyon Reservoir, Cooper Lake, Diversion Lake, Eagle Mountain Lake, Falcon Lake, Lake E.V. Spence, Grapevine Lake, Hubbard Creek Reservoir, Joe Pool Lake, Lake Arrowhead, Lake Bob Sandlin, Lake Bridgeport, Lake Brownwood, Lake Buchanan, Lake Caddo, Lake Conroe, Lake Corpus Christi, Lake Fork Reservoir, Lake Granbury, Lake Houston, Lake J.B. Thomas, Lake Kemp, Lake Kickapoo, Lake Lewisville, Lake Limestone, Lake Livingston, Lake Lyndon B Johnson, Lake Meredith, Lake O the Pines, Lake Palestine, Lake Ray Hubbard, Lake Somerville, Lake Tawakoni, Lake Texana, Lake Texoma, Lake Travis, Lake Waco, Lake Whitney, Lake Worth, Lavon Lake, Martin Creek Lake, Medina Lake, Navarro Mills Lake, O.C. Fisher Lake, O.H. Ivie Lake, Pat Mayse Lake, Possom Kingdom Lake, Proctor Lake, Ray Roberts Lake, Richland Chambers Reservoir, Sam Rayburn Reservoir, Stamford Reservoir, Stillhouse Hollow Reservoir, Toledo Bend, Twin Buttes Reservoir and Wright Patman Lake.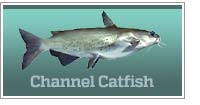 World record: 58 lbs 0 oz
TX State Record: 36.5 lbs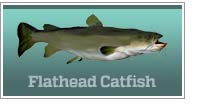 World record: 123 lbs 9 oz
TX State Record: 98.5 lbs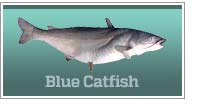 World record: 143 lbs 0 oz
TX State Record: 121.5 lbs
By clicking on the images and links above, you will be taken to a page offering more information about the selected catfish.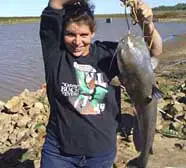 Most rivers in Texas also have good to excellent catfish fishing as do many small lakes and ponds.
Lake Texoma yielded the Texas state record blue catfish and the TX state record channel catfish was taken out of the Pedernales River. Lake Palestine was home to the TX state record flathead catfish.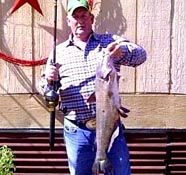 There are many species of catfish and even more ways to catch them. Adults range in size from less than a pound to hundreds of pounds. Catfish are found in all types of water including ponds, streams, lakes and rivers throughout Texas. There are even species which spend a limited amount of time on dry land. Big giant catfish put up a very noble fight once hooked.
Camp out and catch some catfish!
Additional catfishing information resources.
U.S. Catfish Anglers Tournaments
Most catfish are considered bottom feeders to one extent or another. They will generally eat anything that can get in their mouth. Their strongest sense is smell which they use to locate potential food sources. Capitalizing on this sense is the primary weapon in your search for these creatures. Aggressive catfish have been caught on most types of fast moving bass lures so don't under estimate their ability to catch live bait.
Catfish fishing information for states with catfish.
Best catfish fishing lakes in Texas!