Guide To Taking Kids Fishing In Texas
Ideas and locations to take kids fishing in TX.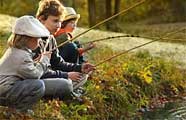 Fishing and the great outdoors offers kids an alternative to many influences they encounter in their busy lives today. A single fishing trip could be the turningpoint in a young life, and we encourage you to invest the time in Texas kids. The rewards are endless and it takes so little effort.
Places in Texas to take kids fishing
Consider these small lakes, ponds, creeks and urban fishing locations as places to take a kid fishing in the Lone Star State.
Austin
- Friendship Park
- Granger Lake
- Pace Bend Park
- Town Lake
- Town Lake Park
- Walter Long Lake Park
Bastrop
- Bastrop State Park
- Lake Bastrop
Dallas-Fort Worth
- Casino Beach Park
- Eugene McCray Park
- Forest #6 Park
- Lake Como Park
- Northwest Park Pond
- Oakland Park
- Oakmont Linear Park
- Rockledge Park
- White Rock Lake Park
- Wildwood Park
Dundee
- Diversion Lake
El Paso
- Ascarate Park
Houston
- Burke/Crenshaw Park
- George Bush Park
- Hermann Park
- Sheldon Lake St Park
Hurst
- Chisholm Park
Lubbock
- Buster Long Park
- Casey Park
- Clifford Andrews Park
- Crow Park
- Hoel Park
- Jennings Park
- Leftwich Park
- Leroy Elmore Park
- Mahon Park
- Stevens Park
San Antonio
- J Street Park
- M.L. King Park
- Millers Pond Park
- Southside Lions Park
- Woodlawn Lake Park
Spearman
- Palo Duro Reservoir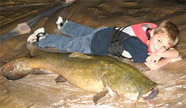 Joshua Peterson shows off the 45 pound, 3 oz catfish he caught on Lake Ray Hubbard.
Top 3 tips for taking kids fishing in TX
1. Make sure that the goal is to have fun. Catching fish is a bonus.
2. Keep it simple. Simple tackle, techniques and locations.
3. Keep the focus on the kids. Be a hero by helping them enjoy the day.
Youngsters with their prized catch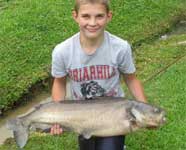 This could be your child, grandchild or any kid you took fishing. Take a picture and send it to us. We will happily post it here for them.
---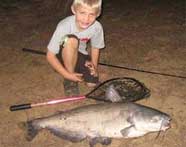 Richard James shows off an 18-pound catfish he landed from a private pond.
---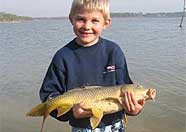 Richard James, age 8, shows off his big carp.
---
Click here for additional tips to create a successful day of fishing for kids.
Kids Fishing Video
Kids, fishing and smiles naturally go together. Take a kid fishing and you just might change the course of their life. Then take pictures and send us one of them holding their prized catch. We will happily post it here.
Kids fishing locations and information, by state.
Help us identify other youth fishing spots in TX.
If you are aware of a great place to take kids fishing in your area, please let us know. We can add it to our list. Every kid that catches a fish will appreciate the fact that you made the effort.