Guide To The Best Bass Fishing Lakes In Texas
Catch Monster Bass In Texas
Bass Fishing Lakes In TX
Fish for spotted, smallmouth and largemouth bass. Visit the Bass Knowledge Center for valuable information about bass and bass fishing.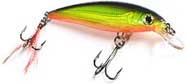 When it comes to bass fishing lakes, Texas has almost too many to mention. These are some of the larger lakes in Texas with populations of bass - Amistad Reservoir, B.A. Steinhagen Lake, Belton Lake, Cedar Creek Reservoir, Choke Canyon Reservoir, Cooper Lake, Diversion Lake, Eagle Mountain Lake, Lake E.V. Spence, Falcon Lake, Grapevine Lake, Hubbard Creek Reservoir, Joe Pool Lake, Lake Alan Henry, Lake Arrowhead, Lake Bob Sandlin, Lake Bridgeport, Lake Brownwood, Lake Buchanan, Lake Caddo, Lake Conroe, Lake Corpus Christi, Lake Fork Reservoir, Lake Granbury, Lake Houston, Lake J.B. Thomas, Lake Kemp, Lake Kickapoo, Lake Lewisville, Lake Limestone, Lake Livingston, Lake Lyndon B Johnson, Lake Meredith, Lake O the Pines, Lake Palestine, Lake Ray Hubbard, Lake Somerville, Lake Tawakoni, Lake Texana, Lake Texoma, Lake Travis, Lake Waco, Lake Whitney, Lake Worth, Lavon Lake, Martin Creek Lake, Medina Lake, Navarro Mills Lake, O.C. Fisher Lake, O.H. Ivie Lake, Palo Duro Reservoir, Pat Mayse Lake, Possom Kingdom Lake, Proctor Lake, Ray Roberts Lake, Richland Chambers Reservoir, Sam Rayburn Reservoir, Stamford Reservoir, Stillhouse Hollow Reservoir, Toledo Bend, Twin Buttes Reservoir and Wright Patman Lake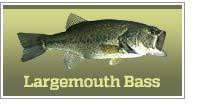 World record: 22 lbs 4 oz
State Record: 18.18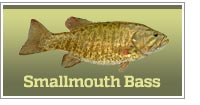 World record: 11 lbs 15 oz
State Record: 7.93 lbs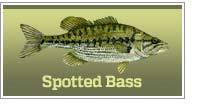 World record: 9 lbs 8 oz
State Record: 5.56 lbs
Click the images and links above for species details.
Top 5 Bass Fishing Lures For Texas
When bass are shallow, spinnerbaits, crankbaits and top water lures are the most productive. As they move deeper, worms and jigs are among the top producers.
Lake Fork yielded the state record largemouth bass.
The state record smallmouth bass was caught out of Lake Meredith.
Lake O' the Pines was home to the state record spotted bass.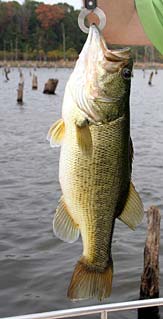 This big bass was caught from Lake Fork.
Bass are one of the most sought after of all the game fish. Its appeal spans cultures, age groups and genders to tap on the heart strings of anglers everywhere. Join us in our endeavor to offer information about bass fishing on your favorite bass lake in Texas.
Bass fishing basics video.
Understanding the primary seasonal movements of smallmouth bass and largemouth bass is key to locating them on local lakes in the Lone Star State.

Catch big bass!
Bass fishing information by state.
The lifecycle of bass
The more you know about the seasonal migration of bass, the more likely you are to be looking in the right area next time you visit Texas bass fishing lakes. Visit the bass fishing page for more in-depth information about bass activities.