Choosing From The Best Fishing Guides In Texas
Hire a guide to take you fishing in TX.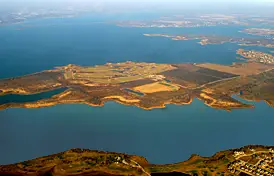 Hire a fishing guide to fish for largemouth bass, smallmouth bass, spotted bass, channel catfish, flathead catfish, blue catfish, black crappie, white crappie, walleye, rainbow trout, brook trout, brown trout, bluegill, green sunfish, hybrid sunfish, longear sunfish, redbreast sunfish, redear sunfish, rock bass, warmouth, white bass, yellow bass, yellow perch, stripers, alligator gar, bowfin, chain pickerel, longnose gar, northern pike, saugeye, spotted gar and tiger muskie in local lakes.
Texas Fishing Guides
Spindle Guide Service - 940-727-3493
Cliff Spindle - [email protected]
Crappie, largemouth bass & white bass
We offer both full and half day trips and fish 7 days a week. All equipment and tackle is furnished including fish cleaning at the end of the day. We also do instructional trips. Cliff Spindle has over 40 years fishing experience.
Other Local Guides
For the ultimate fishing experience, hire a professional guide. They know the TX fishery inside out and have determined the best techniques for catching fish at various times of the year.
Mario Zelaya
[email protected]
Business Phone: 972-786-3977
Focus Species: bass and catfish
Robinson's Lodge - 936-368-2211
Mark Robinson - [email protected]
Focus Species: Crappie, White Bass. Robinson's provides lodging, meals, and guide service for guest at Toledo Bend reservoir. Specializing in crappie, and white bass fishing.
Team Redneck Guide Service - 817-295-6113
Randy Routh - [email protected]
Focus Species: Catfish, Stripers, Sandbass. I operate my guide service on Lake Whitney in south central Texas. . We offer 1/2 day and full day trips, corporate trips are welcomed. Kids under 12 fish for free with paying adult.
Highland Lakes Fly Fishing - 325-247-8087
Keith Barnes - [email protected]
Focus Species: Largemouth, Spotted, Guadalupe, White and Striped Bass. Offering guided fly-fishing trips on the Highland Lakes of Central Texas. Flyfish Central Texas for Largemouth, Spotted, Guadalupe, White and Striped Bass.
Texas Guide Fishing Service - 254 479-0550
Mark Parker - [email protected]
Focus Species: Stripers, Hybrids, Crappie, Sand Bass. Guide Fishing Service for North Central Texas Lakes
Lake Texoma Striper Guide - 214-534-6767
Doug Shaw - [email protected]
Focus Species: Striped Bass. Professional, veteran, licensed Striper fishing guide located on Lake Texoma, just north of Dallas, Texas.
Reelin Ray Roberts Guide Service - 940 387-4250
Tim Wike - [email protected]
Focus Species: Sandbass and largemouth bass. I offer full day and half day trips to Lake Ray Roberts in North Texas.
Holding The Line Guide Service - 254 368-7411
Bob Maindelle - [email protected]
Focus Species: Year 'Round White Bass, Hybrid Stripers, Largemouth, Panfish. Offers guided fishing trips in the Salado, Texas region, focusing on Lake Belton, Stillhouse Hollow Lake, and Georgetown Lake. Fish species pursued include white bass (sand bass), hybrid striped bass, largemouth bass (black bass), crappie and panfish.
Nunez Guide Service - 409 579-2468
Albert & Peggy Nunez - [email protected]
Focus Species: Bass and Crappie. We fish Toledo Bend Reservoir Full Day and Half Day Trips novice to expert anglers. Fishing instructions and tournament pre-fishing. Licensed by Texas Parks and Wildlife. Tackle furnished on re guest (rods, reels, hooks, weights, when fishing with live bait). Artificial baits provided at an additional cost.
Team Redneck Striper Guides - 254 582-5970
Focus Species: Striped Bass. All bait and tackle furnished. Fish cleaned and bagged at end of trip. Corp. trips welcomed. Lodging available upon request.
Rays Striper Guide Service - 512 825-8746
Ray Williamson - [email protected]
Focus Species: striped bass,white bass and catfish.
Guide fishing trips on Lake Buchanan (Texas) everything is provided all you need to bring is your texas fishing license and food and drink and proper clothing sun block hat and sun glasses and lets go fishin for those big ones.
Lake Fork Trophy Bass - 903 736-9888
James Caldemeyer - [email protected]
Focus Species: Bass. Lake Fork Trophy Bass Fishing with professional guide James Caldemeyer. For the fishing trip of a lifetime please contact me. I love fishing!
Tharp's Guide Service - 903 340-5221
David Tharp - [email protected]
Focus Species: Striper, Bass, Catfish, Crappie, Sandbass. We have Guides on Lake Texoma and Lake Tawakoni We Guarantee you catch fish or your trip is free! We fish out of 23 ft, 2008 Falcon's, our boats are State of the Art, and very safe, with all the latest Sonar and VHF weather Radios. You and your family will have a great time on the water.
Bobby's Catfish Guide Service - 817 455-2894
Bobby Kubin - [email protected]
Focus Species: Blue catfish and channel catfish. I am a licensed professional catfish guide on Lake Lewisville and Grapevine. My goal is to provide you with an enjoyable outdoor experience. I will provide custom-designed fishing trips to anglers of all experience levels. Learn how to locate and catch catfish, or we can just go out and catch some for a fish fry.
Texas Fishing Guide Services
In addition to catching fish, guides teach you techniques which you will use over a lifetime of fishing. Learn tips on rods, reels, line, knots, lures, hook types, techniques and much more...all by spending the day in a boat with a local guide.
Fishing guide information for other states.