Fishing At Navajo Lake
AKA: Navajo Reservoir
What to fish for...
Guide to fishing for largemouth bass, smallmouth bass, channel catfish, black crappie, white crappie, rainbow trout, brown trout, bluegill, kokanee salmon and northern pike at Navajo Lake in New Mexico.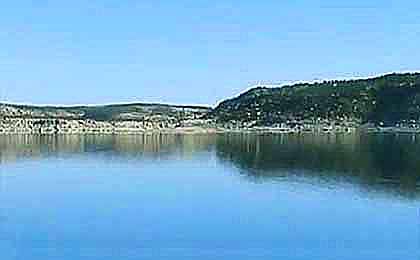 A haven for boating, camping and fishing, Navajo Lake is a 15,000-acre lake on the northern border of the state. It is the second largest lake in the state and boasts nearly 160 miles of shoreline. For fishing enthusiasts it is a dream destination that offers both warm-water and cold-water fish species.
Navajo Lake in New Mexico is a popular destination for fishing enthusiasts, offering abundant fishing opportunities and a stunning natural backdrop. The lake is renowned for its diverse fish species, including smallmouth bass, largemouth bass, walleye, northern pike, crappie, and catfish. Anglers can enjoy a variety of fishing techniques and target different species throughout the year.
Smallmouth bass are highly sought-after in Navajo Lake, known for their aggressive nature and acrobatic fights. Anglers can explore the lake's rocky shorelines, submerged structures, and points to find these feisty fish. Techniques such as casting with jigs, soft plastics, or crankbaits can entice smallmouth bass to strike. The lake's clear waters and rocky habitat provide an ideal environment for these energetic fish.
Largemouth bass are also abundant in Navajo Lake, offering exciting angling opportunities. The lake's coves, weed beds, and submerged vegetation provide excellent cover for these bass. Anglers can use techniques such as casting with topwater lures, jigs, or swimbaits to entice largemouth bass. Successful anglers often focus on fishing around structure or in shallow areas where bass are likely to be feeding.
Walleye are a prized game fish in Navajo Lake, providing anglers with thrilling angling experiences. These elusive predators can be found near rocky structures, points, or drop-offs. Trolling with deep-diving crankbaits or vertical jigging with live bait can be effective methods for targeting walleye. The lake's depths and diverse underwater terrain offer ample opportunities to catch these highly prized fish.
Navajo Lake is also home to northern pike, known for their aggressive strikes and powerful fights. Anglers can target these toothy predators by trolling with large lures or casting with spoons and swimbaits. The lake's expansive surface area and submerged vegetation provide suitable habitats for northern pike to thrive.
Catfish and crappie can also be found in Navajo Lake, offering additional angling opportunities. Anglers can target catfish using various bait presentations such as stink baits, chicken liver, or cut bait. Crappie can be caught using techniques such as vertical jigging or casting with small jigs near submerged structures or brush piles.
Boating is a popular activity on Navajo Lake, with multiple boat ramps available for easy access to the water. Anglers can explore the lake's vast expanse, find productive fishing spots, and enjoy the beauty of the surrounding desert landscape. Boaters can also engage in recreational activities such as water skiing, tubing, or simply cruising along the lake's calm waters.
Camping facilities near Navajo Lake provide visitors with the opportunity to extend their stay and fully immerse themselves in the natural beauty of the area. Campers can set up their tents or park their RVs in designated campgrounds, offering a chance to relax under the starry sky, gather around campfires, and enjoy the peaceful ambiance of the lake and its surroundings.
Navajo Lake in New Mexico offers excellent fishing opportunities with its diverse fish species and scenic environment. Anglers targeting bass, walleye, northern pike, catfish, or crappie can enjoy the thrill of the catch while embracing the beauty of the lake and its desert surroundings. Boating facilities and camping amenities further enhance the outdoor experience, making Navajo Lake a sought-after destination for anglers and nature enthusiasts seeking a memorable fishing adventure and a peaceful retreat in nature.
Bass, crappie, catfish, sunfish, trout, salmon and sunfish all reside here. Much of the southern portion of the lake is surrounded by parks, some of which provide access for fishing from the shore. Three boat launch ramps and three boat docks serve boaters with launch of fishing boats, water-ski boats, pleasure boats and pontoons. Canoes, kayaks and small fishing boats can be portaged from numerous areas in the parks. Also, a variety of rental boats are available at the marina and nearby boat rental outlets.

Primary fish species residing in Navajo Lake
Click images for fishing tips and details about each species.
Navajo Lake Amenities
Marina: YES
Boat Rental: YES
Boat Launch Ramp: YES
Campgrounds: YES
RV Hookups: YES
Lodging: NEARBY
Convenience Store: YES
Bait & Tackle: YES
Restaurant: YES
Today's Weather & Forecast
Fishing Boat Rentals
Navajo Lake Marina
Rentals: Bass boats and pontoon boats
505 632-3245
Public Boat Launch Ramps & Landings
Navajo Lake Boat Launch Ramp
Located in the southwest section of the lake, off State Route 511, this is a four-lane, concrete ramp with docks and massive, paved parking.
Sims Mesa Boat Launch Ramp
Located in the southeast section of the lake, off State Route 527, this is a three-lane, concrete ramp with docks and paved parking.
Marinas
Navajo Lake Marina
#42 CR 4110
Navajo Dam, NM 87419
505 632-3245
Click here for a New Mexico Fishing License.
Campgrounds & RV Parks Nearby
Navajo Lake State Park Campground - 505 632-2278
Cottonwood Campground - 505 632-2278
Navajo Lake NM Map - Fishing & Camping Areas
Lake Video
Contact Information
Navajo Lake
Navajo Lake State Park
36 Road 4110
Navajo Dam, NM 87419
505 632-2278
Fishing lakes in each state.
Navajo Lake in New Mexico.
NEW MEXICO


Information about fishing lakes in New Mexico
Navajo Lake offers bass, catfish, crappie, trout, bluegill, kokanee salmon and northern pike fishing in northern NM.
Fishing on Navajo Lake.