Taking Kids Fishing In New Mexico
Ideas and locations to take kids fishing in NM.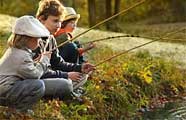 New Mexico offers fantastic opportunities for kids to experience the joys of fishing. Several fish species can be targeted, providing a diverse and exciting fishing experience for young anglers. One of the most popular species for kids to catch is rainbow trout, which can be found in various lakes and urban fishing locations throughout the state. Rainbow trout are known for their vibrant colors and willingness to bite, making them an excellent choice for young anglers learning the ropes of fishing.
Urban fishing locations in New Mexico are particularly well-suited for kids to enjoy fishing close to home. The Tingley Beach area in Albuquerque, for example, offers multiple ponds that are regularly stocked with fish, including trout, catfish, and sunfish. These ponds are easily accessible, and the calm waters provide a comfortable environment for kids to practice their casting skills and experience the excitement of reeling in fish.
Another popular urban fishing spot is the Municipal Pond in Santa Fe. This pond is regularly stocked with trout, and its convenient location within the city allows families to enjoy fishing without traveling far. The serene atmosphere and picturesque surroundings make it an ideal place for kids to learn about fishing and develop a lifelong passion for the sport.
Other urban fishing locations in New Mexico include Rancho Grande Pond in Las Cruces, Tingley Beach South Pond in Albuquerque, and Young Pond in Alamogordo. These locations offer a range of fish species, including trout, bass, catfish, and panfish, ensuring there's always something for young anglers to target.
Fishing is not only a great way for kids to connect with nature but also an opportunity for them to learn about patience, conservation, and the importance of respecting the environment. New Mexico's urban fishing locations provide a convenient and accessible platform for kids to develop these skills while having fun and creating lasting memories with family and friends.
Fishing and the great outdoors offers kids an alternative to many influences they encounter in their busy lives today. A single fishing trip could be the turning point in a young life. We encourage you to invest the time in New Mexico kids. The rewards are endless and it takes so little effort.

Places in New Mexico to take kids fishing
Consider these small lakes, ponds, creeks and urban fishing locations as places to take a kid fishing in the Land of Enchantment.
Carlsbad
- Avalon Reservoir
- Brantley Lake State Park
- Lake Carlsbad Beach Park
- Riverview Park
Eagle Nest
- Eagle Nest Lake
Los Alamos
- Cochiti Recreation Area
- Tetilla Peak Rec Area
Ruidoso
- Grindstone Lake
Roswell
- Bottomless Lakes St Park
- Spring River Park
Sandia
- Sandia Lakes Rec Area
- Tingley Beach
Truth Or Consequences
- Caballo Lake State Park
- Elephant Butte Lake St Park
Top 3 tips for taking kids fishing in NM
1. Make sure that the goal is to have fun. Catching fish is a bonus.
2. Keep it simple. Simple tackle, techniques and locations.
3. Keep the focus on the kids. Be a hero by helping them enjoy the day.
Kids Fishing Video
Youngsters with their prized catch
---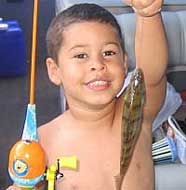 Kids First Fish Ever
Teaching my new Step Children to fish by Eric and Iris. Xavier and Robert caught their first fish ever at Navajo Lake in Northwest New Mexico, It was the Highlight of their young life's. These days we get asked when we're going fishing again every week of the year. Its a wonderful thing to teach a child to fish, or should I say to catch.
---
This could be your child, grandchild or any kid you took fishing. Take a picture and send it to us. We will happily post it here for them.
Click here for additional tips to create a successful day of fishing for kids.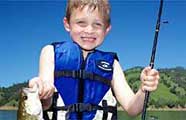 Kids, fishing and smiles naturally go together. Take a kid fishing and you just might change the course of their life. Then take pictures and send us one of them holding their prized catch. We will happily post it here.
Kids fishing locations and information, by state.
Help us identify other youth fishing spots in NM.
If you are aware of a great place to take kids fishing in your area, please let us know. We can add it to our list. Every kid that catches a fish will appreciate the fact that you made the effort.
NEW MEXICO