Choose From The Best Fishing Guides In New Mexico
Hire a guide to take you fishing in NM.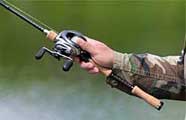 Hire a fishing guide to fish for largemouth bass, smallmouth bass, spotted bass, channel catfish, flathead catfish, blue catfish, white crappie, walleye, rainbow trout, cutthroat trout, brook trout, brown trout, lake trout, bluegill, green sunfish, longear sunfish, white bass, yellow perch, coho salmon, stripers, longnose gar and northern pike in local lakes.

New Mexico Fishing Guides
Other Local Guides
For the ultimate fishing experience, hire a professional guide. They know the NM fishery inside out and have determined the best techniques for catching fish at various times of the year.
Rio Grande Guide Service - 505 894-3454
Billy Jack Miller - [email protected]
Whether you want to fish alone, with friends, or with your family or give as a thoughtful gift to the angler in your life... we will cater to your needs. Great learning experience for the children, young & old alike! We have terrific fishing all year around!! See our fishing page for rates and lots of photos!
Whiskers Catfish Guide - 505 553-6706
Gerard Aguilar - [email protected]
Focus Species: Catfish, bullheads, carp, and bass.
Catch monster catfish on the Rio Grande.
New Mexico Fishing Guide Services
In addition to catching fish, guides teach you techniques which you will use over a lifetime of fishing. Learn tips on rods, reels, line, knots, lures, hook types, techniques and much more...all by spending the day in a boat with a local guide.
Fishing guide information for other states.
NEW MEXICO