Fishing At Conchas Lake
AKA: Conchas Reservoir
What to fish for...
Guide to fishing for largemouth bass, smallmouth bass, channel catfish, black crappie, white crappie, walleye and bluegill at Conchas Lake in New Mexico.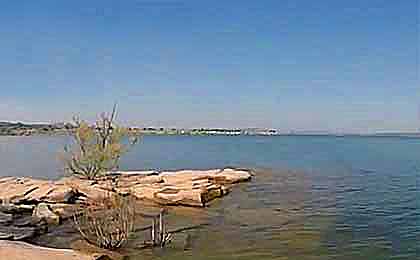 Known for enjoyable boating, Conchas Lake is a 9,600-acre lake in the northeast part of the state, 20 miles northwest of Tucumcari. The lake is also home to healthy populations of numerous fish species.
The purpose of this page is to deliver an overview of this lake, the fishing options, and area amenities. Our goal is to provide info to first time visitors, as well as beginner and novice anglers. We gathered details from personal experience, numerous trusted websites, and videos of fishing activity on the lake. These websites include the New Mexico Department of Game and Fish, marinas at the lake, campgrounds, boat rental agencies and others. By consolidating this information to one page it allows visitors to see the entire picture, all in one place.
Lake Video
Conchas Lake in New Mexico is a popular destination for fishing enthusiasts, offering a wide range of angling opportunities and outdoor adventures. The lake is known for its diverse fish species, including largemouth bass, smallmouth bass, walleye, catfish, crappie, and bluegill. Anglers can enjoy a variety of fishing techniques and target different species throughout the year.
Largemouth bass and smallmouth bass are highly sought-after species in Conchas Lake. Anglers can explore the lake's coves, submerged structures, and rocky shorelines to find bass hiding and feeding. Techniques such as casting with jigs, soft plastics, or crankbaits can entice these feisty fish to bite. With careful presentation and patience, anglers have the opportunity to reel in trophy-sized bass.
Walleye are another prized species found in Conchas Lake. These elusive fish can be targeted using techniques such as trolling with deep-diving crankbaits or vertical jigging near drop-offs or underwater structures. Successful walleye fishing often requires knowledge of their behavior and preferred habitats, as well as understanding the best times of day to target them.
Conchas Lake is also home to catfish, including channel catfish and flathead catfish. Anglers can employ various bait presentations such as stink baits, chicken liver, or cut bait to entice these bottom-dwelling predators. The lake's deeper sections and areas with submerged cover provide ideal habitats for catfish, offering anglers the chance to experience exciting catfish encounters.
Crappie and bluegill can also be found in Conchas Lake, providing additional angling opportunities. Anglers can target crappie using techniques such as vertical jigging or casting with small jigs or live minnows. Bluegill can be caught using similar methods, with these feisty panfish providing fun-filled action for anglers of all ages.
Conchas Lake in New Mexico provides excellent fishing opportunities with its diverse fish species and scenic surroundings. Anglers targeting bass, walleye, catfish, crappie, or bluegill can find exciting angling experiences throughout the lake. Boating facilities and camping amenities further enhance the outdoor experience, making Conchas Lake an attractive destination for anglers and nature enthusiasts seeking a memorable fishing adventure and a peaceful getaway.
Fish species residing in this warm-water lake include bass, crappie, catfish, walleye and bluegill. About 60 miles of shoreline provide fishing enthusiasts ample places to wet a line. Shoreline fishing is an option at numerous places around the lake for those wishing to fish from the bank. Eight boat launch ramps provide easy launch for all types of watercraft from canoes and kayaks to fishing and pleasure boats.

Primary fish species residing in Conchas Lake
Click images for fishing tips and details about each species.
Conchas Lake Amenities
Marina: NO
Boat Rental: NO
Boat Launch Ramp: YES
Campgrounds: YES
RV Hookups: YES
Lodging: YES
Convenience Store: YES
Bait & Tackle: NO
Restaurant: NEARBY
Today's Weather & Forecast
Boating is a popular activity on Conchas Lake, with boat ramps available for easy access to the water. Anglers can navigate the lake's vast expanse, explore different fishing spots, and enjoy the scenic beauty of the surrounding landscape. Boaters can also engage in recreational activities such as water skiing, tubing, or simply cruising along the lake's tranquil waters.
Public Boat Launch Ramps & Landings
Bell Pointe Recreation Area Boat Launch Ramp
Located mid lake, east side, off Cove Boat Ramp Road, this is a two-lane, concrete ramp with a dock and paved parking.
Southside Recreation Area Boat Launch Ramp
Located in the northeast section of the lake, east side, off Cannon Cove Drive, this is a two-lane, concrete ramp with a dock and paved parking.
Click here for a New Mexico Fishing License.
For those seeking to spend more time in nature, Conchas Lake offers camping facilities. Campers can set up their tents or park their RVs in the designated campgrounds, immersing themselves in the peaceful ambiance of the lake. Camping allows visitors to enjoy evenings under the starry sky, gather around campfires, and embrace the serenity of the outdoors.
Campgrounds & RV Parks Nearby
Conchas Lake State Park Campground - 575 868-2270
Conchas Lake NM Map - Fishing & Camping Areas
Contact Information
Conchas Lake
Conchas Lake State Park Campground
502 Bell Ranch Rd
Conchas, NM 88416
575 868-2270
Fishing lakes in each state.
Conchas Lake in New Mexico.
NEW MEXICO


Information about fishing lakes in New Mexico
Conchas Lake offers fishing for bass, catfish, crappie, walleye and bluegill in northern NM.
Fishing on Conchas Lake.