California Catfish Fishing
All about fishing for flathead, blue, white and channel catfish in California.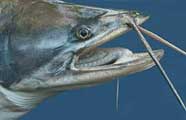 Catfish Waters In CA
Most lakes, streams, ponds and rivers hold catfish of one kind or another. Major lakes tend to hold the larger populations yet you're liable to catch a monster in the tributaries that feed the lakes.
In Northern CA the major lakes with catfish include Bucks Lake, Clear Lake, Folsom Lake, Lake Almanor, Lake Berryessa, Lake Combie, Lake Mendocino, Lake Oroville, Lake Shasta, Los Vaqueros Reservoir, New Bullards Bar Reservoir, Trinity Lake and Whiskeytown Lake.
In Central CA try Bass Lake, Lake Don Pedro, Lake Cachuma, Lake Camanche, Lake Kaweah, Lake McClure, Lake Sonoma, Lake Tulloch, Lake Nacimiento, Millerton Lake, New Hogan Lake, New Melones Lake, Pine Flat Lake, Pinecrest Lake, San Luis Reservoir, San Pablo Reservoir, Shaver Lake, Success Lake and The Delta.
Southern CA offers lakes like Big Bear Lake, Canyon Lake, Diamond Valley Lake, El Capitan Lake, Laguna Niguel Lake, Lake Cahuilla, Lake Castaic, Lake Elsinore, Lake Hemet, Lake Havasu, Lake Hodges, Lake Perris, Lake Piru, Lake Silverwood, Lake Skinner, Lake Sutherland, Littlerock Reservoir, Lower Otay Lake, Pyramid Lake, San Vicente Reservoir, Silverwood Lake and Skinner Reservoir to wet your whistle for some tasty catfish.
There are many species of catfish and even more ways to catch them. Adults range in size from less than a pound to hundreds of pounds. Catfish are found in all types of water including ponds, streams, lakes and rivers throughout California. There are even species which spend a limited amount of time on dry land. Big giant catfish put up a very noble fight once hooked.
San Vicente boasts the state record for blue catfish, the Santa Ana River Lakes yielded the state record for channel catfish, the state flathead catfish came out of the Colorado River and William Land Park Pond gave up the state record for white catfish.
Camp out and catch some catfish!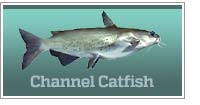 World record: 58 lbs 0 oz
CA State Record: 53 lbs 8 oz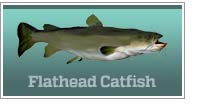 World record: 123 lbs 9 oz
CA State Record: 72 lbs 14 oz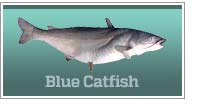 World record: 143 lbs 0 oz
CA State Record: 113 lbs 5 oz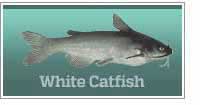 World record: 22 lbs 0 oz
CA State Record: 22 lbs 0 oz
By clicking on the images and links above, you will be taken to a page offering more information about the selected catfish.
Additional catfishing information resources.
U.S. Catfish Anglers Tournaments
Most catfish are considered bottom feeders to one extent or another. They will generally eat anything that can get in their mouth. Their strongest sense is smell which they use to locate potential food sources. Capitalizing on this sense is the primary weapon in your search for these creatures. Aggressive catfish have been caught on most types of fast moving bass lures so don't under estimate their ability to catch live bait.
Catfish fishing information for states with catfish.
Best catfish fishing lakes in California!