Fishing For Catfish In California
Guide to fishing for flathead, blue, white and channel catfish in CA.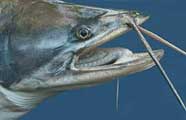 Most lakes, streams, ponds and rivers hold catfish of one kind or another. Major lakes tend to hold the larger populations yet you're liable to catch a monster in the tributaries that feed the lakes. The purpose of this page is to share basic information about catfish fishing and catfish waters in the state.
California offers excellent opportunities for catfish fishing, with anglers targeting various species, including channel catfish, flathead catfish, blue catfish, and white catfish. These freshwater predators can be found in lakes, rivers, and reservoirs throughout the state, providing thrilling fishing experiences for catfish enthusiasts.
Channel catfish are the most abundant and widely distributed catfish species in California. They can be found in both warm and cold-water environments, making them accessible to anglers throughout the year. Popular fishing spots for channel catfish include the Sacramento-San Joaquin Delta, the Colorado River, and various lakes and reservoirs across the state. Anglers typically target channel catfish using a variety of baits such as chicken liver, stinkbaits, or cut bait, either fished on the bottom or suspended below a bobber.
Flathead catfish, also known as "mud cats" or "yellow cats," are highly sought after by anglers due to their size and powerful fighting ability. While not as abundant as channel catfish, they can be found in select waters throughout California. Flatheads prefer larger rivers and reservoirs with deep pools and ample cover. Successful anglers often use live bait, such as large minnows or sunfish, fished near submerged logs, rock structures, or along riverbanks.
Blue catfish, an introduced species in California, have gained popularity among anglers seeking trophy-sized catfish. They can reach impressive sizes, with individuals exceeding 50 pounds. Blue catfish are primarily found in large reservoirs and rivers, such as the Sacramento-San Joaquin Delta and the Colorado River. Anglers target blue catfish using live or cut bait, often fishing deep water channels, holes, or areas with submerged structure.
White catfish, although not as commonly pursued as other catfish species, can still provide a rewarding fishing experience. They are found in various lakes, reservoirs, and rivers across California, often inhabiting muddy or sandy bottoms. White catfish have a diverse diet and readily take a variety of baits, including worms, shrimp, or prepared stinkbaits.
When targeting catfish in California, it's important to check local fishing regulations and obtain the necessary licenses. Anglers can enjoy catfish fishing from the shore, boats, or piers, depending on the fishing location. It's recommended to use appropriate gear such as medium-heavy fishing rods, sturdy reels, and strong fishing lines to handle the potential size and strength of these catfish species.
Whether you're after the hard-fighting channel catfish, the elusive flathead catfish, the trophy-sized blue catfish, or the lesser-known white catfish, California offers diverse catfish fishing opportunities for anglers of all skill levels. With the right techniques, baits, and a bit of patience, you can enjoy memorable catfish fishing adventures across the state's beautiful waterways.
In Northern CA the major lakes with catfish include Bucks Lake, Clear Lake, Folsom Lake, Lake Almanor, Lake Berryessa, Lake Combie, Lake Mendocino, Lake Oroville, Lake Shasta, Los Vaqueros Reservoir, New Bullards Bar Reservoir, Trinity Lake and Whiskeytown Lake.
In Central CA try Bass Lake, California Delta, Eastman Lake, Hensley Lake, Lake Don Pedro, Lake Cachuma, Lake Camanche, Lake Del Valle, Lake Kaweah, Lake McClure, Lake Sonoma, Lake Tulloch, Lake Nacimiento, Millerton Lake, New Hogan Lake, New Melones Lake, Pine Flat Lake, Pinecrest Lake, San Luis Reservoir, San Pablo Reservoir, Shaver Lake, Success Lake and The Delta.
Southern CA offers lakes like Big Bear Lake, Canyon Lake, Diamond Valley Lake, El Capitan Lake, Laguna Niguel Lake, Lake Cahuilla, Lake Castaic, Lake Elsinore, Lake Hemet, Lake Havasu, Lake Hodges, Lake Perris, Lake Piru, Lake Silverwood, Lake Skinner, Lake Sutherland, Littlerock Reservoir, Lower Otay Lake, Pyramid Lake, San Vicente Reservoir, Silverwood Lake and Skinner Reservoir to wet your whistle for some tasty catfish.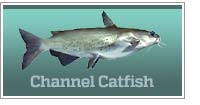 World record: 58 lbs 0 oz
State Record: 53 lbs 8 oz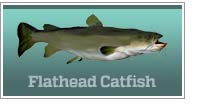 World record: 123 lbs 9 oz
State Record: 72 lbs 14 oz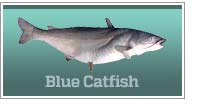 World record: 143 lbs 0 oz
State Record: 113 lbs 5 oz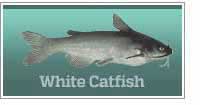 World record: 22 lbs 0 oz
State Record: 22 lbs 0 oz
Click the images and links above for species details.
What's the best bait for catfish in California?
Choose from the top 5 all-time catfish baits and try them on local waters. Appealing to the keen sense of smell and taste could turn a so-so day into a memorable event.
San Vicente Reservoir boasts the state record for blue catfish.
The San Joaquin River yielded the state record for channel catfish.
The state flathead catfish came out of the Colorado River.
William Land Park Pond gave up the state record for white catfish.
There are many species of catfish and even more ways to catch them. Adults range in size from less than a pound to hundreds of pounds. Catfish are found in all types of water including ponds, streams, lakes and rivers throughout California. There are even species which spend a limited amount of time on dry land. Big giant catfish put up a very noble fight once hooked.
Additional catfishing information resources.
U.S. Catfish Anglers Tournaments
Most catfish are considered bottom feeders to one extent or another. They will generally eat anything that can get in their mouth. Their strongest sense is smell which they use to locate potential food sources. Capitalizing on this sense is the primary weapon in your search for these creatures. Aggressive catfish have been caught on most types of fast moving bass lures so don't under estimate their ability to catch live bait.
Catfish Fishing Video
Information for states with catfish.