Tennessee Catfish Fishing
All about fishing for flathead, blue, white and channel catfish in Tennessee.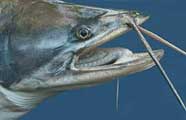 Catfish Waters In TN
Catfish are in virtually all waters in Tennessee. Major lakes with catfish include Boone Lake, Calderwood Reservoir, Center Hill Lake, Cheatham Lake, Cherokee Lake, Chickamauga Lake, Chilhowee Lake, Cordell Hull Lake, Dale Hollow Reservoir, Douglas Lake, Fort Loudoun Lake, Fort Patrick Henry Reservoir, Great Falls Lake, J Percy Priest Lake, John Sevier Reservoir, Kentucky Lake, Lake Barkley, Melton Hill Lake, Nickajack Lake, Normandy Lake, Norris Lake, Ocoee Lake, Old Hickory Lake, Parksville Reservoir, Percy Priest Lake, Pickwick Lake, Reelfoot Lake, South Holston Lake, Tellico Reservoir, Tims Ford Lake, Watauga Lake, Watts Bar Lake and Woods Reservoir. Catfish are also found in most rivers, smaller lakes and ponds as well.
There are many species of catfish and even more ways to catch them. Adults range in size from less than a pound to hundreds of pounds. Catfish are found in all types of water including ponds, streams, lakes and rivers throughout Tennessee. There are even species which spend a limited amount of time on dry land. Big giant catfish put up a very noble fight once hooked.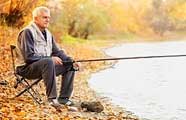 Cumberland River - Lock C turned out the Tennessee state record blue catfish and the TN state record channel catfish was pulled out of Fall Creek Lake. The Hiwassee River was home to the TN state record flathead catfish.
Camp out and catch some catfish!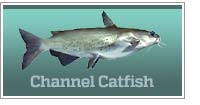 World record: 58 lbs 0 oz
TN State Record: 41 lbs 0 oz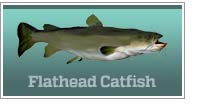 World record: 123 lbs 9 oz
TN State Record: 85 lbs 15 oz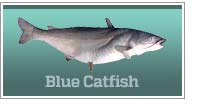 World record: 143 lbs 0 oz
TN State Record: 112 lbs 0 oz
By clicking on the images and links above, you will be taken to a page offering more information about the selected catfish.
Additional catfishing information resources.
U.S. Catfish Anglers Tournaments
Most catfish are considered bottom feeders to one extent or another. They will generally eat anything that can get in their mouth. Their strongest sense is smell which they use to locate potential food sources. Capitalizing on this sense is the primary weapon in your search for these creatures. Aggressive catfish have been caught on most types of fast moving bass lures so don't under estimate their ability to catch live bait.
Catfish fishing information for states with catfish.
Best catfish fishing lakes in Tennessee!